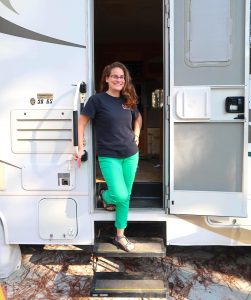 Campanda contributor Liz Wilcox is a full-time RVer and host of The Virtual Campground.
Liz currently lives in a 32′ Class C RV with her husband and young daughter Chelsea. They're looking forward to setting off on a grand RV adventure once her husband completes his military service.
"We RVers (and dreamers!) are a special bunch, there's no doubt about that. We're willing to give up personal space for personal freedom.
Our dreams consist not of climbing the corporate ladder, but of reaching high altitude. We firmly believe in the power of the campfire and refuse to settle for suburban survival."
Liz brings her humor, sense of adventure and unique perspective on RV living to the Campanda Magazine with a combination of first-hand stories, advice and food for thought.
Love what Liz has to say? Check out her e-book, "Tales From The Black Tank: A Collection of Hilariously Crappy RV Stories" for more RV insight and plenty of laughs.