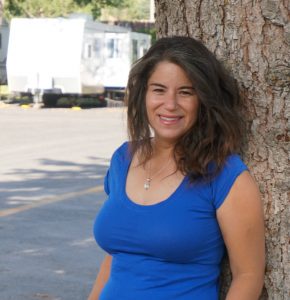 After twenty years in Corporate America, Camille Attell left everything behind to live, work and travel in an RV, along with her husband Bryce and cat Parker. She runs More Than A Wheelin', a website offering resources for RV life, travel and working remotely.
Camille likes to say that "the sofa made me do it" when asked why she decided to become a full-time RVer.
"My husband and I had just come out of a two-year period of instability. Long hours at work, health issues, and housing disasters caused us to ask if this traditional way of life — owning a home and going to the same place everyday — was for us. The tipping point was having to buy furniture for our nearly unfurnished home of two years.
The idea that buying furniture was the final step to 'settle into our lives' suddenly frightened us. That step felt heavy and permanent. Also, having to decide between a taupe or camel colored sofa pushed over the edge to say: forget it, let's just ditch this whole stationary scene and go see the country. Let's live life."
As a student of human behavior, Camille offers an in-depth perspective of RV living to the Campanda Magazine, and enjoys sharing stories about the literal and emotional journey of RV life and travel. Check out the full story of how RV life chose Camille.