By Liz Wilcox
I'm a people person.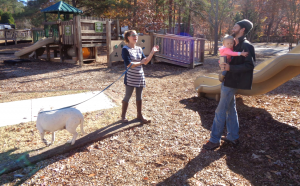 I go to farmer's markets because I love talking with the growers. I chat with strangers until my voice goes hoarse.
And I use peer-to-peer marketplaces because, as corny as it may sound, it makes me feel good to give my money to a real person rather than a big corporation.
So when I was moving cross-country last summer, it was a no-brainer to book overnight stays using peer-to-peer rentals.
Little did I know that this booking system was going to change my life forever.
How One Little Rental Reshaped My Future
My husband had just gotten home from a yearlong tour in Afghanistan. He was quickly assigned to a new duty station. It would be a four-day cross-country trek and I was looking on a peer-to-peer marketplace for places to stay along the way. Since it would just be me and my daughter on the first night, I was looking for something small and inexpensive.
So there I was, scrolling through the internet when I came across a vintage trailer for rent in Erie, PA.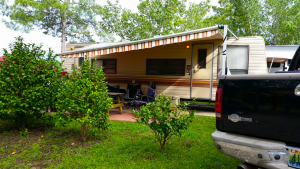 Just the day before, the deal on our house had fallen through. We were moving to … well, nothing. Our only plan was to rent a hotel until we figured out what to do. Awesome, right?
My husband had joked that we should move into an RV when we got to Alabama. He said lots of people do it in the South. It would be a great way to simplify our life and save money.
Simplification and savings. Hmm, I thought, two of my favorite things.
So I stared at the computer screen, the little RV rental staring right back at me. It was just enough room for my daughter and me, within the right price range and in a great location to boot. Better yet, I saw that the place had been booked many times before with rave reviews from both the renters and hostess.
I was sold. I booked for one night.
Let The Adventure Begin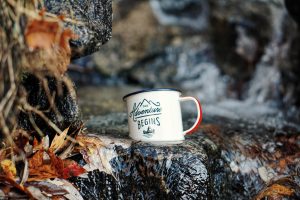 About an hour later, my booking was confirmed by the hostess. She gave me a call and said she was excited to accommodate me the very next day. We chatted for a bit and I felt even more comfortable once the conversation was over. It was nice to hear the enthusiasm in her voice and to learn about her preparations for my stay.
I was curious: Would I actually love my husband's idea of buying and living in an RV? I had never been inside a camper, but loved the idea of small living. Test driving the lifestyle (even for one night) in someone else's RV was just the thing I needed to make a decision.
Hostess Help
I got lost trying to find the RV rental. I called my hostess and she picked up my anxious call right away. Over the phone, she led the way to the site. She arrived about 10 minutes later to show me the ropes of RV life (okay, mainly she just showed me how to use the toilet — who knew there was such a thing as a pedal flush?).
I noticed a stack of menus by the TV. The hostess went through each one quickly and pointed out those that were safe to walk to with a baby. She asked me which cable shows I liked to watch and told me their channel numbers. She even pulled out some toys for my daughter to play with.
This lady had it going on.
Renting More Than An RV
Using the peer-to-peer sharing economy, I feel like I'm always getting more than just the rented product. And this RV rental was no different.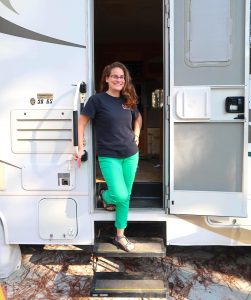 Sure, the camper was awesome. It was a super cute vintage travel trailer with all the amenities you would expect. The AC was cold, the bed was comfy and there was even wifi and cable. But it was also so much more than that.
I got to know the hostess. Unlike at a hotel, where the concierge has hundreds of different people to please, my host were there just for me, ready and willing to answer all my questions about RV life.
The more I got to know my hostess and hear about her camping stories, the more pleased I was with my rental choice — and the more I leaned towards buying an RV of my own.
The peer-to-peer rental experience gave me an opportunity to meet someone knowledgeable, stay in an amazing RV, learn its systems, and discover a whole new way of living. It showed me that while the RV was smaller than a traditional house, it was just the right size for me and my family. During that short time in Erie, PA, I fell in love — and decided to become an RVer.
One Year Later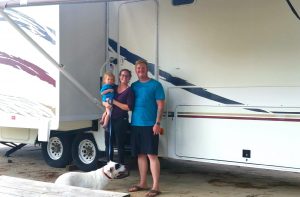 Fast forward a year and I'm happily living in an RV full time. My family and I have never been closer and I've never felt more passionate about life.
My husband will be getting out of the Army any day now and we are gearing up to hit the road full-time.
It's crazy to think that it all started with simply renting out someone else's RV. I can't wait to be able to return the favor.
On my website, I publish books, write posts and help fellow full-timers stay entertained and informed while RVing. As soon as I get the opportunity, I'm looking forward to renting out my RV on Campanda to share my love and passion for this lifestyle with others.
---
Interested in sharing your RV with someone like me?