By Liz Wilcox
People sometimes don't realize how rewarding it can be for kids to participate in daily tasks. I think that's one of the reasons children enjoy camping so much — they get to help out!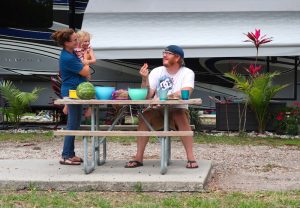 I love walking around a campground and seeing families working together to get things done. Camping is a real bonding experience for everyone involved — and cooking around your RV site should be no exception. Here are six simple recipes you can make with your kids during your next RV trip, whether you're RVing in your own rig or an RV rental from
Campanda
. They'll get to eat something that they made with their own hands, and you'll get wholesome family memories to carry you through the teenage years to come!
---
Breakfast
Bacon & Egg In A Bag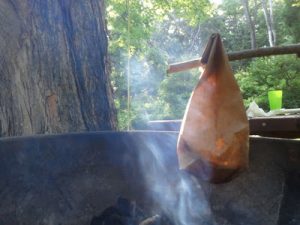 Making bacon and eggs in a paper bag may be a little unconventional, but it's a great way to get the kids involved in breakfast!
Here's what you'll need:
1 paper bag per person
2 pieces of bacon and 1 egg per person (the fattier the bacon, the better)
Long, strong sticks
Campfire
Here's what you do:
Cut or tear your bacon pieces in half. This can be really fun for the kids! Have them line the pieces of bacon on the bottom of the paper bag. Then crack the egg and empty it into the bag. If your child is anything like mine, they will find this both gross and delightful. Next, the kids can fold the top of the bag down. Do this two or three times. Then you or your older kids poke a hole through the folded (thick) part with your stick. Now comes the cookin'! Have your kids hold the bag over the fire. With younger kids, you may want to help them hold the stick or take turns, as it can take a few minutes to cook the egg thoroughly. Remind them not to stick the bag into the fire or their breakfast will literally be burnt to a crisp. When the bacon and egg is done cooking, you're able to eat right out of the bag! The bottom of the bag will be hot and greasy, so put it on a plate or set it on the picnic table when you're ready to eat!
---
Blueberry and Orange Muffins
This RV recipe is so fun and simple. And you get to make a muffin in an orange! I mean, who doesn't want to try that?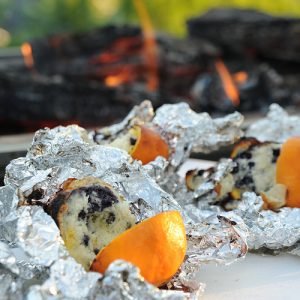 Here's what you'll need:
Blueberry muffin mix and the ingredients listed on the box (likely eggs, milk, water, oil)
Oranges (at least 1 per person)
Aluminum foil
Bowl
Campfire
Here's what you do:
Gather the kids together to make the blueberry muffin mix. This can be done outside for minimum clean up and stress. Let your kids help gather ingredients, pour and stir. See? Everyone can be involved, and if you're doing this outside you don't have to worry about too many elbows rubbing. Next, cut all your oranges in half. If you have an older child, you can have them do this while you and the others make the blueberry mix. When oranges are cut, scoop all the fruit into a bowl. Take the orange shells and fill one empty half with blueberry muffin mix (you can hold the orange while your child scoops, or vice versa). Then take the other half and put the orange back together.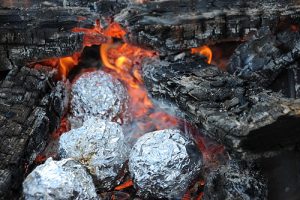 Next, cover the orange with three layers of aluminum foil. Yes, three. This helps prevent burning while cooking. Let your kids help you with this. It could get messy, but remember these RV recipes are supposed to be fun, not Food Network worthy! When you've successfully covered the oranges, just (gently) toss them in the fire. Turn the balls over every 60 to 90 seconds (I'd suggest helping younger kids with this using long tongs or a skewer). This process usually takes 10 minutes. When the time is up, unwrap and enjoy! (I recommend eating this with a spoon.) Bonus: You can use the orange you scooped out to make fresh juice. It's the perfect pairing!
---
Lunch
When you're RVing with kids, it can be really hard to wrangle them up for a meal during the middle of the day. After all, there is dirt to play in and trees to climb! I highly recommend keeping things simple. Here is an easy RV recipe that will satisfy big appetites.
Walking Tacos
Like I said, it's hard to get kids to settle down for lunch. But nothing will rally your little troops better than chips and a taco bar.
Here's what you'll need:
Individual sized bags of Fritos Corn Chips (one per person)
Hamburger or turkey meat
Toppings for tacos (tomato, lettuce, sour cream, shredded cheese, salsa, etc.)
Here's what you do: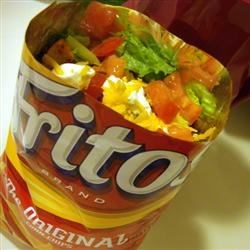 This recipe takes just a little preparation. You can do this by yourself or with any interested kids around camp. Just like regular tacos, cook your meat and season it to taste. Your kids can help chop and stir the meat (this is easiest done in the RV kitchen rather than outside). Next, prep your toppings. Cut the tomato, get out the sour cream, etc. Place everything outside on the picnic table. Last, get the Fritos chips and holler out for the kids! Give each a bag and tell them to crunch up the chips with the bag still closed. Once they're done breaking up the chips, let them choose their toppings from the taco bar. Then have them close up their bag tightly and shake. Voila! Walking taco. Hand those hungry kids a fork and let them eat!
---
Dinner
Campfire Pizza
Pizza and a bonfire. What could be better? I love making these because it makes dinner the easiest meal of the day.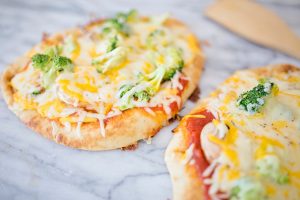 Here's what you'll need:
English muffins
Pizza sauce
Shredded cheese
Toppings (pepperoni, veggies, etc)
Aluminum foil
Campfire with grill or BBQ grill
Here's what you do:
Each kid (and parent) gets their own English muffin. Have the kids split them in half and spread the sauce on both halves. A spoon is easiest to scoop and spread. Then of course comes the cheese and toppings. Put the foil down on the grill and place each kids' pizzas atop. Cook until golden brown — or until your kids (who will likely be watching these cook like hungry hawks) inform you that dinner is ready!
---
Messless Camp Burgers
This RV recipe is a bit like the orange blueberry muffins above.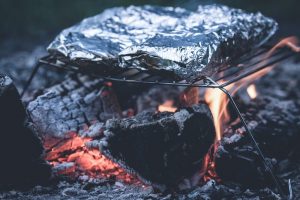 Here's what you'll need:
Hamburger (or ground turkey)
Seasonings
Favorite burger toppings and condiments
Campfire
Here's what you do:
The aluminum foil makes these easy burgers wonderfully mess-free. Place the patties on the foil, wrap it up and unwrap to eat! First, make your patties like you normally would, but on the tinfoil. You can give each kid their own ball of meat and let them season as they'd like. The kids will love this! Place veggies like onion or peppers on the meat. Encourage your kids to have fun. Maybe they want to smother the burger in barbecue sauce. Go for it, kid. Just make sure it all stays in the foil! When everyone is done, wrap the patties tightly. Make sure they completely covered. You might want to put an extra layer of foil over the first. Then just place your burgers right in the fire. (Yep, just like the muffins.) Cook the patties for about 10 minutes for medium, longer for well-done. Then, unwrap the burger and eat straight from the foil with a fork! Or dress it up with a bun and extra toppings if desired.
---
Snacks
Fruit Kebob
This one is pretty self-explanatory. The best part about this "recipe"? It'll keep the kiddos entertained leading up to snack time!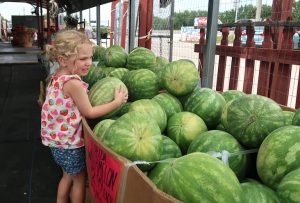 Here's what you'll need:
Skewers
Assorted fruit (apples, pineapples, grapes, strawberries, and melon are great!)
Here's what you do:
With or without the kids, dice the fruit. If the kids are around but you don't want them anywhere near the cutting board, have them put the cut up fruit into separate bowls and line them up. Then, hand the kids the skewers and let them have at it! The kids can pick out which fruit combinations they like the best. You might even suggest they try to make a rainbow or other pattern.
---
Feeling hungry and ready to head to camp to try out one of these RV recipes yourself? Click below to search for RV rentals in your area.
Campanda
! You can choose your own dates, pick your renters and name your price. The money you earn could even fund your next big RV trip!