Shopping for an RV is fun — until you make a decision to actually buy one. Then the panic sets in because it's really happening. When we bought our first RV, I nearly broke out in a full-body sweat because we had fallen in love with a model that was over our budget. But after traveling in it for over a year and a half, we still feel like we made a really good decision — and that the extra money really was worth it.
(By the way, if you're in the market for an RV, be sure to go into as many as you can or even rent an RV or two so that you can get a feel for different floor plans. Click here to read more about buying an RV.)
---
A Review Of Our Tiffin Allegro Coach
After touring what felt like hundreds of RVs and almost buying a different model, we ended up with our motorhome— a Tiffin Allegro 32-SA Class A gas coach. It's got a big windshield, two slide outs and it comes in at 34 feet (which is a good size for camping at most state and national parks)!
While it was a bit more money than we budgeted for, we feel like it was worth the investment. Tiffin is a great company and both the length and features that came with our coach are perfect for our travel style. It helps that we negotiated the price down, too.
---
Tiffin Allegro: The Pros
High Quality
Tiffin has a reputation for making high-quality RVs. I can back that up as we've put about 20,000 miles on ours and it's still holding up well.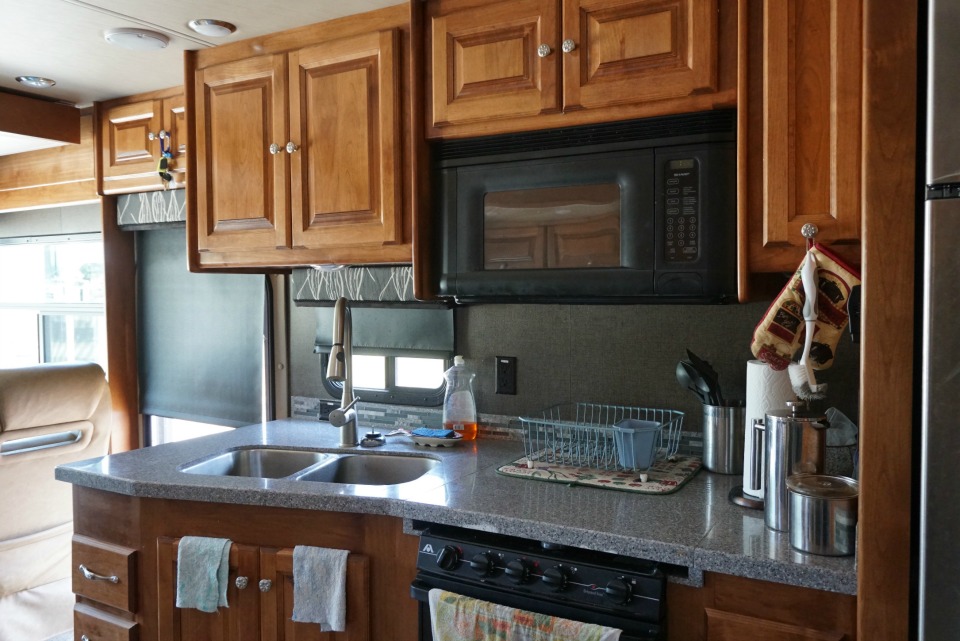 The quality is what sold us on our purchase. We had been spending time in an RV with a similar floor plan from a different brand. While we liked it, the minute we walked into the Tiffin, everything felt sturdier — solid cupboards, comfortable sofa and supportive dinette booth seats.
---
The Floor Plan
We love the floor plan. The kitchen faces the door, which makes me feel safer because I can see outside while I'm cooking. The layout allows us to move around comfortably and there's plenty of storage. In fact, we didn't even learn about the storage drawers under the dinette seats until after we'd bought the coach — a happy surprise!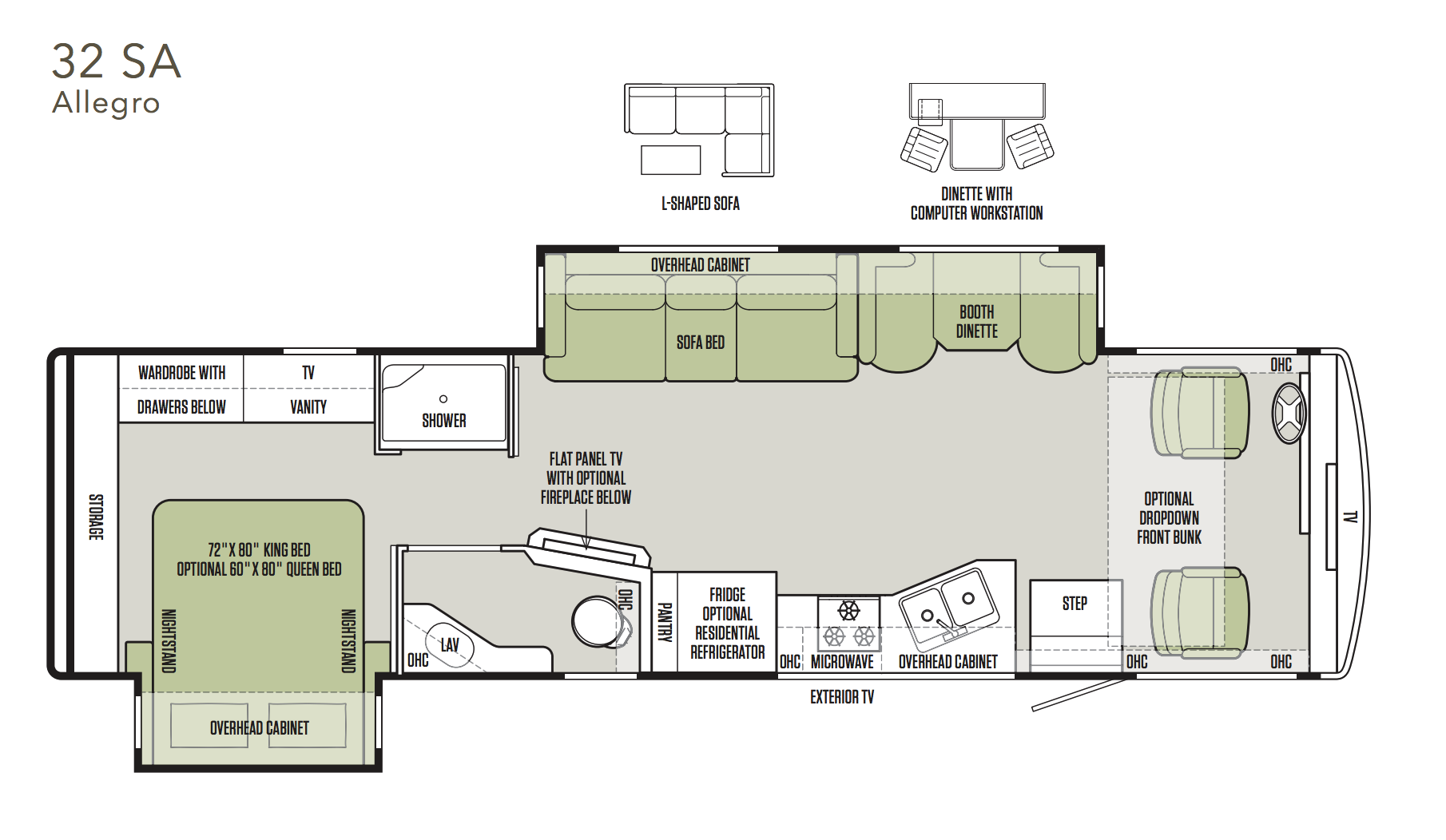 ---
Little Luxuries
There are two features that I didn't really care about in the beginning but have come to love: the fireplace and bedroom fan. That's right, we even have a fireplace, which comes in handy on chilly days. Imagine sipping hot coffee by the fire on a chilly morning while gazing at a misty meadow. It's a dream come true!
And the ceiling fan in the bedroom actually does lower the temperature — it wasn't just a "decorative" fan.
---
Smooth Driving
Lastly, Tiffin RVs drive really well. Typically, diesel coaches are more powerful than gas coaches, which can make for smoother driving. But our Allegro was built on a longer chassis with a foil cushion, making for a pretty smooth drive. You can read about my husband's first time driving the coach here.
---
Tiffin Allegro: The Cons
Wasted Space & Energy
It's difficult to find fault with our rig, but there are a few quirks. One of the pros can be a con in a boondocking situation (camping without electrical, water and sewer hookups): the residential fridge. It is huge and convenient, but sucks up a lot of battery power.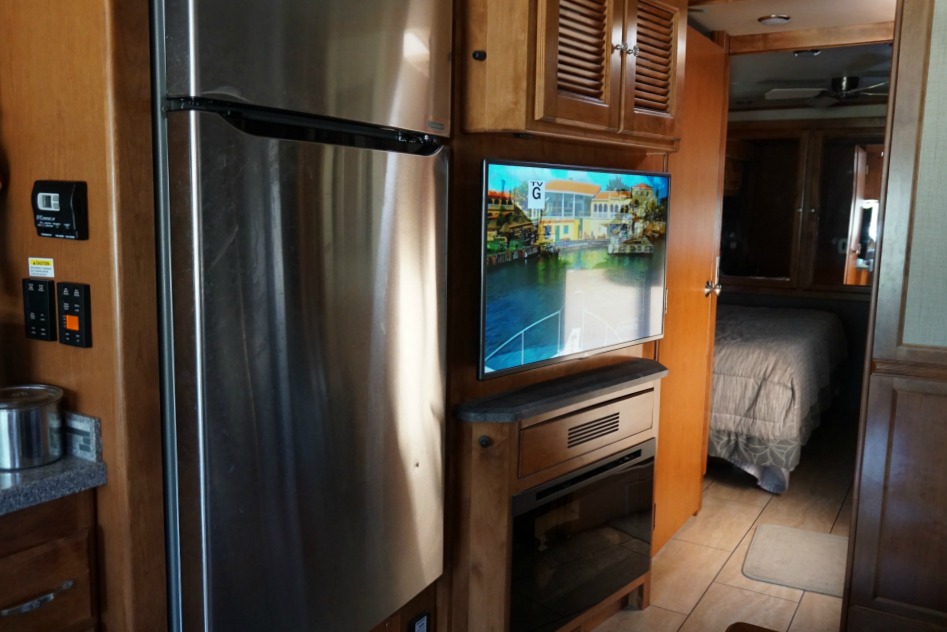 And although the bathroom is roomy, there's actually a lot of wasted space. There isn't enough storage, so we've improvised by placing a wire stand to store more items. Tiffin could have installed a small shelf unit to add more storage space. But considering how well-thought-out the rest of the rig is, I'm sure they had their reasons for not offering that feature.
---
The Dinette
The biggest con is the size of the dinette table. It's slightly too narrow and when my husband and I are both sitting there, it's a bit crowded. Sure, one of us could sit in the passenger seat and use the pull-out shelf, but it's not as comfortable. But given all the other features, the dinette wasn't a deal-breaker for us.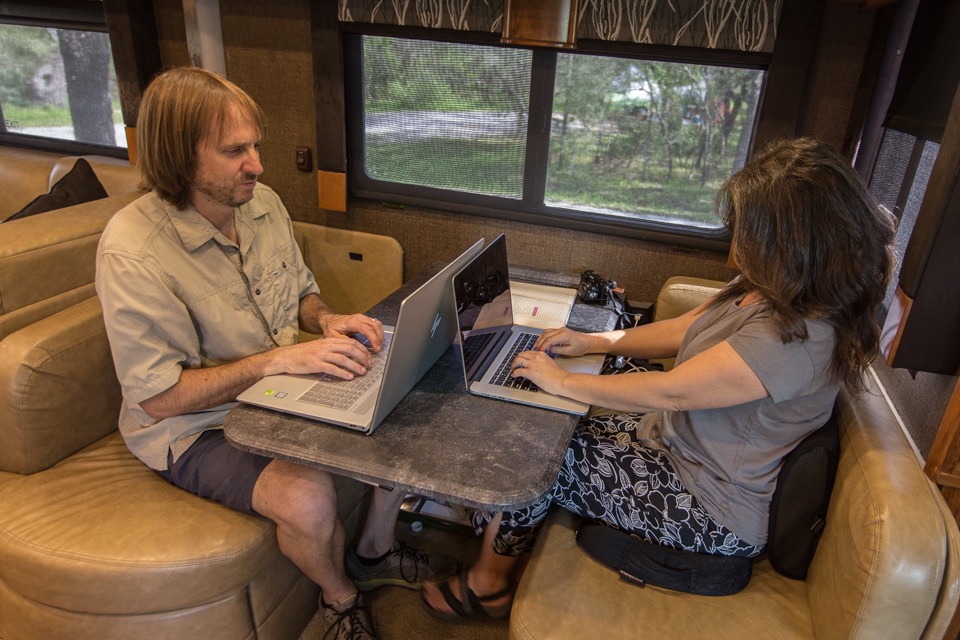 ---
The Size
I mentioned that 34 feet is a great size, but I've actually been longing for a smaller, more nimble vehicle so we can stop spontaneously and take photos or explore on road trips. That's hard to do with a 34-foot rig — plus the 10-foot car we tow behind it.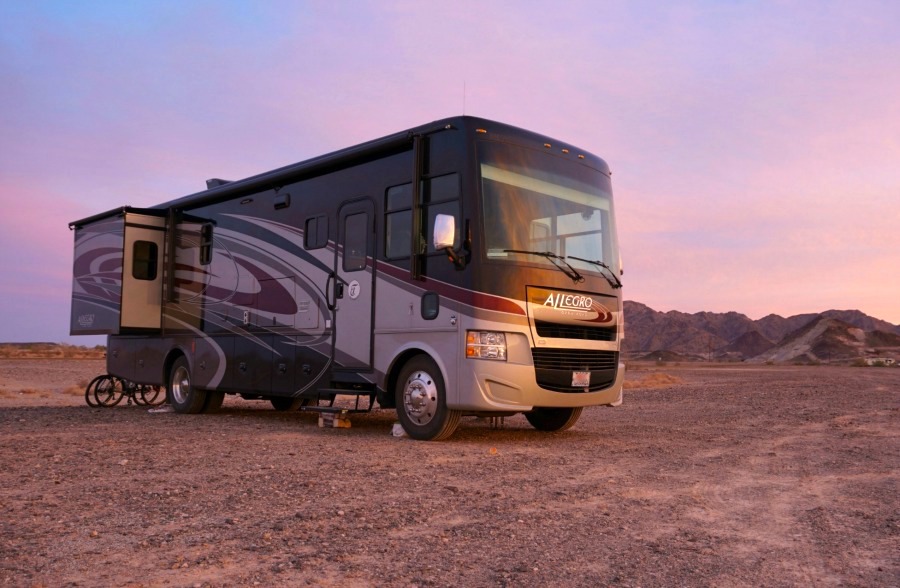 ---
Overall, we really like our Tiffin Allegro. And unlike many of our friends who are buying their second or third rig, we're quite happy with ours and plan to keep it for the foreseeable future. The layout, quality and features make for a comfortable and enjoyable RV experience.
If you're in the market for a new RV and the Allegro is within your budget, I highly recommend heading down to your local dealer and scoping it out. Even better — rent one like it on Campanda and find out if it's a good fit for you.
---
Click the link below to rent an RV in your area:
Already own an RV? It could be earning you money. Rent your underused RV on Campanda — you can name your price, choose your renters and select your dates. It's your RV, rent it out on your terms.