The Best Luxury RV Resorts & Parks Around The USA
Get ready for some serious RV park envy! With amenities like onsite spa treatments, fine dining, infinity pools, and concierge service, the luxury RV resorts on this list offer the sort of comforts that most people associate with 4- or 5-star hotels rather than RV camping. And of course, they offer essentials like full hookups and WiFi.
More expensive than your average RV park, these 15 luxury RV resorts are worth the splurge if you're looking to take your RV camping experience to the next level.
(We should point out that many of these resorts are for Class A vehicles only, so if you own a smaller rig, you may want to consider renting a larger, more luxurious set of wheels on Campanda. 😉 )
Here — in alphabetical order, because it was impossible to pick a No. 1 — are the 15 best luxury RV resorts in the country:
1. Bella Terra Of Gulf Shores RV Resort | Foley, Alabama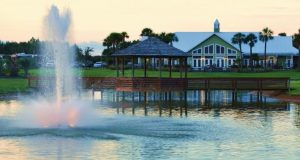 Located just a few minutes from the white-sand beaches of Alabama's gulf coast, Bella Terra of Gulf Shores is consistently rated as one of the best luxury RV resorts in the country. It boasts luxury amenities like an infinity pool, movie theater, private bath houses, a putting green and even a fully stocked lake for fishing.
Set amidst lush and beautifully landscaped grounds, this resort features oversized RV lots for rent or purchase. Note that Bella Terra is a Class A community and your rig must be at least 32 feet long and under 15 years old. Contact the resort for rates and availability.
---
2. Bluewater Key RV Resort | Key West, Florida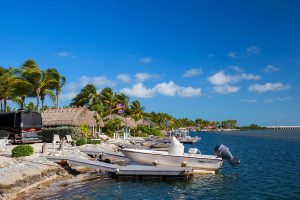 Bluewater Key is a genuinely beautiful, amenity-packed RV resort located in the Florida Keys (aka, the laidback land of eternal vacation). Swimming, diving, boating, fishing — everything you could want from a Florida vacation is available right at your doorstep.
RV sites come with tiki huts for shade and privacy and the waterfront lots feature private docks. All of the lots at Bluewater Key are privately owned, but many are available for rent when not in use. Rates start at $90 per day; all RVs must be motorized (no trailers) and at least 24 feet long.
---
3. Desert Shores Luxury Motorcoach RV Resort | Indio, California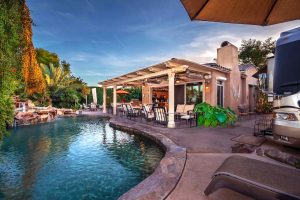 This Class A RV resort in Southern California really raises the bar — we're talking lakeside lots with grotto pools and waterfalls, lushly landscaped gardens, mountain and lake views and private villas. A 10,000-square-foot clubhouse, tennis courts, pool and spa, plus a full calendar of community activities will keep you entertained throughout your stay.
The lots at Desert Shores are mostly available for ownership, but there is a small selection available for rent, starting at $2,750 a month ($89 per day). Note that there is a minimum rental period of one to two months and your RV must be at least 36 feet long.
---
4. Everglades Isle Luxury Motorcoach Retreat | Everglades City, Florida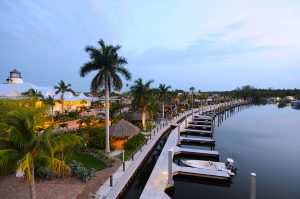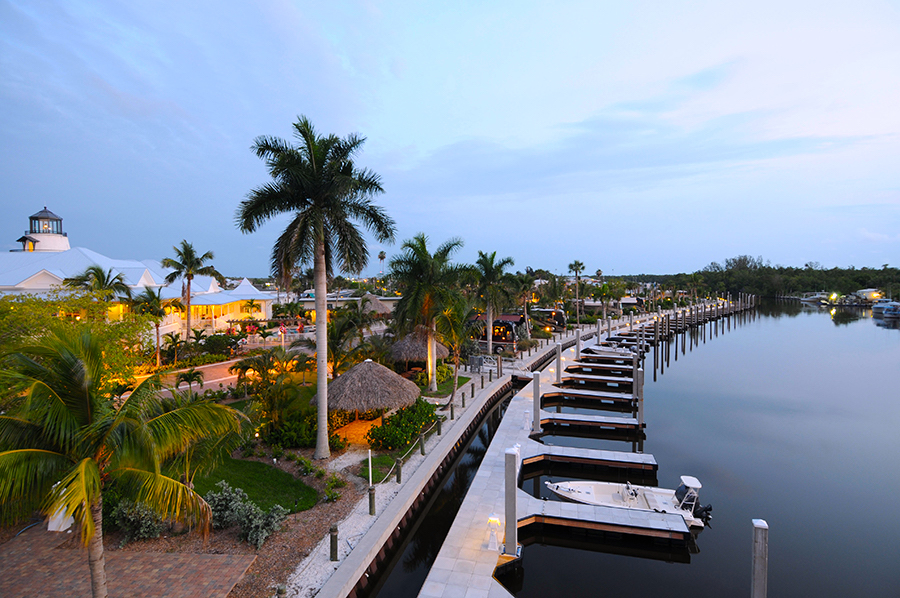 Everglades Isle is an upscale, waterfront motorhome resort in southwest Florida. Located right on the Barron River, the resort is a fishing enthusiast's paradise and offers easy access to the mangroves isles of the pristine Ten Thousand Islands.
Luxury onsite amenities include a 8,500-square-foot clubhouse with full bar, resort-style pool, sun deck, movie theater and spa treatments. Sites are available for ownership or rental. Rental rates start at $110 per day for a 2,280-square foot site. Note that this resort is for Class A vehicles only.
---
5. Hearthside Grove Luxury Motorcoach Resort | Petoskey, Michigan
Situated in the scenic woods of northwest Michigan, Hearthside Grove is a true 5-star RV experience. Luxury amenities include a resort-style pool, cooking classes with local chefs, stone fireplaces, a theater and beautifully landscaped grounds.
Oversized lots surrounded by a wooded nature preserve offer easy access to both nature and the resort's upscale amenities. Rates range from $40 for a standard lot in the off season to $150 for a premium lot during peak summer months (mid-May to early September). This is another Class A-exclusive resort.
---
6. Hilton Head Island Motorcoach Resort | Hilton Head Island, South Carolina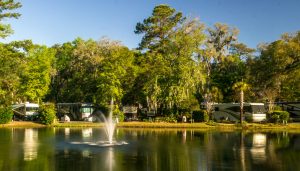 Hilton Head Island is a beautiful vacation destination in its own right. The 50-acre Hilton Head Motorcoach Resort makes it even better with luxury accommodations for Class A, B and C vehicles (no trailers).
This RV resort is just a short walk from the beach and offers amenities like tennis courts, marble bathrooms, a spa and fitness center and bike rentals for exploring the island. Prices start at $80 per day.
---
7. Las Vegas Motorhome Resort | Las Vegas, Nevada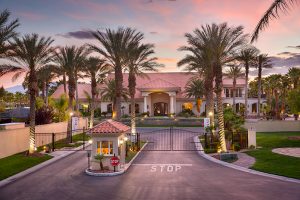 A luxury RV resort in Las Vegas pretty much sells itself. After all, what's not to love about an upscale RV community with amenities like swimming pools, a putting course, concert hall, on-site restaurant, spa facilities and concierge service — all a stone's throw from the excitement of the Strip?
Yet another Class A-only RV resort, the Las Vegas Motorhome Resort offers sites starting at $70 per day ($397 per week).
---
8. Motorcoach Country Club | Indio, California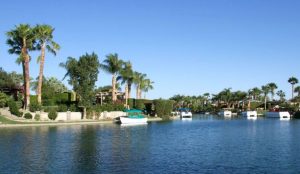 Located near Palm Springs, Motorcoach Country Club offers gorgeous views in every direction and all the upscale amenities you'd expect from a 5-star hotel — including a yacht club, fine dining restaurant, three swimming pools, golf courses, spa treatments and concierge service.
Over two miles of navigable waterways meander through beautifully landscaped lots equipped with state-of-the-art hookups. Daily rates range from $114 for an undeveloped lot to $211 for premium lots with features like gardens and private pools. Again, this resort is for Class A motorhomes (30 to 45 feet) only.
---
9. Mountain Falls Luxury Motorcoach Resort | Lake Toxaway, North Carolina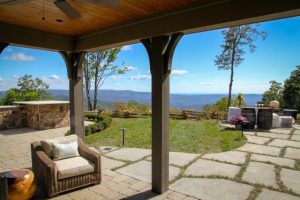 Mountain Falls is situated high in the Blueridge Moutains, offering RVers unrivaled views of the surrounding mountains, lakes and parklands in all their four-season splendor. Amenities include pools, a hot spa, private clubhouse, golfing, pickle ball and tennis courts.
This resort is exclusive to Class A motorhomes 26 feet or longer. Daily rates vary widely depending on the season and type of lot you want to rent, but they start at around $70 per day for a basic lot. Check the resort website for full availability and pricing.
---
10. Mountain Views RV Resort | Creede, Colorado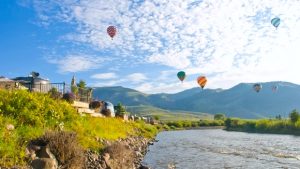 Luxury RVing right along the Rio Grande River! Mountain Views is an RV resort and RV park for outdoor enthusiasts nestled in the San Juan Mountains of southern Colorado. In addition to the spectacular scenery, Mountain Views offers fly-fishing on the Rio Grande, stocked fishing ponds, two lodges and a calendar full of organized activities.
The resort is open to all types of RVs from May to October. Daily rates for the RV park start at $28; rates for the adjacent RV resort are available on request. Riverfront lots and a Class A-exclusive resort area are currently under development.
---
11. Naples Motorcoach Resort & Boat Club | Naples, Florida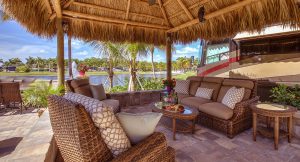 The Naples Motorcoach Resort in southwest Florida is the only RV resort with direct access to the sun-kissed Gulf of Mexico. This luxury gated community offers 5-star amenities — like a private beach, ballroom and spas — amid winding canals, lush greenery and landscaped lots.
This coveted Class-A exclusive RV resort mainly offers lot ownership, but you can request a "try before you buy" rental on their website. Contact the resort for availability and pricing.
---
12. Newport Dunes Waterfront Resort & Marina | Newport Beach, California
This is SoCal living at its finest! Newport Dunes is a laidback luxury RV resort located along a mile-long private beach in scenic Newport Beach. Go swimming in the lagoon, rent a boat, kayak or watch a movie on the beach. An onsite bistro, pool, spa and calendar of events round out the list of luxury amenities.
There are a range of sites available, starting at $64 per day for a small lot during off-peak winter months. Most types of RVs and trailers are permitted, but the resort does draw the line at converted school buses.
---
13. Polson Motorcoach & RV Resort | Polson, Montana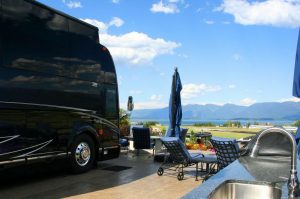 Polson Motorcoach & RV Resort is the top-rated RV resort in Montana. So what makes it so special? The resort offers gas fire pits, outdoor dining, live music and other amenities, but the real draw is its location in the heart of Big Sky Country — Polson looks out on scenic Flathead Lake and the Mission Mountains. Glacier National Park is also just a short drive away.
The resort is open between April 15 and October 15 to Class A vehicles only — these must be at least 30 feet long and in "like new" condition. Daily rates start at $65, with a 15 percent discount offered for weekly stays.
---
14. Solstice Motorcoach Resort & Country Club | Mesquite, Nevada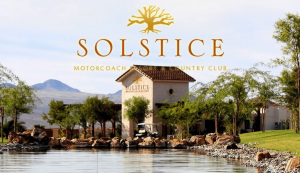 Solstice Motorcoach Resort is one of the most popular luxury RV resorts in the Southwest — and with good reason. Located between the neon excitement of Las Vegas and the inspiring landscapes of southern Utah, this resort combines comfort, nature and fun into one luxurious package.
Solstice welcomes a range of RV classes and sizes, from travel trailers to luxury Class A motorhomes. Contact the resort for rates and availability.
---
15. Zion River Resort | Virgin, Utah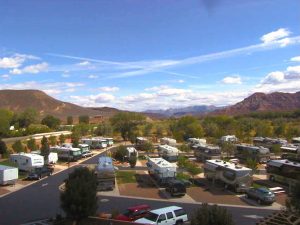 This top-rated RV resort is the perfect home base for exploring some of the Southwest's most breathtaking landscapes. Located just minutes from Zion National Park, the Zion River Resort is also close to Bryce Canyon National Park and Grand Canyon North Rim. The resort offers a swimming pool, spa, gift shop and concierge services — all against a backdrop of towering red-rock mountains.
Zion River accommodates a range of RV types and sizes, up to the largest Class As. Daily rates range from $35 for a small back-in site during the winter months to $72 per day for a premium lot during the summer. Cabins and tents are also available.
---
Feeling inspired but don't have the wheels to take you where you want to go? Rent an RV on Campanda and start planning your luxury RV vacation today!
RV owners: Saving up for your next RV trip? You could be earning thousands from the vehicle in your driveway. Rent your RV on Campanda when it's not in use and turn your spare wheels into spare cash.