By
Liz Wilcox
In any other part of the United States, you might have to travel far and wide to see both mountain ranges and ocean views. But not in the Northeast. In this area of the country, you're likely to experience high altitudes and salt water all on the same trip. And if that's not enough to entice you to head north for vacation, its rich history might! I lived in the Northeast for two years before becoming a full-time RVer, and I was continually amazed by how much this small corner of our country has to offer. These days, I make a point to visit whenever I can. Keep reading to discover my top five Northeast destinations (for RVers and road trippers alike) and find out why I think you'll love them just as much as I do:
RVing In Hartford, Connecticut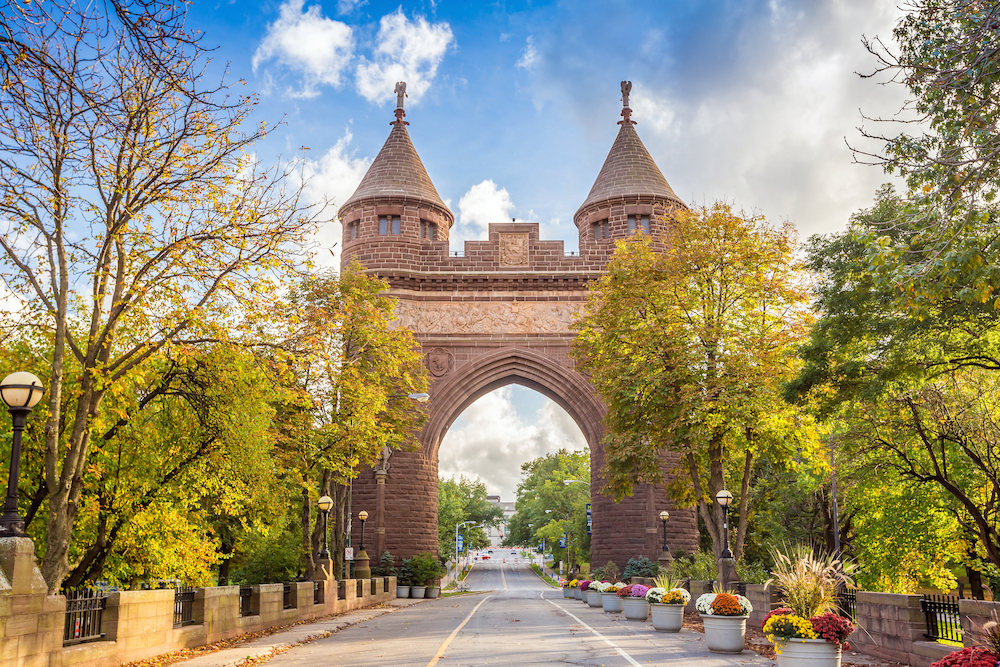 The Northeast map is speckled with major cities. Each year, millions of people from around the world flock to New York, Boston and Philadelphia for their famed sights and rich histories. The pull of these major cities means that a lot of smaller metropolises get overlooked by visitors. But trust me, they're just as worthy of your attention and are the perfect size for exploring. Plus, they usually have far fewer tourists! Hartford, Connecticut is one of those cities. Packed with history, it's a great city for RVer looking to get an authentic look at this region.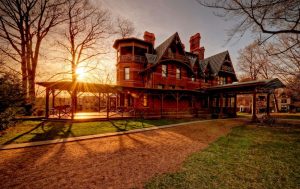 Hartford is home to a wide variety of interesting and historical sights. If you're interested in literature, you can tour the homes of both Mark Twain and Harriet Beecher Stowe. For the artistically inclined, the Wadsworth Atheneum is the nation's oldest public museum and is said to be one of America's finest art collections — it houses more than 50,000 works of art! If you've got kids in tow, check out Bushnell Park. Noted as America's first public park, it's a great place for the whole family. I used to love taking my daughter Chelsea there to listen to the musicians playing. She loved riding the carousel in the park — for just a dollar, anyone can ride the vintage 1914 carousel! Close to the park is the Bushnell Performing Arts Center. I took Chelsea there to see "Riverdance" when she was about 12 months old. Even at that age, she was captivated throughout the entire show! Be sure to check out what's coming to the center when you visit Hartford for a truly great performance. Because Hartford is centrally location in the state, it's easy to get outside the city limits and into nature. About 30 minutes west of the city is Nepaug State Forest. This is a great area to go hiking, biking and birding. I love taking the whole family out there (including our dog!) for some gorgeous views of Yellow Mountain and the Nepaug Valley.
Must-Eats In Hartford
If you're in need of something savory and home-cooked (and not deep-fried!), consider Pho 501 located in East Hartford. It's a really tasty Vietnamese option that won't break the bank. Can't get enough history? Eat at City Steam Brewery. The restaurant is located in a historic nineteenth-century brownstone. Go here for a fun and unique meal with options for the whole family. Or do like the locals do and stop by a hot dog stand on the side of the road. It sounds weird, but it's totally normal in Hartford. There are even different types of hotdogs to buy. Who knew?!
Where To Stay In The Hartford Area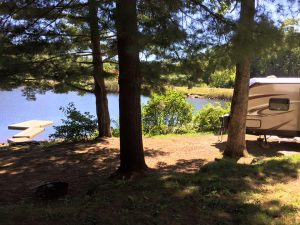 Connecticut is a small state and camping spaces are more limited than out West, but there are several options relatively close to Hartford. I've heard good things about Wilderness Lake Campground and Resort, located about 30 minutes outside of the city. Set in over 100 acres of countryside, the resort is family- and big-rig-friendly, making it perfect for just about any RV owner or renter.
---
RVing In Salem, Massachusetts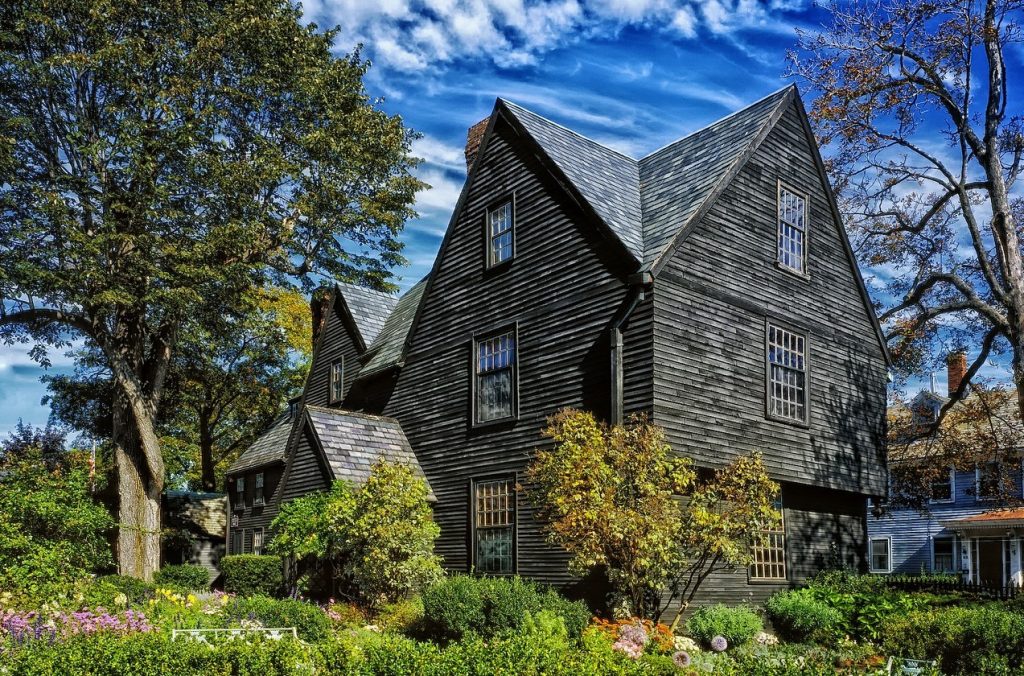 Salem is just fun! It was on my absolute must-go list and it should be on yours, too. It's my favorite place in the Northeast, by far.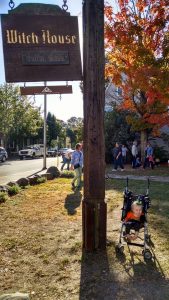 From the moment I parked and started walking the streets, I knew this was the place for me. Salem is the perfect destination whether you want to travel for food, entertainment or culture. More than just a seaport, this town has a seriously unique history! Salem is infamous for its 17th century witch trials, and the city has really owned its troubled but fascinating history. You'll find tons of witch-themed museums and shops around town. You can learn all about Salem's sordid history at the Witch House. Owned by the town, it's the only structure with direct ties to the witch trials. Another interesting stop should be Burying Point Cemetery, the second-oldest burying ground in the United States. And if that's not witchy enough for you, be sure to check out the statue of Elizabeth Montgomery, the actress who played in Bewitched. Apparently the townspeople hate it, but I think you'll like it!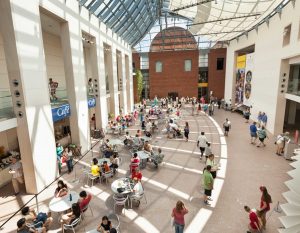 Salem isn't all witches though. I loved the House of Seven Gables, which was made famous by Nathaniel Hawthorne's novel of the same name. And the Peabody Essex Museum is truly amazing. In addition to an impressive collection of East Asian art and artifacts (Salem was one of the country's biggest international trading ports in the 1800s), the museum also has some really cool rotating exhibits and a great museum gift shop. If it's a nice day out, Salem's cobblestone streets are great for a stroll. Walking downtown in the fall, we came across an open marketplace with lots to see and do, including a dress-up Frankenstein. Quirky, right?
Must-Eats In Salem
The Witches Brew Cafe is guaranteed to please with its American food and fun atmosphere. And it's located right next to the House of Seven Gables! I tried the buffalo wings and they were fantastic for lunch.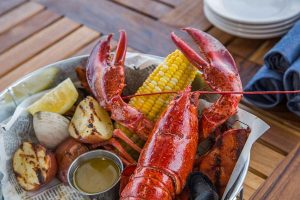 If you're looking for a casual atmosphere with a water view, I'd definitely recommend Sea Level Oyster Bar. The restaurant is fun and modern-looking, but everything on the menu is absolutely classic. Seriously, if you're looking to try some New England seafood, this is the place, my friend. And beer lovers will enjoy Gulu Gulu Cafe. It has a great selection of imported and craft beers, plus a tasty food menu. (Bonus for nerds: Just across the street is an extensive comic book store, complete with dusty figurines and collectibles.)
Where To Stay In Salem
Winter Island Park is the place to be! Not only is this park located directly in Salem, it's right on the beach! You're just a short walk to the water. And because this beach is next to the campground, it's not crowded like many other areas of the coast.
---
RVing In The Finger Lakes, New York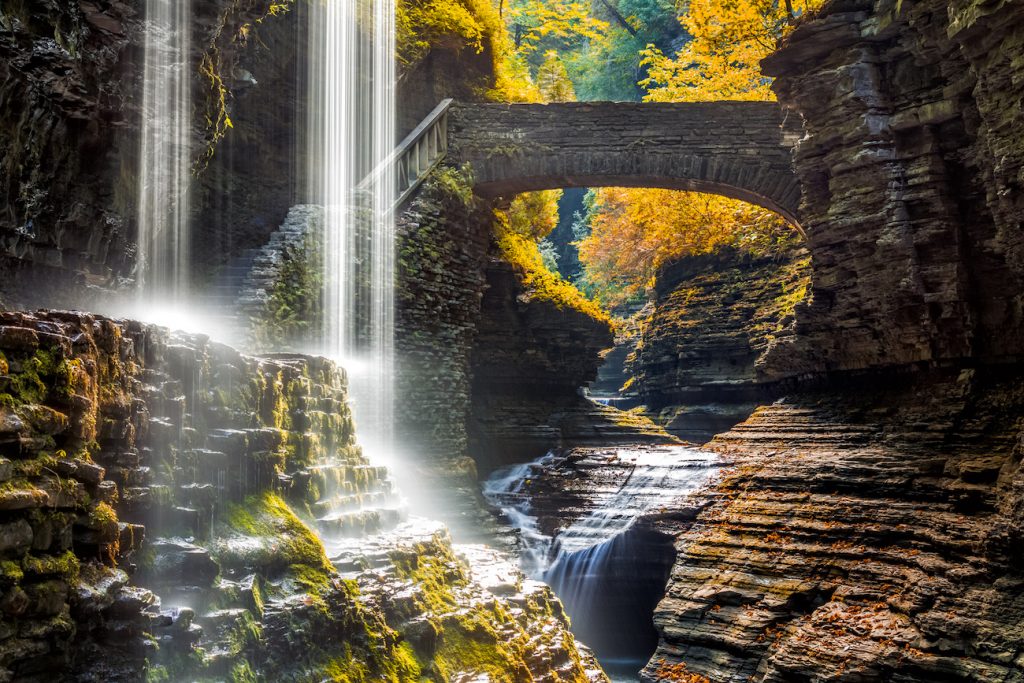 Weird name, awesome destination. When visiting this region of the Northeast, I love to explore all the state parks. They are all just so beautiful. Take Watkins Glen State Park, for example: It's the area's most popular park, and for good reason. It's voted third in the nation for best state park and is famous for its Olympic-sized natural pool. When you're done swimming, you can hike and see any of the 19 waterfalls located in the park. It's really an incredible place to visit!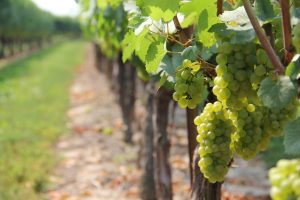 The mountain bike and hiking trails in the area are also pretty cool. Be warned though, many of them are not for the inexperienced. This area is just below the Adirondack Mountains and is home to some killer trails! Take it from me — I ran a marathon in this region and it took me seven hours, tons of sweat, tears and one toenail to finish! Need a break from all that outdoor activity? The area is quickly becoming known for its wine. Go on a wine tour, check out a brewery or shop at a farmer's market for a more relaxed trip.
Must-Eats In The Finger Lakes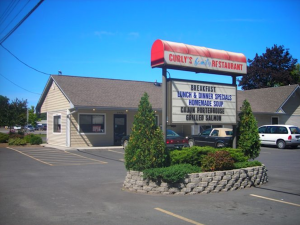 I really recommend trying Curly's Family Restaurant. It's been a family-owned business since the 1950s, making it a real staple of the area. They have a really big breakfast menu with lots of goodies, including waffles. My personal favorite is the steak and eggs, though. It comes with home fries (yum!) and toast. It's the perfect way to load up on carbs before a long day of hiking trails and swimming. If you're traveling in your RV with a large group, you should check out Jerlando's Pizza. The pizza is tasty and they offer coupons. Need I say more?
Where To Stay In The Finger Lakes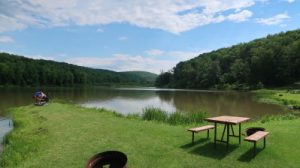 My friends Heath and Alyssa stayed at Finger Lakes Jellystone while visiting the area last summer. And holy moly! I can't wait to stay there, too. With more than enough amenities for the whole family and an unbeatable lake view, this is the spot to be!
(Just watch this video and you'll see for yourself.)
---
RVing In The Thousand Islands, New York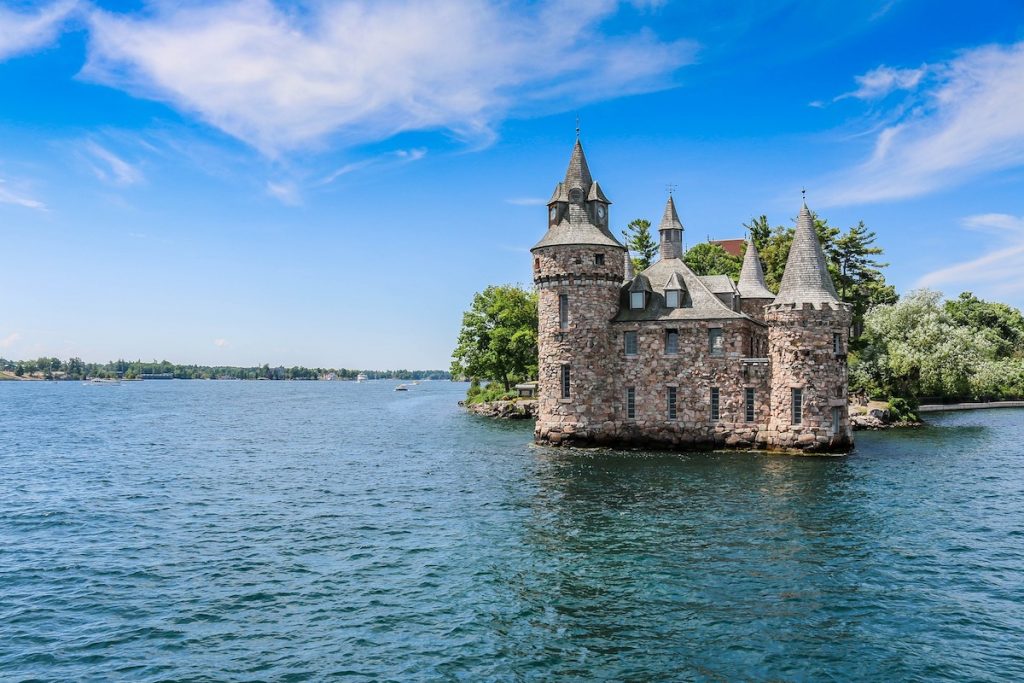 Located along the border with Ontario, Canada, this destination perfect if you're looking for a super relaxed and romantic destination. In fact, my husband and I used to go here often when we lived in Upstate New York. Beautiful scenery, cute beach town, a castle — this region of New York has everything you're looking for in a Northeast destination, just without the crowds.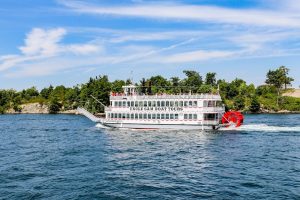 One of the most popular spots in the area is Boldt Castle. It has has amazing story: The castle is located on Heart Island which is (you guessed it) a heart-shaped island and was built by millionaire George C. Boldt as a tribute to his wife. Construction stopped abruptly when his wife suddenly passed away. Boldt was never able to finish the castle and left it to decay. Now the state of New York owns it and continues to restore it to its full glory. After a visit to the castle, I love to keep the romance alive with a stroll around Alexandria Bay. There are lots of cute shops to explore and places to sit and watch the boats roll by. A perfect way to end the evening is to watch the sunset over the islands. Can you tell I love this place? It's perfect for any RVer or couple!
Must-Eats In The Thousand Islands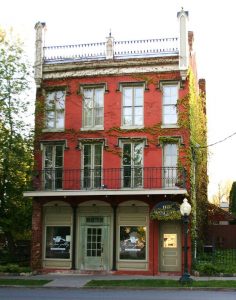 Riley's by the River is your best bet for a good meal, fast service and a fantastic view. I really like going to this restaurant after a boat tour. It's located right next to the Main Shipping Channel where they load and unload the tour boats. They also have a large selection of craft beer and a killer buffalo chicken sandwich. Now, if you're looking for one of the best meals of your life, go to Tin Pan Galley. No, I'm not getting paid to say that. It's seriously that good. I've been there multiple times and the menu never gets old. Be warned, the dining area is packed tight in true Northeastern fashion. If you can rise early enough, do yourself a favor and go to Tin Pan Galley for breakfast. I love the pumpkin pancakes and the chicken asparagus hash. One time while I was pregnant, I went in and was surprised to find a waffle on special. The thing was topped with whipped cream and strawberries and as big as my head. I ate the whole thing.
Where To Stay In The Thousand Islands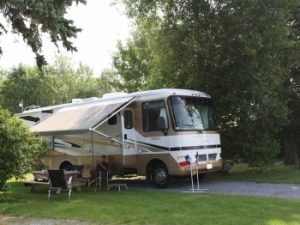 Stay at
1000 Islands Campground
, of course. It's priced right and centrally located between Alexandria Bay and Clayton. This means you'll be able to reach the best little towns in the area quickly! I love this park because they really cater to all types of RVers. If you're just
renting an RV
and don't feel comfortable backing into a site, they have pull-through sites available. On the other hand, if you're an old pro camper who wants to save a buck, they've got a back-in, no-sewer site for you! I especially recommend this park for families. They have hay rides and two incredible playgrounds. One is in the shape of a pirate ship and the other is a castle! How cool is that?
---
RVing In Mystic, Connecticut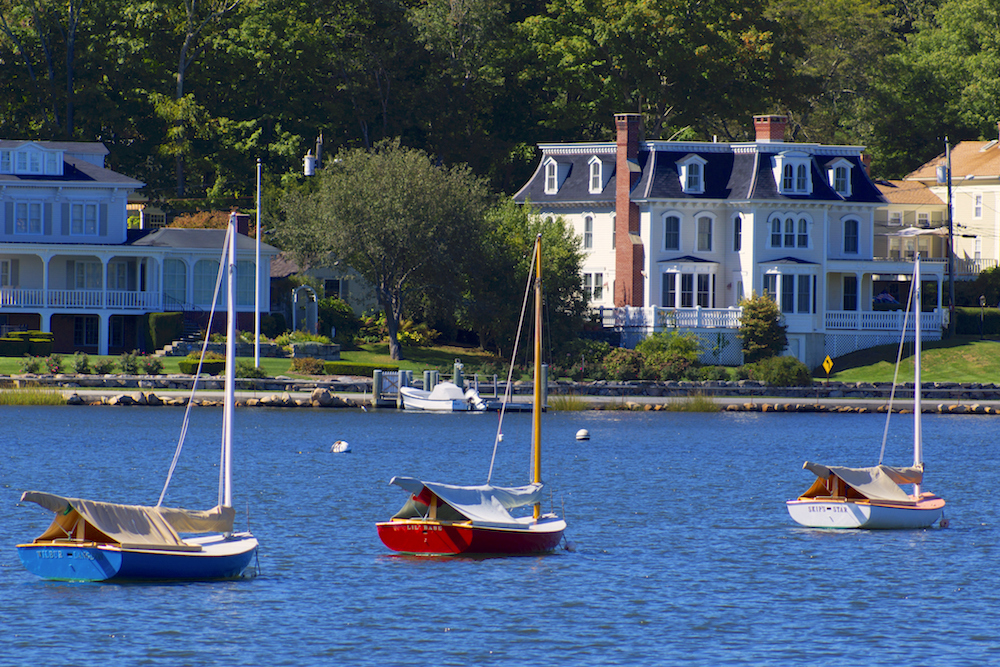 This town just screams quintessential New England. It had to make the list! I love this town because of its history, fresh salt air and its incredible events.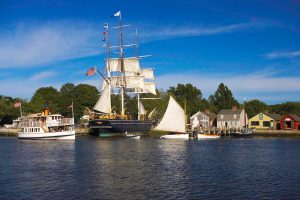 One of the coolest places in town is the Mystic Seaport. At 40 acres, it's the largest maritime museum in the country and is full of rich history and hands-on learning. There are historical shops that you can walk through and educational pirate shows. But I like the Charles W. Morgan the best — it's the last wooden whaling ship in the world! You can hop aboard and begin to understand the whaling industry, and how society has evolved since those times. It's incredible. After the Seaport, I like to head downtown and relax. Take an easy stroll through the shops and then sit and enjoy the breeze from the water. It's really fun to watch all the activity on the water. I love to see all the sailboats and fishermen.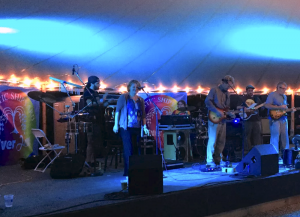 If you time your visit right, Mystic does a great job with town events. They are fun and family-friendly. My last visit was during their "Mother's Day In Mystic" celebration. There were beautiful flowers everywhere! Many shops had incredible discounts, and a paddleboard company was even offering a free paddle! It was awesome. Some other popular events are "The River Jam Festival" and the "Mystic Half Marathon and 10K". These are are great for people bringing an RV to the area, since they happen in the summer when the weather is nicest.
Must-Eats In Mystic
Of course, you've got to eat at Mystic Pizza. It's famous! It's also close to downtown and parking.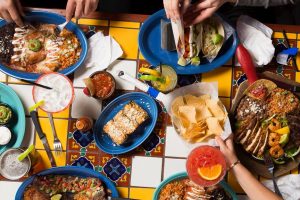 But my favorite place to eat is Margaritas Mexican Restaurant. Yep, I like to go to a Mexican restaurant in a New England coastal town famous for its seafood. Why? First of, the atmosphere is fun! It's decorated really nicely and very well-lit. I also like that it's not downtown, but only a short walk from it. And the best part? When you order an entree, you get up to two kids meals for free. Ah-mazing! Oh, and the food is top-notch (try the handmade guacamole).
Where To Stay In Mystic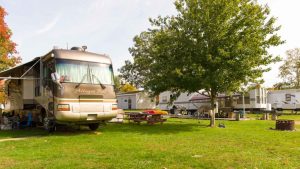 Check out
Seaport RV Resort and Campground
if you want to be close to all the action Mystic has to offer. This park is perfect for any type of RV —motorhome, travel trailer or teardrop. All the amenities make it a really nice place to stay onsite and just have a relaxing day. If we're there at the same time, you can catch me at the swimming pool. I'll be the one floating around with the crazy-haired toddler.
---
As you can see, the northeast region has a lot to offer in the way of history, water, food and fun. I hope to see you and your RV there soon!
---
Don't have an RV of your own but love the idea of seeing the Northeast by road? Rent a camper, trailer or motorhome on
Campanda
!