By
Bryce Cripe
My wife Camille and I have been full-time RVing since August of 2016. In less than two years, we've visited 29 states and seen some amazing sights along the way. Choosing just one favorite road trip is challenging, but one trip stands out from the others. Our road trip to Badlands National Park and the Black Hills of South Dakota was my personal favorite. The two areas are vastly different, despite being only 75 miles apart. There are a lot of things to do and see, so I recommend spending at least a week there, if possible. We spent about seven days in the area ourselves and saw quite a lot. Keep reading for a full account of our trip, plus a suggested itinerary for your own adventure. (If you want to take this trip but don't have your own RV or would like to test out a different model, you can find an RV rental to suit your needs on
Campanda
.)
RVing In Badlands National Park
When we arrived in South Dakota, I was struck by the stark beauty and wide open spaces of the Northern Great Plains. I expected the land to be flat, but instead found rolling hills. And the skies seemed to reach down and embrace the land, like in Montana's Big Sky Country. We started our trip at Badlands, a sprawling park with eroded buttes and spires that reminded me of Bryce Canyon National Park in Utah. The North Unit of the park features a prominent ridge — several hundred feet high and more than 20 miles long — that is surrounded by scenic prairie grasslands that stretch to the horizon.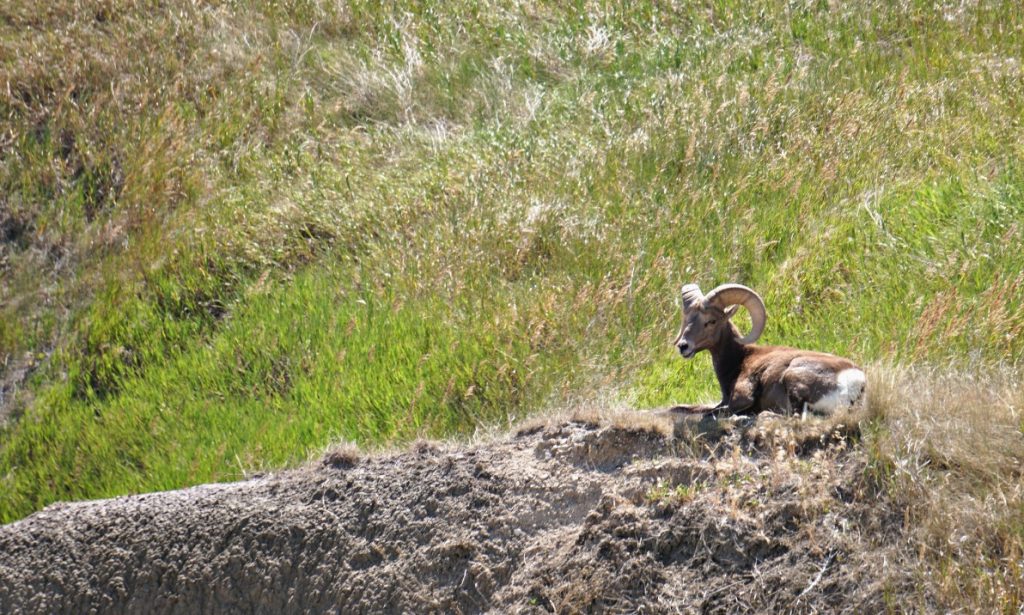 After a quick stop at the visitor center, we drove the 50-mile round trip scenic route along Badlands Loop Road. We made stops at several overlooks where we enjoyed and photographed the amazing views, investigated strange and interesting rock formations and even saw prairie dogs at play in large "cities". Later that afternoon, we had an up-close encounter with a bighorn sheep ram! It was an amazing day in a unique place — and we still had three more days to go! Note: RV camping is available in the North Unit at Cedar Pass Campground from April through October, as well as at several private campgrounds just outside the park.
Independence Day In Interior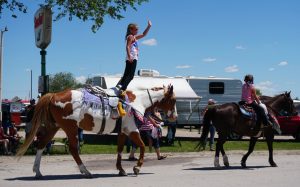 The next day happened to be the Fourth of July and we enjoyed the festivities in the nearest town — Interior, South Dakota. It only has a population of 104, but Interior's Fourth of July parade packs a punch. The procession of classic cars, fire trucks and youth sports teams showered us with candies and water from squirt guns. But it was the young female trick horse rider that awed us most. It was heartwarming to see that other parts of the country celebrate our nation's independence similarly. We then found out that some fellow RVers were workamping at a nearby guest ranch for the summer. We met up for burgers and beer, and then got a tour of the ranch. It's not everyday that we get to bottle-feed a calf and collect fresh eggs for guests! Our day already felt complete, but we still had a rodeo performance and fireworks show to attend. It was Americana at its best.
Exploring Notch Trail & Minuteman Missile Historic Site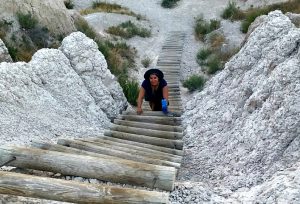 Our third day in Badlands National Park ended with an evening hike of the Notch Trail, which included climbing a log ladder up a steep incline and hiking along a high ledge to an amazing view of the White River Valley. On our last day at Badlands, we stopped at the nearby Minuteman Missile National Historic Site Visitor Center. We learned that many long-range nuclear missiles were housed in silos all across the Northern Great Plains. It was a very interesting and sobering experience.
---
RVing In The Black Hills
Another jammed-packed three days awaited us 75 miles away in the Black Hills. We stayed at an RV park in the town of Piedmont, just a short drive from Rapid City. The Black Hills are actually an isolated mountain range surrounded by the Great Plains. The range has many exposed granite peaks and dense pine forests. They were named for their dark appearance in contrast to the grasslands around them. We spent three full days exploring the Black Hills.
Exploring Custer State Park
On our first day, we drove south to Custer State Park, the first and largest state park in South Dakota. It is home to forests, sparkling lakes, grasslands, granite pinnacles and an abundance of wildlife. Its natural diversity made it feel more like a national park than a state park.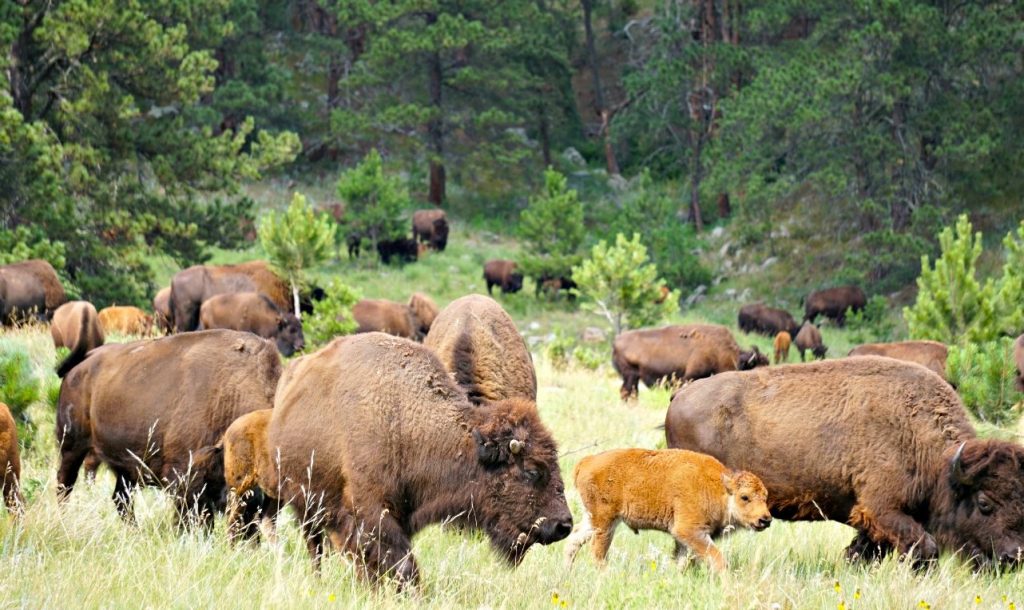 It's also a great park for American history buffs: The park is named after Lieutenant Colonel George Armstrong Custer, who died at the Battle of the Little Bighorn in 1876. You can read more about our trip to the battlefield on our blog. We drove the popular 18-mile Wildlife Loop Road through the park. We spotted several pronghorn antelopes, got up close with friendly feral burros and got stuck in a "wildlife jam" of cars that were there to view the main attraction: a large herd of the park's famous wild bison. Then we drove the scenic Needles Highway to Sylvan Lake, which features hundreds of granite pinnacles that draw rock climbers from all over the world. The twisting roads include amazing viewpoints and two very narrow tunnels — so narrow, in fact, that our RV would not have made it through.
A Visit To Crazy Horse Memorial & Mount Rushmore
After stopping for refreshments at Sylvan Lake Lodge, we made the short drive from the park to Crazy Horse Memorial. The unfinished stone carving was started in 1948 to honor the Lakota leader and will stand over 500 feet high and 600 feet long when completed. It's hard to imagine the engineering and artististry required to create such a statue. Our final stop for the day was at Mount Rushmore National Memorial. We watched an informative and patriotic program which highlighted each president's contributions to our nation's history. It was an impressive and moving experience that also honored the war veterans in attendance. It was a great way to end an epic day.
A Day In Sturgis and Deadwood
On our second day, we went to the legendary town of Sturgis, known for its annual motorcycle rally in August. The rally was still over a month away, but you could feel the anticipation, especially from the shopkeepers and restaurant owners awaiting the thousands of visitors that were expected over the ten-day event.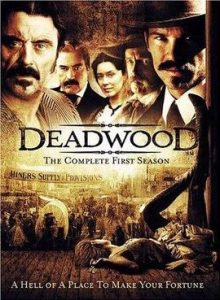 Next, we drove to the gold mining town of Deadwood. Founded in the 1870s and known for its lawlessness, the town is now a fraction of its former size. However, tourism is now booming with the introduction of Las Vegas-style casinos and the popularity of the HBO original series, Deadwood. We had lunch in one of its historic buildings and then got a private upstairs tour of what is said to be a haunted hotel. We drove further up into the hills past a local ski area before winding down through the lush pine and fir forests of Spearfish Canyon, stopping halfway down the canyon to view Bridal Veil Falls. As evening approached, we drove out of the canyon and into the town of Spearfish just as its weekly Friday night summer street festival was getting into full swing. We stopped to enjoy food trucks, live music, shopping and great people-watching. It was a pleasant ending to another great day in the Black Hills.
Hiking Black Elk Peak
For our last day in the area, we returned to Custer State Park and hiked to the top of Black Elk Peak. At 7,242 feet, it is not only the highest point in South Dakota, but also the highest point in the United States east of the Rocky Mountains.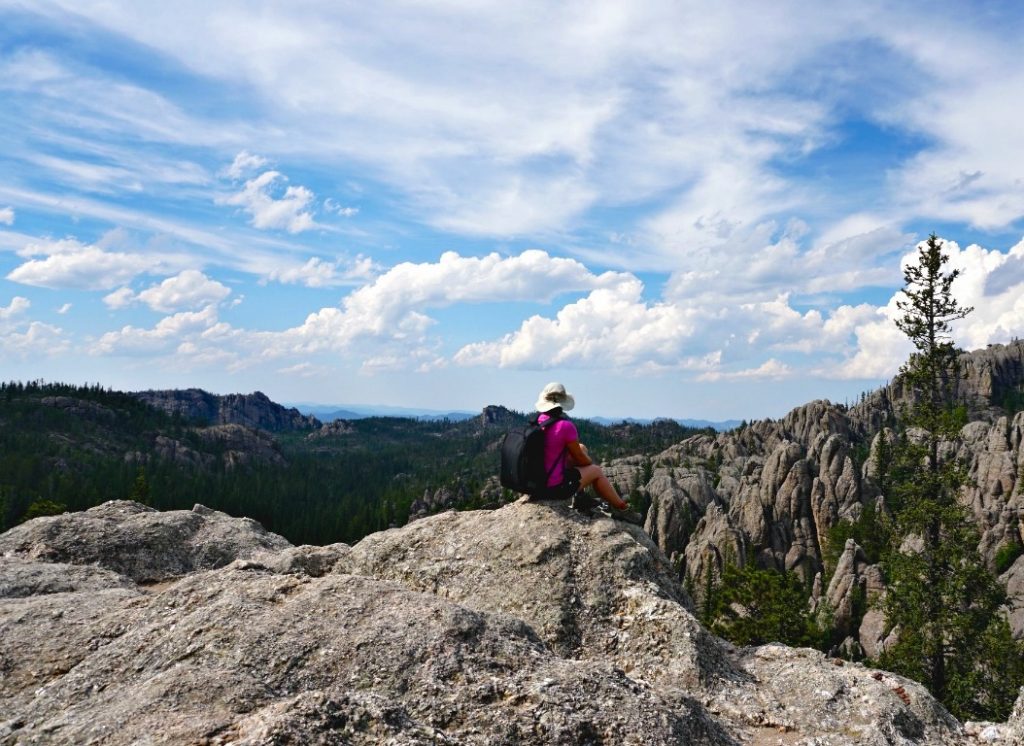 The views were spectacular, and it was great to get out of the RV for a bit and exercise in the wilderness.
Click here to read more about our favorite hikes
, including Black Elk Peak. As you can see, we packed a lot of things into our three days in the Black Hills. But we still missed a couple of major attractions. We hope to visit the area again soon to see Wind Cave National Park and Jewel Cave National Monument. Even still, as we wrapped up our epic road trip to Badlands and the Black Hills, we left feeling satisfied and fulfilled. The historic sights, unique experiences, rare wildlife and incredible natural scenery made for an amazing trip — one that I highly recommend.
---
7-Day Trip Itinerary
If our trip to South Dakota sounds like the stuff of your RV dreams, you can follow our route using this seven-day itinerary as a guide:
Badlands National Park
Day 1 — Start at the Ben Reifel Visitor Center for its interpretive exhibits and video presentation. Then spend the day touring the Badlands Loop Road scenic drive (25 miles, one-way) and its numerous overlooks.
Day 2 — Visit nearby Minuteman Missile National Historic Site. Start at the visitor center to view exhibits. Continue 5 miles to Delta-01 Launch Control Facility for a ranger-guided tour (tickets required in advance; maximum tour size six people). Continue 10 miles to Delta-09 Launch Facility for a self-guided tour.
Day 3 — Explore and have lunch in the small town of Interior near the Ben Reifel Visitor Center. Spend the afternoon hiking a series of short trails in the National Park — Door, Window and Notch Trails.
Black Hills Area
Day 4 — This is a travel day. Drive approximately 75 miles to accommodations in the Rapid City area.
Day 5 — Visit Custer State Park (30 miles from Rapid City). Drive along Wildlife Loop Road and Needles Highway. Visit nearby Crazy Horse Memorial, then finish the day at Mount Rushmore National Memorial.
Day 6 — Visit the town of Sturgis (28 miles from Rapid City), then continue to the historic mining town of Deadwood. Drive through Spearfish Canyon and stretch your legs with short hike to Bridal Veil Falls. Stop for dinner in the town of Spearfish on the way back to Rapid City.
Day 7 — Drive to Sylvan Lake in Custer State Park (35 miles from Rapid City). Hike to summit of Black Elk Peak (allow 4 to 5 hours for the 7-mile round-trip hike).
---
Need an RV for your own trip? Use Campanda's search tool to find the perfect vehicle for your next adventure: