By Liz Wilcox
It feels like the #VanLife trend is everywhere. And while Instagram makes traveling in a van look glamorous and easy, it's not for everyone. There are different types of vans out there, each with their own advantages and disadvantages; it's important to know what you (and your possessions) are getting into.
Whether you're planning to rent an RV on Campanda or buy one of your own, it's important to do your research.
---
Class B Motorhomes Vs. Conversion Vans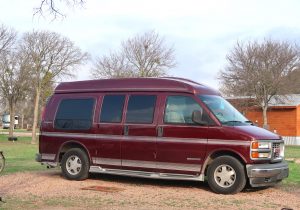 First and foremost, there are a couple different types of vans for you to choose from. Whether you should choose a Class B motorhome or a conversion van really depends on your camping and travel style.
At first glance, there doesn't seem to be much of a difference between the two. They are both a bit bigger than a cargo or minivan. They both have tall roofs so the average person can stand comfortably inside.
And both the Class B and conversion van are popular for RV rentals because they are equipped with amenities not usually found in cars, while still offering the flexibility of a standard vehicle.
But the differences are important to know when considering if a van is right for you.
---
Differences Between Class Bs And Conversion Vans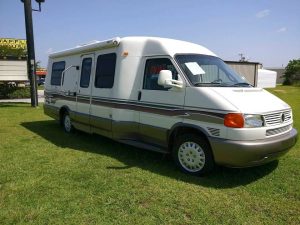 Class B vans are specifically built to be recreational vehicles. This means they have everything you'd expect from their larger RV counterparts. Inside, you'll find a bed, kitchen, storage and a bathroom. You will also find a water and sewage system underneath the rig.
A conversion van may have a bed and even a converted kitchen, but running water and a bathroom must be added after purchase. Most of the time, choosing a conversion van rental means relying on public toilet facilities during your travels.
In short, Class B motorhomes are designed for camping while conversion vans may need some modifications before they are ready for a long road trip.
---
Advantages And Disadvantages Of Choosing A Van
Social media and online ads it can make seem like the #VanLife is perfect for everyone.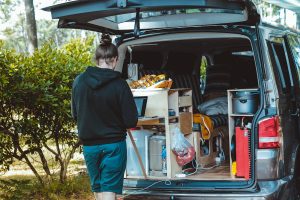 And of course, there are some really great advantages (adVANtages, get it?) that come with choosing a van as your RV. There are also some disadvantages, which may seem big or small depending on your needs and travel style.
For one thing, is there is limited space. You won't be able to bring everything with you. You also won't be able to bring everyone with you. If you have children, a van can end up feeling noisy and stressful on long trips. If you're traveling solo, loneliness can occur and you'll have to put effort into meeting people.
On the bright side, a van can keep your living or travel costs low. You can fit in cheap or free parking spots that other RVers cannot.
And there is great freedom that comes with van travel. The ability to go just about anywhere cannot be understated. Living in such a small space can simplify your travels and make it easy to focus on what is really important.
---
Is Van Life For You?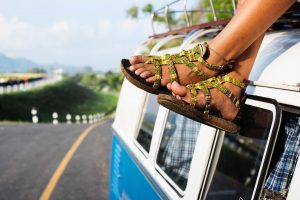 The RVers who opt for Class B camper vans or converted vans are a diverse bunch. But there are several questions that everyone should ask themselves when considering to rent or buy a van.
Do you like to be outside?
With limited living space, the outdoors will end up playing a big part in your van travels. Think about your hobbies. You would do well in a van if you can do them in the fresh air or, better yet, if they actually require the outdoors!
Are you creative?
Vans require a lot of creativity. Some of it is fun — like finding stealthy places to park with killer views. But it's important to get creative inside the van, too. Consider the items you want to bring with you on your travels and get creative about how to store all your possessions in a small rig.
How clean do you need to be?
Okay, I'm not saying van lifers are dirty. I'm simply pointing out many vans don't have showers. If they do, they're certainly not that comfortable. It is really important to take into account the fact that you may not shower every day. And the van may get dirty. After all, you are going to be spending a lot of time outside — a certain level of dust or dirt can be expected daily.
How materialistic are you really?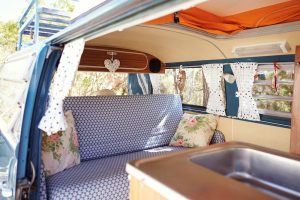 We're not all minimalists and that's okay. It's important to be honest with yourself about how attached you are to your things. Because you simply can't fit a ton of stuff into a van. If the thought of leaving behind most of your clothes makes your head spin, a van might not be the right RV for you.
That said, if simplifying your life has been your New Year's resolution for the past ten years running, finding the perfect van may be just the motivation you need — choosing a van forces you to really evaluate what is important and necessary.
---
Love the idea of living in a van?
Rent one on Campanda to experience #VanLife firsthand. You can search thousands of RVs around the world — including Class B motorhomes, converted vans and vintage campers.
Already own a van that's sitting idle?
Rent your van on Campanda to share your love of RVing and earn a pretty penny!