Your RV is awesome. You know it and we know it. But with so much competition from other Campanda owners, how do you convince prospective renters that your RV is "the one"?
Here at Campanda, we spend a lot of time talking with interested renters. They've told us first-hand just what it is they're looking for in an RV rental.
Using renter feedback and owner success stories, we put together a list of 10 easy tips to help you maximize your earning potential, get great renter reviews and make sure your RV stands out in a crowd.
1. Photos, Photos, Photos
People like pretty pictures. This is especially true when it comes to online shopping, whether they're spending money on a new coat or a vacation rental. We recommend that you take as many photos as possible.
Fun fact: RV owners who include four or more photos in their listing receive up to seven times more inquiries.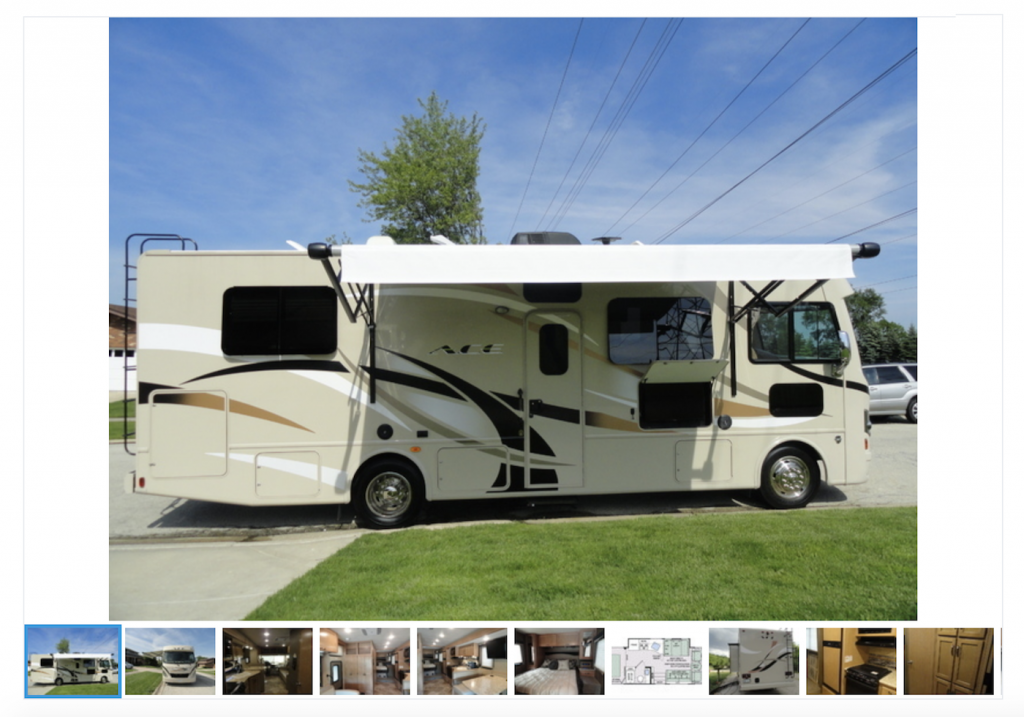 To help potential renters really imagine themselves living in and enjoying your RV, make sure your photos are well lit and the space is tidy. And don't worry too much about camera quality: Unless you're using a Nokia flip-phone that you bought at a gas station, your mobile phone camera is probably fine.
Main Photo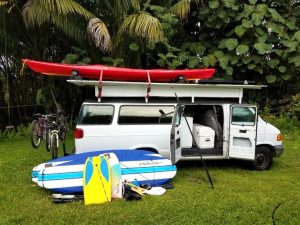 Your main photo should grab the renters' interest. Make sure that the vehicle is clean and that the angle shows as much of the RV as possible.
Setting is important too — photographing your RV in nature will help renters imagine themselves there and inspire them to book.
Secondary Photos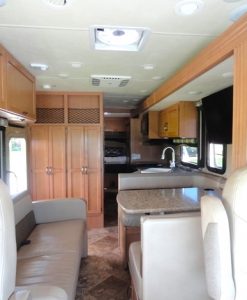 While the main photo is supposed to attract renters' attention, the rest of the photos should close the deal.
Try to show as many details about your RV as possible. Take pictures of the cabin, the bathroom, beds, driver's seat and so on. Remember to take the photos when there is plenty of light.
---
2. Use Your Listing Title Wisely
One of the best ways to set your listing apart is to give it a catchy and descriptive title. Cut to the chase and communicate the things that make your RV special as early in your listing as possible.
Whether your RV is extra roomy, dog-friendly or boasts solar panels, putting these details in the title will help you catch the eye of a renter with specific wants and needs.
---
3. Provide As Much Detail As Possible
The more information you provide, the more comfortable renters will feel about booking your vehicle.
Put yourself in the renter's shoes — think about all the little details you'd ask about if you were borrowing someone else's vehicle. Does your RV come equipped with cooking utensils or linens? Do you have camping gear available to rent? Is there space in the cabinets for renters to store their own supplies?
The more accurate and honest you are, the more likely it is that your renters will walk away satisfied.
And don't be afraid to have a little fun with your description. Tell renters what makes your RV special, whether that's smooth handling on the road or the way the light comes through the curtains in the morning.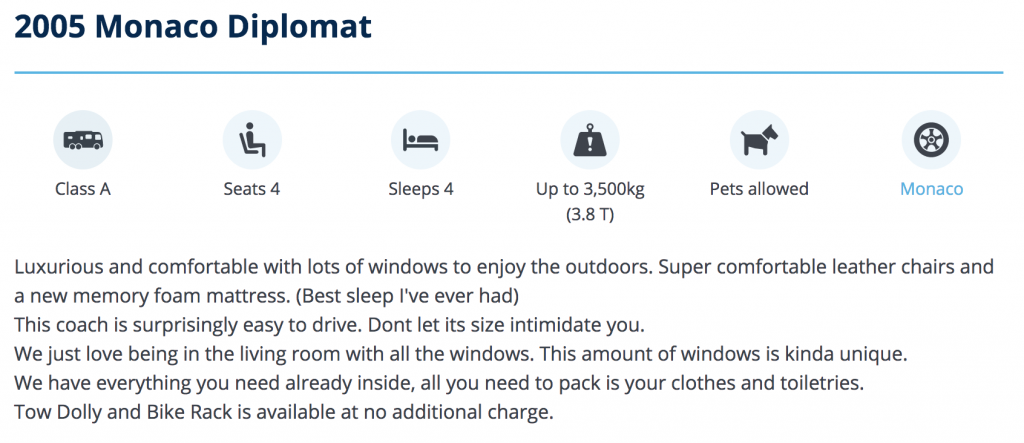 ---
4. Price Competitively
First, you have to know how much your RV is worth. Start by doing a little research. Look at similar rentals in your area — on Campanda.com, at local rental services and RV dealerships — to get an idea for what other owners are charging for vehicles like your own. Be realistic about what your RV is worth and you will be rewarded with more interested parties.
Pro tip: It's often better to set the base price low and offer extras as optional add-ons. This will offer renters as much choice as possible while ensuring that your price stays competitive.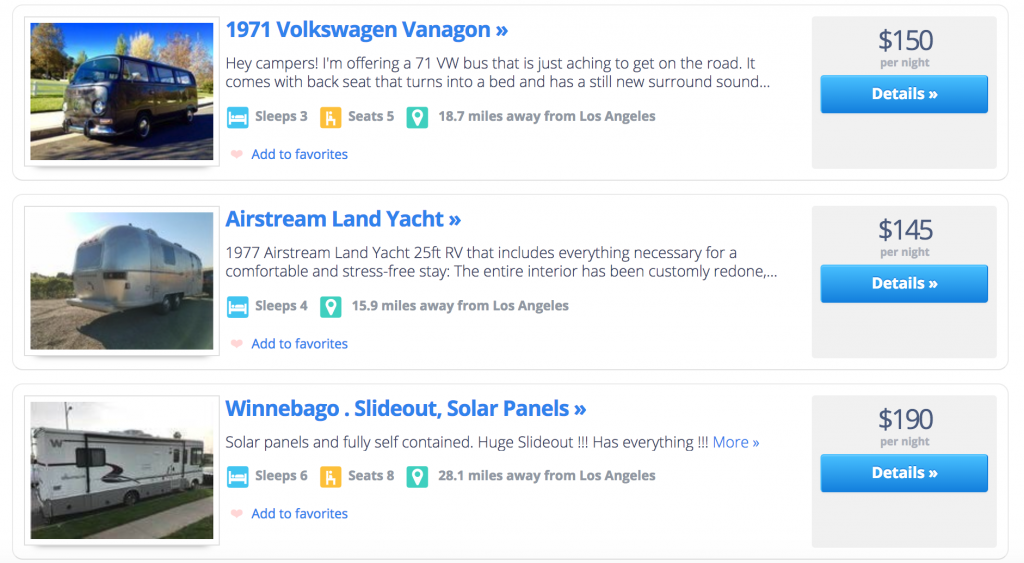 We also offer an earnings calculator for new owner accounts that will give you an earnings estimate based off of your vehicle's make and year. You can use this estimate as a general guideline for pricing your listing.
For existing owner accounts, feel free to give us a call at (339) 707-7320. One of our customer support specialists will be happy to help you calculate your income potential.
---
5. Consider Seasonality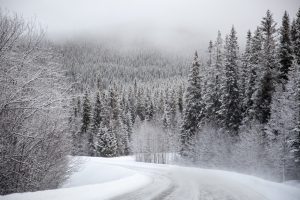 What is the most popular time to RV where you live? When do you see the most RVs on the road in your area? This is called the "high season" — the time (or times) of year when demand for RVs is highest. Conversely, a "low season" is the time of year when demand is lowest.
With Campanda, you can adjust the base price of your RV listing depending on the season. We recommend that you charge slightly more during the high season to take advantage of increased demand and offer a slight discount during the low season to stay competitive.
Similarly, you can also adjust the minimum rental length according to seasonality. Many owners like to increase the minimum rental length to a week or more during the high season.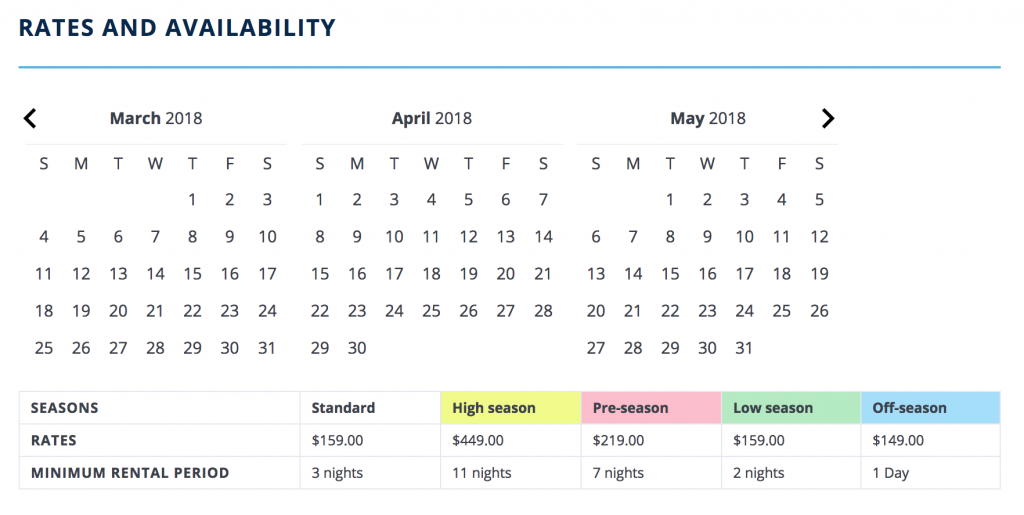 ---
6. Offer Extras — For A Price
Upselling works. Anything that might benefit your renters — coolers, camping chairs, tents, extra generators, etc. — you can offer as an add-on, either individually or as a package deal. These extras will attract more renters and increase your average earnings. Small things like extra linens can sometimes make a big difference.

Pro tip: People don't like mileage restrictions. Most renters prefer to pay a little more upfront and have unlimited mileage on their trip. If you're comfortable offering unlimited mileage for a fee, we highly recommend making this option available to your renters.
---
7. Ask Us About Direct Booking
Many of our most successful RV owners offer direct booking on their listings. Direct booking is a feature that enables renters to book your RV with a single click.

The direct booking feature shows renters that the RV owner is ready and willing to rent out their vehicle and is perfect for last-minute planners. Direct booking also speeds up the process for the owner, putting extra cash in your pocket more quickly.
The feature isn't for everyone — if you're listing your RV for the first time and are still on the fence about approving your first booking, you may want to hold off until you feel more confident. However, RV owners who do choose direct booking can look forward to more bookings and higher income in a shorter period of time.
To activate direct booking, simply give the Campanda team a call at (339) 707-7320. We'll walk you through the setup and tell you how you can best manage the tool.
---
8. Make Insurance Simple
We could talk about our amazing RV rental insurance all day, but you've got an RV listing to get to. So we'll save some time and lay it out straight: our insurance policy is free for owners (yes, really) and Campanda renters love it.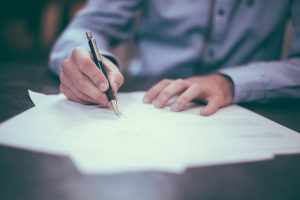 While we happily support RV owners who want to use their own insurance plan (make sure yours covers third party rentals — many don't!) or require renters to secure their own binder as proof of coverage, the fact is that most renters don't want to go through the hassle.
For many renters, having to secure their own insurance binder or go back and forth with an owner about insurance coverage can be a deal breaker. Campanda's RV rental insurance option is the simplest way to ensure that your vehicle is fully covered without detracting from your listing's appeal.
To learn more about our insurance option, see our Insurance FAQs.
---
9. Clean Your RV
When you stay at a hotel, you expect the room to be cleaned between guests. Likewise, renters expect a clean and tidy RV.
A clean RV is an important part of a positive renter experience. And since happy renters leave better reviews, a clean RV also means more bookings for you and more money in your pocket.
You can set a cleaning fee in your listing. It's up to you whether you outsource the job to a professional or do it yourself and pocket the cleaning fee as payment for your efforts.
---
10. Communicate
Be responsive. Whether you want to approve their inquiry or not, getting back to prospective renters as soon as possible is important — both for the renters' experience and your own success.
That's because on Campanda, renters give owners ratings. These ratings help others decide who they should rent from. When renters search for an RV on our website, listings from responsive owners appear higher in their search results, meaning those owners get more attention and make more money.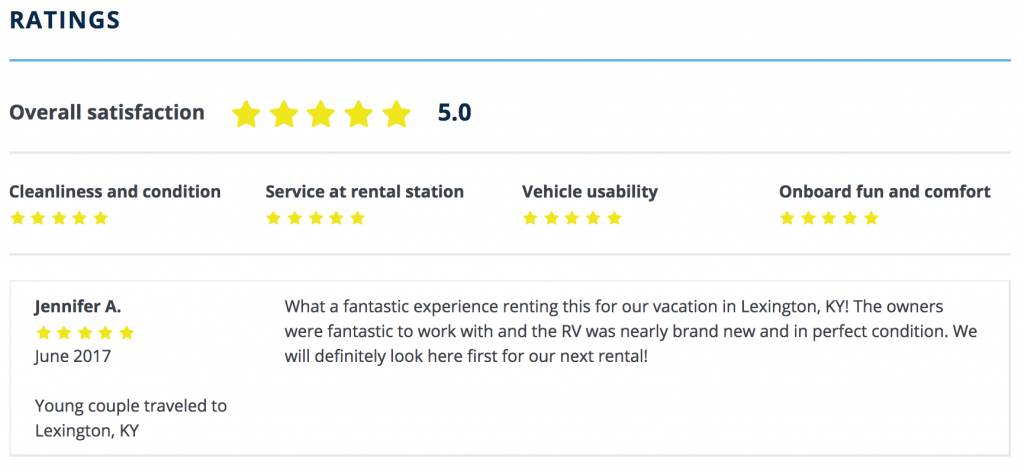 Responding to renters as quickly as possible is a simple but important way to earn good reviews. It's also a surefire way to maximize your earnings — owners who communicate with renters receive up to six times more bookings than owners who do not.
---
Now that you know what renters are looking for in an RV rental listing, why not take a few moments to spruce up your own? Click the link below to start or continue your listing: