by
Camille Attell
Think you can't RV in the city? Think again! Keep reading for ideas and resources to help you plan your perfect RV city vacation!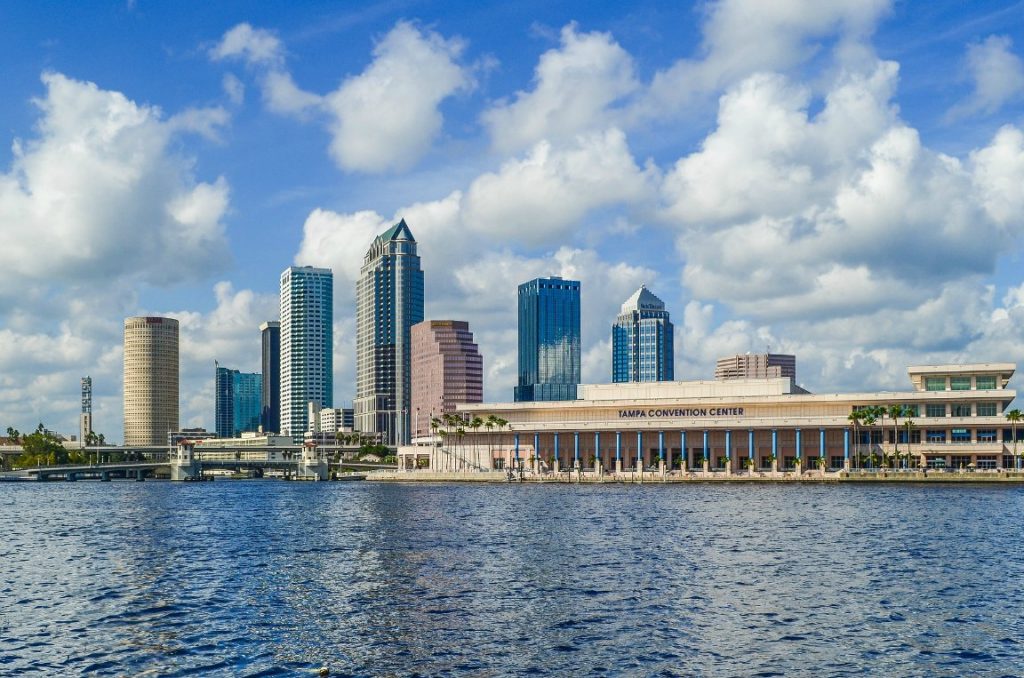 When you think about RV travel, you probably picture driving along tree-lined highways or scenic coastal roads. Perhaps you imagine cookouts in state parks and playing catch by the river. But the beauty of RV travel is that it lets you travel to all sorts of destinations, from the countryside to the big city. While some people like to escape to a natural environment, others love traveling to cities for the diversity and excitement that they offer. City travel by RV is a great alternative to air travel, and can be a fun and cost-effective way to see the sights.
---
Planning Your RV Trip To The City
Like any RV adventure, you should always start with a plan. In addition to the typical questions — like how long will you travel, what activities will you do, and what meals you want to eat — there are additional considerations for RVing in cities.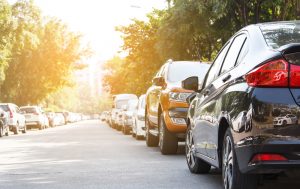 Plan your route carefully. This is true for all RV travel, but RVing in the city can be more challenging than the average city drive by car or truck. You'll want to avoid low bridges, construction zones, and narrow streets. You can use free resources like Google Maps and free apps like Park Advisor, which will often display any road hazards. If you want to have technology do all the work, look into a GPS system like the Garmin RV 760LMT, which will map your route based on the height and weight of your RV. You should also consider the time of year you plan to visit. If you choose to travel in peak season (usually late spring to summer), then be sure to book your campsite well in advance. RV parks tend to book up fast in the high season.
---
How To Find RV Campsites Near The City
Urban Campgrounds
How much it costs to camp in a city depends on how close you stay to the city center and what amenities you want. As I already mentioned, RV parks in or near large cities are likely to cost you more money, but will give you easy access to public transit and must-see sights. Of course, close proximity to a city can also mean more noise and traffic congestion — something to bear in mind when choosing between campground locations.
Here are some examples of popular RV parks close to major cities: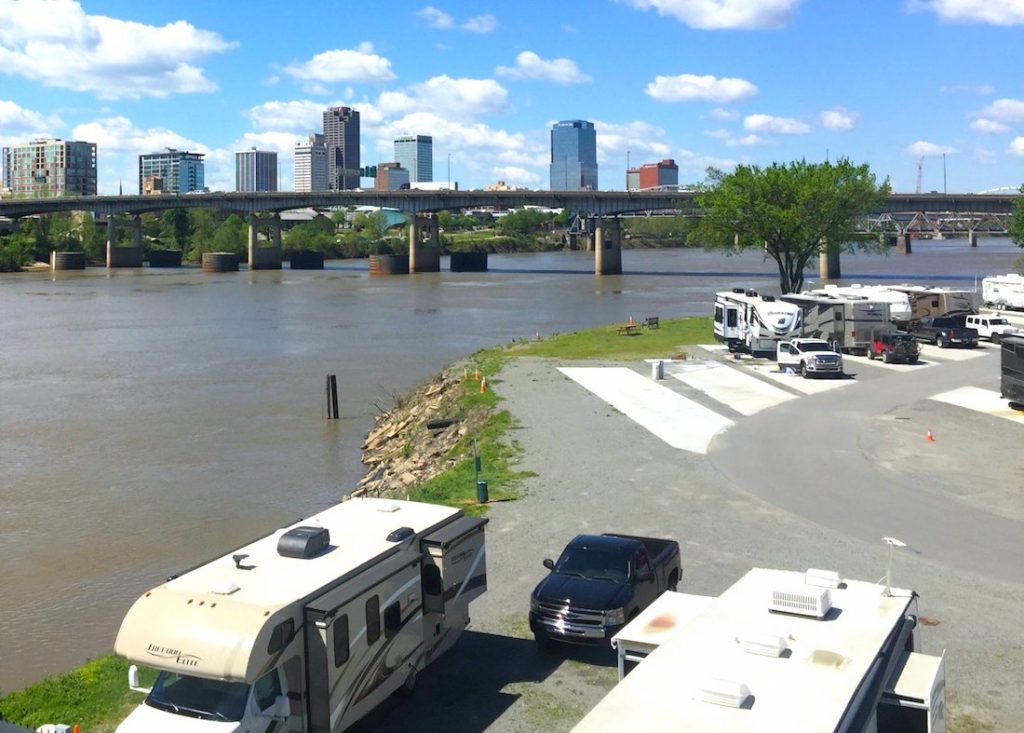 Mission Bay RV Resort in San Diego, CA: Surrounded by Mission Bay and just a few minutes from tons of popular attractions.
Liberty Harbor RV Park in Jersey City, NJ: The closest RV park to NYC, this RV park even has views of the Statue of Liberty and Ellis Island.
Greenbelt Park in Greenbelt, Maryland: 174 campsites located just 12 miles from Washington, D.C.
Jantzen Beach RV Park in Portland, OR: Located on the Columbia River with a view of Mount Hood, this park is a 15-minute drive from downtown Portland.
My husband and I typically like to camp about 20 to 30 minutes outside of a big city to reduce the cost of camping. This also allows us to explore some of the he local areas that we might not see otherwise. We have a fully equipped Class A, so additional campground amenities aren't as important to us as they might be to someone in a less well-appointed RV. If you're traveling with kids, it might be important to you to have perks like a swimming pool, a playground, etc. But if you're looking for a budget-friendly option and those amenities aren't a priority, a state park could be an excellent alternative. Once you've figured out which type of RV park you want to stay at, you can search for campgrounds, research the park amenities and read reviews from other travelers on websites like Allstays and Campendium.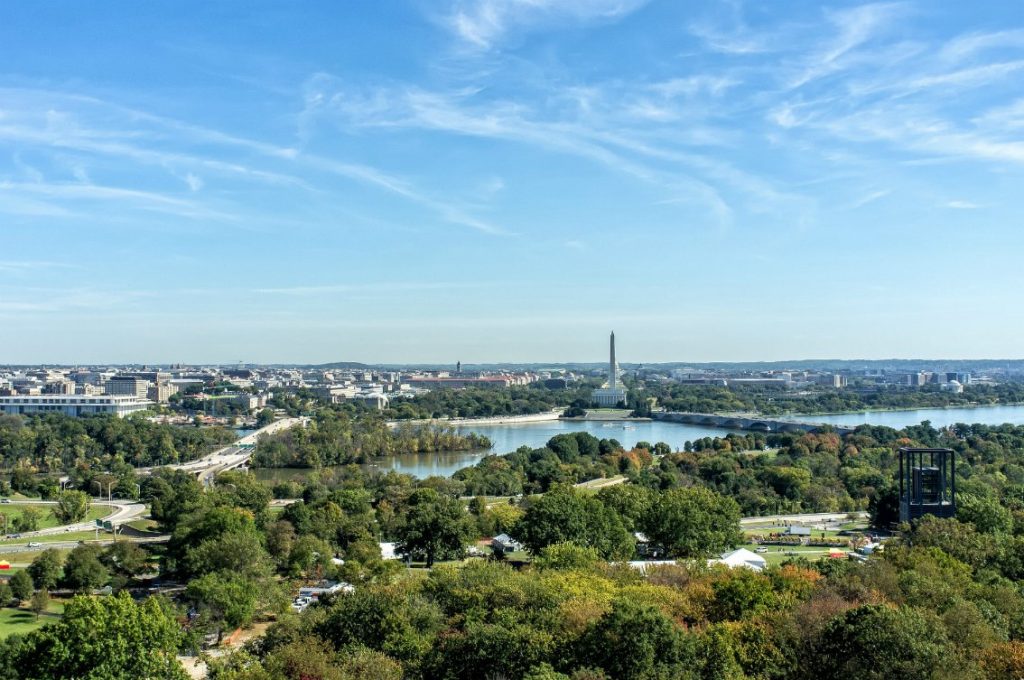 Boondocking In The City
Another option is (legal) boondocking — camping without hookups. A lot of visitor centers (like the one
Savannah, GA
) allow RVers to park their RVs overnight in their parking lots. So do convention centers — Less Junk, More Journey found the boondocking at
McCormick Place
in Chicago to be an awesome option right in the heart of the city. It's always a good idea to call ahead to confirm that boondocking is allowed. Also check out
Boondockers Welcome
, a site that lists free overnight RV parking on private property. It's a great way to save money — and maybe even make some local friends.
---
Getting Around The City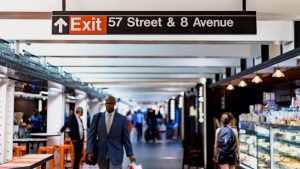 It's not a good idea to drive around the city in an RV. That might seem obvious but I see people do it all the time. RVs are often large and bulky and city streets can be narrow and congested. There are some exceptions: A Class B van or a small Class C can maneuver around city streets better than a Class A or fifth-wheel. A better option for getting around the city is to use a car or public transportation. RVer Porter Palmer and her husband William Trinkle like to take public transportation into the city. She said that they look for RV parks near train stations or ones that offer a shuttle option. Once in the city, consider taking a trolley tour. Many cities offer a "hop on, hop off" option in which you get a one-day or multi-day pass and can explore various stops at your leisure. This is a great way to see the lay of the land. My husband and I took trolley tours around Nashville, Tennessee and San Diego, California, and loved the flexibility that they provided.
---
Cost-Saving Ideas For Urban Campers
One perk of traveling by RV is that you can offset the expensive costs of city travel. RVing is traditionally less expensive than other forms of travel because you save money on airfare, hotels and dining out. Some RV parks offer discounts for stays of one week or more, making longer trips even more affordable in comparison.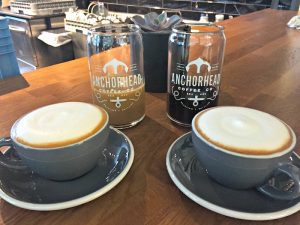 One of our favorite city activities is simply walking around and window shopping. Since we live in an RV full time, things isn't a top priority for us. But exploring the local culture is. One item we're always willing to splurge on is good, local coffee. There are other ways to save money on city travel: Ask the RV park if they have a coupon book or discounts. Sometimes they will have relationships with local tour operators and might offer a percentage off the retail price. And use coupons! Pick up a local guide or newspaper — you'll often find coupons or discounts — or check out sites like Groupon for local deals. One of the best ways to save money is to visit a city during the low season or shoulder season (the time between peak and off-peak seasons). This is a great strategy for saving on both RV park prices and city excursions.
---
Don't Skip The City
The next time you're trying to decide between an RV vacation or a trip to the city, consider combining the two. RV travel can be a cost-effective and fun way to explore a new or favorite city. So long as you do a bit of research and be smart about driving, there's no reason to be city-shy!
---
Want to take an RV trip to the city but don't have a rig of your own?
Campanda
has an awesome selection of RVs, including compact models that can maneuver around those busy city streets. Click the link below to find an RV for rent near you.