When you think of camping, the meals you imagine cooking are probably things like hot dogs or oatmeal for convenience. But one of the awesome things about RV camping is that you have so many more options for making delicious meals. Many RV models even have full kitchens, enabling you to create almost any meal you want.
Even though my RV has a full kitchen, I like to keep things quick and simple. Here are six fun and easy RV meals that I have personally prepared in my RV:
---
Tasty Turkey Tacos
Tacos are so easy to make and are great for RV travel. I keep a package of corn tortillas on hand and usually have simple ingredients like tomatoes, onions and cilantro in the fridge. You can do so much with so few ingredients!
You can swap out the turkey for black beans or rice to make this dish vegetarian. Here's the recipe: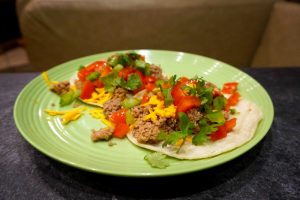 Ingredients
:
1 lb ground turkey
Corn tortillas
2 diced tomatoes
½ sliced purple onion
1 bunch cilantro
1 tablespoon Mexican spice mix (you can find this at most major grocery stores)
Optional: Cheese, salsa and sour cream
To Prepare:
Fry the turkey with the spice mix in a pan on a medium flame. While the turkey is cooking dice the tomatoes and onions, and chop the cilantro.
After the turkey is cooked through (no pink) drain the juice. Lay the tortillas right on top of the turkey and cover for two minutes to warm them.
Remove the tortillas and place the turkey and other ingredients on top. So easy and delicious!
---
Lemon Pepper Salmon With Zucchini
I didn't start liking salmon until I was 24. I was backpacking through New Zealand when a wrong turn led me to a fish house (yuck!). Fish wasn't my thing, but I was also ready to chew my arm off from hunger after a long hike. So I decided on an order of salmon to keep me going.
The thing is, salmon can be a "fishy" tasting fish in other dishes — but wow was that salmon tasty! I loved how tender, light and fresh it was. It became an instant favorite.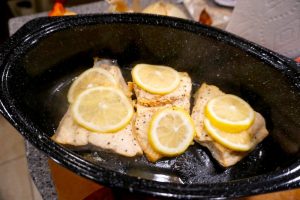 Now, I make it all the time in our RV because it's easy and healthy. Here's how:
Ingredients:
Two fillets of salmon
1 – 2 zucchini
Sliced lemon
½ tablespoon of olive oil
A few sprinkles of salt, pepper and garlic powder
To Prepare:
Coat the salmon with the olive oil and sprinkle with salt, pepper and garlic powder. Lay the lemon slices on the salmon.
Put the salmon in an oven-safe baking dish and cover or wrap in foil (you can put it on the BBQ too). Lay sliced zucchini around the salmon. Cook for 12 minutes at 350°F.
I like my salmon tender, but if you like yours more cooked through, aim for 15 to 18 minutes in the oven.
---
Basil, Egg And Sausage Breakfast Casserole
I like protein in the morning. A bowl of oatmeal is something I'll turn to in a pinch, but a meal with eggs is way more my speed.
That's why I love this super simple one-dish egg casserole. I throw all the ingredients in a dish and out pops the magical and delicious breakfast of my RV dreams. This is a great dish to share with friends — just double or triple the recipe.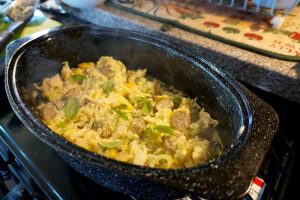 Here's how you make it for two:
Ingredients:
8-oz can (or 1 cup) of diced potatoes
2 sausage links of your choice
4 eggs
½ diced onion
1 bunch basil
Salt, pepper, paprika and garlic powder
Cilantro or basil for garnish
Optional: Top with diced tomatoes
To Prepare:
In an oven-safe baking dish, sprinkle the potatoes and sausage with half of the spices. Bake at 350°F for 10 minutes to warm them up.
Then mix in the eggs and sprinkle the remaining spices. Cook for an additional 10 minutes, or until the eggs reach your desired consistency (I like mine a little soft).
Remove from the oven and garnish with cilantro or basil (and tomatoes if desired) and serve with salsa.
---
Savory Chicken And Rice
I could eat chicken and rice for just about every meal. Not only is it delicious and healthy, it's also so easy to make! One of the best things about a dish like this is that you can make it so many ways: tomato, tomatillo or a simple broth-based dish are all great options.
This one is my go-to recipe because I often have what I need on hand — like rice, cans of tomato sauce and tomato paste. It can also feed a family of four in less than 30 minutes using a single pot, leaving you with more family time outside. Talk about efficiency!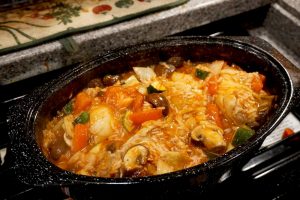 Ingredients:
4 meaty chicken thighs (skin on or off according to preference)
1 cup rice
1 16-oz can of tomato sauce
1 16-oz can of diced tomatoes
3-oz can of tomato paste
1 cup water
Chopped veggies of your choice (onions, mushrooms, zucchini, etc.)
Italian spice mix
To Prepare:
Simply mix everything together in an oven-safe baking dish and bake for 25 to 30 minutes at 350°F. It doesn't get any easier.
---
In-A-Pinch Pizza
This is the recipe I almost didn't discover. It was invented by necessity when we barely had any food left in the RV and were far from the nearest grocery store. (To avoid finding yourself in the same situation, I encourage you to keep staple ingredients on hand, like dry-goods and frozen items that you can use a pinch.)
Here's the pizza I invented that turned out to be off-the-charts amazing!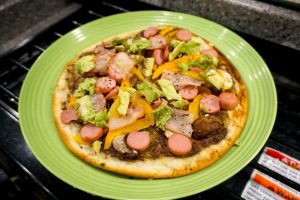 Ingredients:
Dry-packaged mini pizza crusts
1 Tbsp pesto spread or tomato paste
1 Tsp Italian seasoning
1 cut hot dogs and 1 strip bacon (this was all I had but any protein will do)
½ Sliced yellow pepper and sliced mushrooms (or veggies of your choice)
Optional: Avocado (I would have preferred cheese but didn't have any)
To Prepare
Spread the pesto on the pizza. Layer the other ingredients — except for the avocado — and sprinkle on the seasoning.
Bake according to the pizza package (I baked this one for 12 minutes). Remove from oven and add the avocado.
Trust me, this dish is way better than it sounds!
---
Sweet Potato And Beef Delight
This is another meal that I invented from very few ingredients. Again, I was lucky to have a some dry goods on hand and I was able to come up with a well-balanced meal with protein and starch.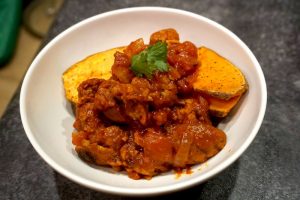 This has become one of my favorite things to eat in our RV — and it's reasonably healthy too!
Ingredients:
1 sweet potato, thinly sliced
1 lb ground beef
½ diced onion
1 6-oz can of tomato paste
1 bunch cilantro
1 Tbsp of Salt, pepper, paprika and chili powder mixed
To Prepare:
Roast the sweet potatoes on a baking sheet for 15-20 minutes at 400°F or until crisp. In the meantime, sauté the onion for two minutes on medium heat or until translucent.
Add the ground beef on medium heat and fry until no longer pink. Drain the juice. Add the tomato paste and spices and mix together for a few minutes until cooked through.
Place the beef on the sweet potatoes and garnish with cilantro. If the sweet potatoes are crispy enough, you can use them like chips to scoop the meat.
The Big Secret About RV Cooking
You may have noticed that I use many of the same ingredients in my meals. Staples like tomato sauce and paste, onions, rice, potatoes and ground meats go a long way toward creating all kinds of delicious meals.
This not only makes cooking easier, it make storage easier and will save you money at the store — all important things for making your RV travels more enjoyable.
I hope you find these RV meals as easy and fun to make as I do!
---
Put these recipes to the test on your next RV trip! Click the link below to rent an RV on Campanda:
Not using your RV? It could be making you money! Click the link below to get started on your RV listing.