A Complete Guide To RV Classes And Types
Find out which kind of RV is right for you with the official Campanda guide to the different RV types and classes.

There are so many things to love about RV travel. It offers families and friends the chance to spend quality time together. It's a lower-cost, lower-hassle alternative to plane travel (with a lower carbon footprint). And it puts you right into the heart of the great outdoors without sacrificing the comfort of a familiar bed.
But most of all, RVs offer freedom. The freedom to go wherever you want, whenever you want. The freedom to choose your destination, your schedule and your vehicle.
Freedom is exciting. It can also be overwhelming. With all the choice in the world, where do you even begin? How do you know which RV is right for you?
That's why we created this in-depth guide to RV types and classes. In this article, we'll cover the similarities and differences between Class A, B and C vehicles, as well as campervans, fifth-wheels, travel trailers, truck campers, toy haulers and pop up campers.
Keep reading to discover which type of RV is the best fit for you and your family — whether you're a first-timer looking to for an RV rental or an existing owner thinking about upgrading (or downsizing) your rig.
---
Contents
---
Motorized Vs. Towable RVs
There are two broad categories of RVs: motorized and towable.
Motorized RVs
Motorized RVs (a.k.a motorhomes) have engines. A motorized RV offers all living and driving functions under one roof, without the hassle of hitching and unhitching the vehicle at camp.
Since the engine and living quarters are located in a single vehicle, driving a motorhome can often feel more comfortable for first-time drivers, who may not be used to turning and maneuvering with another vehicle in tow.
There are four popular types of motorized RVs: Class A motorhomes, Class B motorhomes, Class C motorhomes and campervans. Although they all belong to the same category of RV, the classes vary dramatically from one another. We'll cover them each in detail below.
Towable RVs
Towable RVs (a.k.a. trailers) require a tow vehicle to get from place to place. The size of car or truck required depends on the size and weight of the towable RV.
Towable RVs are often cheaper than their motorized counterparts, and the lack of a motor means there's no engine trouble to worry about (at least in the RV). And once you reach your destination, you can simply unhitch your trailer and explore the surrounding area in your tow vehicle (usually your family car).
There are five types of towable RVs to choose from: fifth-wheel trailers, travel trailers, sport-utility trailers, truck campers and pop up (or fold-down) campers.
Let's take a closer look at the different kinds of RV:
---
Motorized RVs
Class A Motorhomes
Class As are the most common motorized RVs. Built on heavy-duty frames — either a specially designed chassis or an existing commercial bus or truck chassis — these RVs are the largest of the lot. They range between 21 and 45 feet and weigh in excess of 20,000 pounds.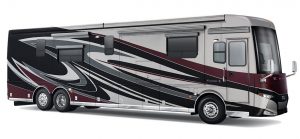 They're exceptionally spacious, with roomy living spaces and sleeping accommodations for up to ten people. Many come equipped with a separate master bedroom suite and slide-out sections to further expand living spaces. Some even have a "basement" for extra storage.
The kitchens in Class A motorhomes can rival those of traditional houses, and you can usually expect laundry machines, ice makers, full bath facilities and similar features onboard. These are the motorhomes you picture when you hear the words "luxury RV."
The size of your typical Class A can be intimidating for new RVers. Maneuvering these vehicles through narrow and twisting roads can be hazardous, and finding parking can be a pain. Many people tow their family car along to give them greater mobility once they reach their destination.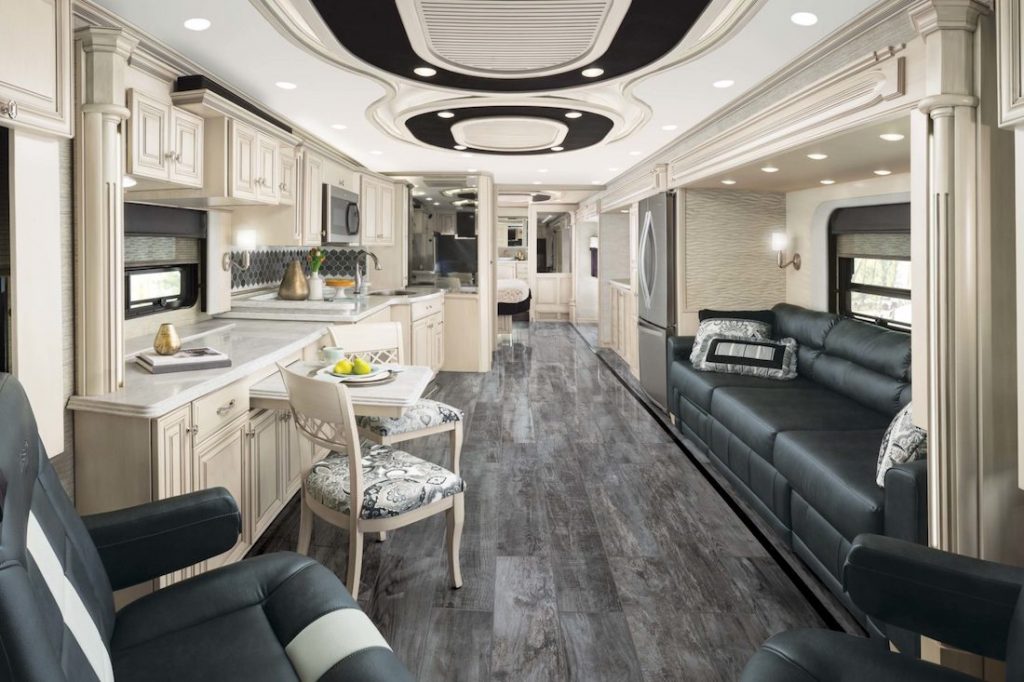 These vehicles can also be expensive. In addition to higher initial costs, a Class A is generally more costly to repair, insure and fuel than smaller RVs.
However, if you're planning to spend a lot of time in your motorhome, you can't get more luxurious or comfortable than a Class A with all the bells and whistles.
Pros:
Large and luxurious living areas
Lots of storage
Tons of amenities
A true home on wheels, good for long-term living
Cons:
Expensive to buy, repair, insure and fuel
Less maneuverable on the road
Size can be intimidating for new RVers
May require towing a smaller vehicle for day trips and errands
---
Class B Motorhomes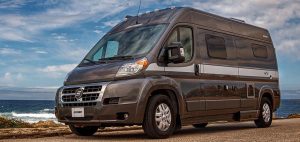 Class Bs are also called "campervans" or "van campers". And for a good reason: These smaller RVs look and drive much like a van, due to the fact that they're typically built on a standard van chassis (with a raised roof for walking upright).
The tradeoff for snug living quarters is drivability — because of their compact size, Class Bs are some of the easiest RVs to drive. And there's no need to tow an extra vehicle behind, as these RVs are perfect for day trips and excursions.
These RVs typically offer a queen-size bed (or a convertible dinette area), small kitchen, storage space and a "wet bath" — a combined shower/sink/toilet. Although many technically sleep up to four, after two people a Class B can start to feel a bit too cozy.
Class Bs are also typically more affordable to maintain and fuel than their larger counterparts. They're a great option for weekend getaways and spontaneous travelers.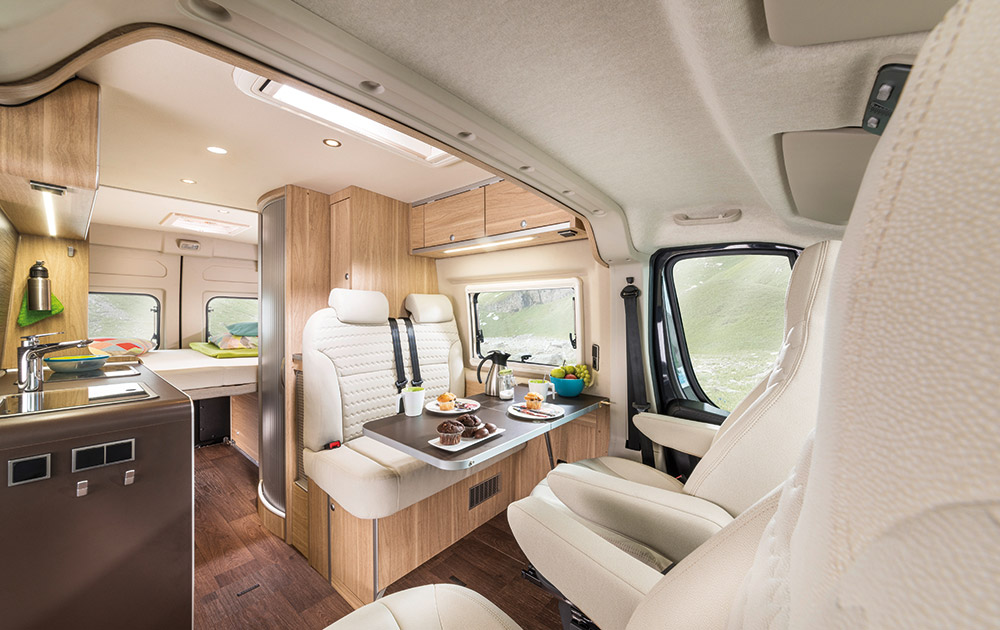 Pros:
More affordable to fuel and repair
Easy to drive
Convenient for day trips or errands
Cons:
Can be expensive to buy
Restricted living space
Limited storage
Fewer amenities
---
Class C Motorhomes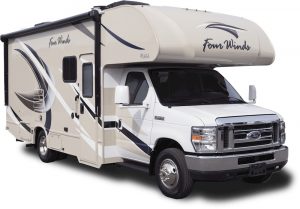 Class Cs combine the best features of both Class As and Bs into one versatile and (relatively) affordable mid-size motorhome.
These RVs are built on existing truck or van chassis and typically range in size from 20 to 33 feet. Sometimes called "mini-motorhomes," Class Cs are smaller than Class As but offer many of the same amenities, including ample sleeping quarters and storage.
Class Cs are also more agile and maneuverable than their larger cousins, although not quite as easy to drive as Class Bs. Many owners end up towing the family car along to make errands and excursions easier once they reach their destination, though confident drivers may eschew this option.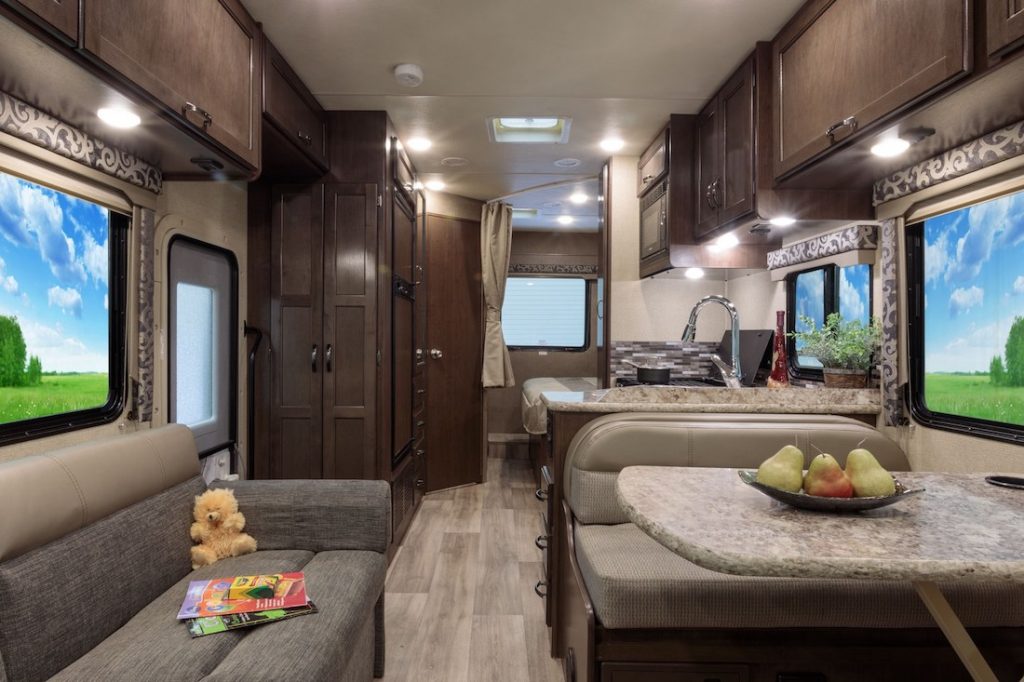 The initial cost of a Class C vehicle is often less than a Class B, despite offering more amenities. However, the fuel and maintenance costs tend to be higher (though not as high as a Class A).
This type of RV is an excellent option for families or travelers on a budget. Because they offer a full range of amenities, Class Cs are also popular with frugal full-time RVers.
Pros:
Large living and sleeping areas
Extra storage or sleeping area above driver's cab
Fully-equipped with all basic amenities
Less expensive than Class As (and even some Class Bs)
More maneuverable than Class A
Cons:
Driving can be challenging for new RVers
Still costly to maintain, repair and fuel
May require towing a smaller vehicle for day trips and errands
---
Campervans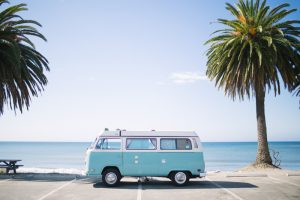 These RVs technically fall into the Class B category (and as we noted, campervan is another term for Class Bs). But chances are, when you think of a campervan you're picturing a smaller conversion van — like the classic Volkswagen Westfalia.
The darlings of Instagram, these petite campers offer versatility and style in exchange for limited living space and amenities.
Compact cooking facilities, a fold-out dining area and sleeping accommodations for one or two people is usually all you can fit inside a campervan's small frame. A bathroom of any description is rare.
Because of their size and limited amenities, these RVs are best for weekend getaways, solo travelers or harmonious couples.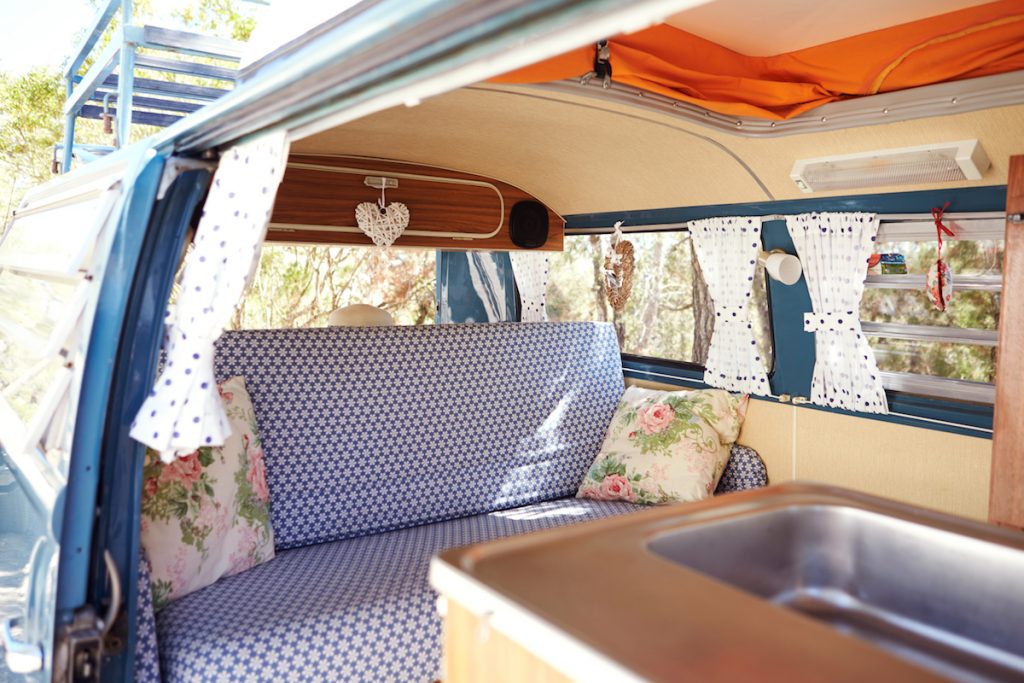 Pros:
Classic and trendy look
Easy to drive and maneuver
Perfect for excursions and errands
Cons:
Limited living space
Few amenities
Insurance for vintage models can be expensive
---
Towable RVs
Fifth-Wheel Trailers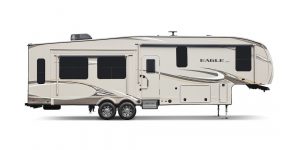 Fifth-wheel trailers are the largest and most luxurious of the towable RVs. Accordingly, they're also the most expensive.
Because of their size, these trailers — which can range from 20 to 40 feet in length — must be towed by a large pickup truck or conversion vehicle. A fifth-wheel connects to the tow vehicle via a "gooseneck" extension, which extends over the back of the towing truck. This feature provides a stronger and more maneuverable connection than ball hitches.
The lack of a cockpit opens up valuable space, and fifth-wheel trailers are, as a rule, very spacious. Fifth-wheels typically include full-size kitchens and baths, ample storage and sleeping accommodations for up to eight people.
Slide-outs offer additional interior space, and the gooseneck allows for a feature otherwise rare in RVs: multiple living levels.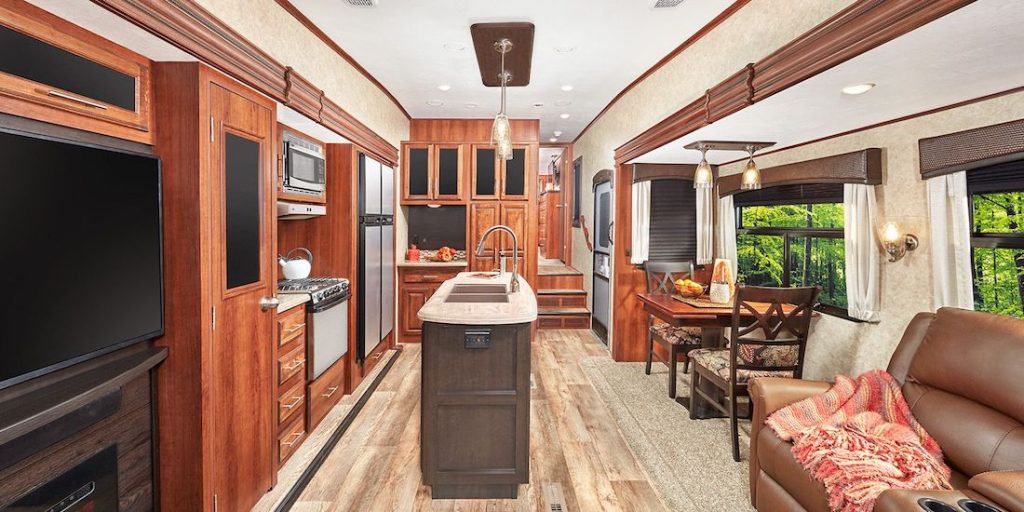 It's important to note that even though fifth-wheels can accommodate up to eight people, the same can rarely be said of the trucks used to haul them. It is generally illegal to ride in a towable RV while in motion, so you'll need to consider passenger space in your towing vehicle to avoid feeling cramped on long journeys.
Pros:
Spacious living quarters and storage space
Full of amenities and conveniences
Secure and maneuverable connection via gooseneck
Can be unhitched to free up towing truck for errands and excursions
Affordable, compared to similarly-sized motorized RVs
Cons:
Require large towing vehicle
Limited passenger space during travel
Can be intimidating to drive
---
Travel Trailers

Travel trailers come in all shapes and sizes, from the tiniest 4-foot teardrops to 35-foot models with room for up to eight people.
The range of amenities and floor plans varies widely. Larger models can be fully equipped with multiple bedrooms, spacious kitchens and full baths. The smallest travel trailers may simply offer sleeping space for one or two people plus some modest cooking facilities.
Travel trailers connect with a standard ball hitch receiver and can be towed by any vehicle rated to handle their weight capacity — meaning there's an appropriately sized travel trailer for every family car.
As with fifth-wheels, it is generally illegal to ride in a conventional travel trailer while in motion, so you'll want a roomy passenger vehicle for the drive. Maneuvering can also be tricky — reversing with a trailer attached is challenging even for the most experienced drivers and tail swing can become an issue with larger models.
Pros:
Many different sizes and floor plans available
Can be towed with a variety of vehicles
Affordable (compared to similarly sized motorized RVs)
Can be unhitched to free up towing truck for errands and excursions
Cons:
Driving in reverse is difficult to impossible
Tail swing can be an issue with larger trailers
Limited passenger space during travel
Smaller trailers offer limited amenities
---
Sport-Utility Trailers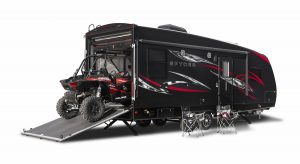 Sport-utility trailers (SUTs), commonly called "toy haulers," are relative newcomers to the RV marketplace. These RVs were designed to allow outdoor enthusiasts to transport their jet skis, motorcycles, ATVs, etc. more easily.
Typically 20 to 35 feet in length, toy haulers are divided into two sections: a rear section with a pull-down ramp and a front section with living quarters.
Most toy hauler owners use the rear cargo area as originally intended — as a portable garage for their motorized toys — but you can easily convert this space into additional storage or even a home office.
These RVs come with the same challenges as their conventional counterparts, namely: poor maneuverability, tail swing and limited passenger space during travel. However, they are an excellent option for RVers looking to bring their motorized sports vehicles on vacation.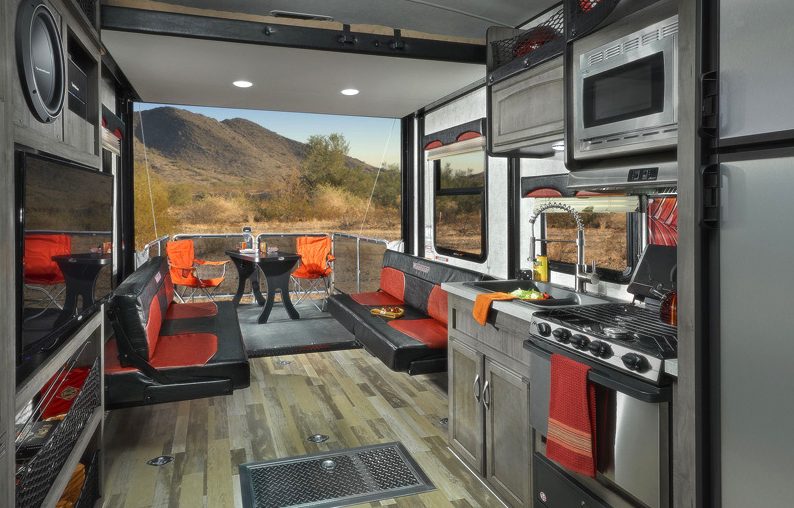 Pros:
Easily transport cargo
Convenient dual functionality
Living area can be fully equipped with all necessary amenities
Cons:
Limited passenger space during travel
Driving in reverse is difficult to impossible
Driver must be aware of tail swing
Less livable interior space compared to similarly sized RVs (unless cargo area is converted)
---
Truck Campers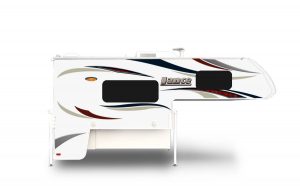 Economical and easy to drive, truck campers (sometimes called "slide-ins" or "cab-overs") are made by attaching a hard-sided camper shell to an ordinary pickup truck (yep, like the one in your driveway).
Truck campers typically sleep two to four passengers and offer small cooking, dining, storage and bath facilities — even though the overall size may only be slightly longer than your standard pickup.
These RVs are perfect for weekend warriors, spontaneous travelers and outdoorsy types who favor flexibility, drivability and affordability over luxury amenities.
Note: The RVIA classifies truck campers as towable. But you could argue that, since the shell portion sits on top of the truck (rather than being towed behind) they aren't really "towable." In fact, a fully assembled truck camper does propel itself down the road, meeting a loose definition of a motorized RV. However, without a truck, a camper shell is about as mobile as your average garden shed, so we deferred to the RVIA and kept truck campers in the towable category.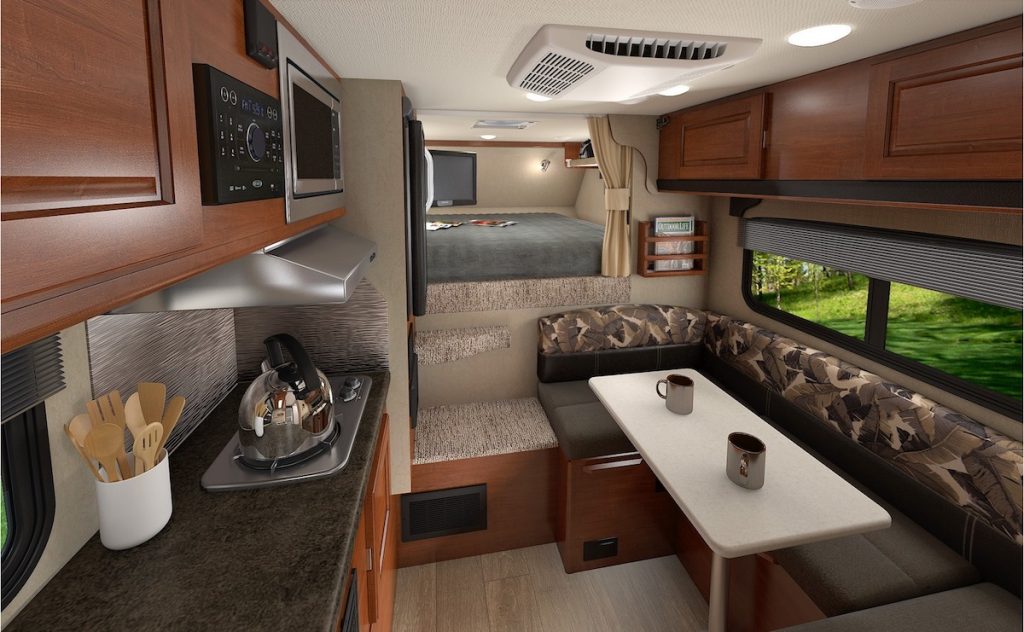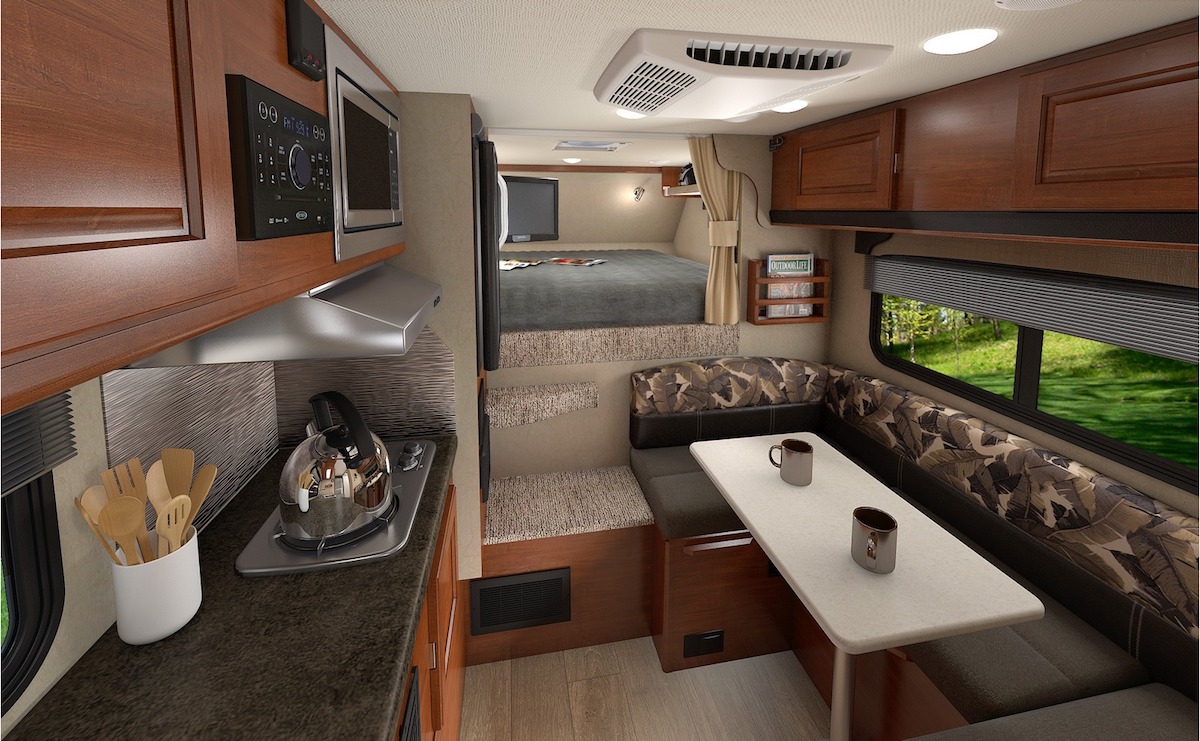 Pros:
Affordable to buy, insure and repair
Easy to drive and maneuver
Great for off-roading — a good "go anywhere" vehicle
Removable shell means you can continue to use your truck as normal
Cons:
Tight living quarters
Very limited amenities
Must have specific truck model to match camper
---
Pop Up Campers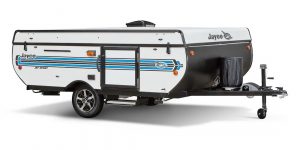 Pop up campers (also called "fold-down campers" or "tent trailers") are the Transformers of the RV world. These compact trailers feature extendable side sections that are folded away during travel for easy transport.
The hard-bodied central section of the camper usually contains basic kitchen and bathroom facilities, while the tented sides convert into sleeping areas for up to six people.
Due to their design, pop ups are much better suited for the occasional camping trip than they are for long-term living. There is minimal storage available and the tent-style side sections offer limited protection from extreme elements.
Lightweight and easy to maneuver, pop ups can be towed by ordinary passenger vehicles (like an SUV, minivan or full-sized sedan) via a ball hitch receiver.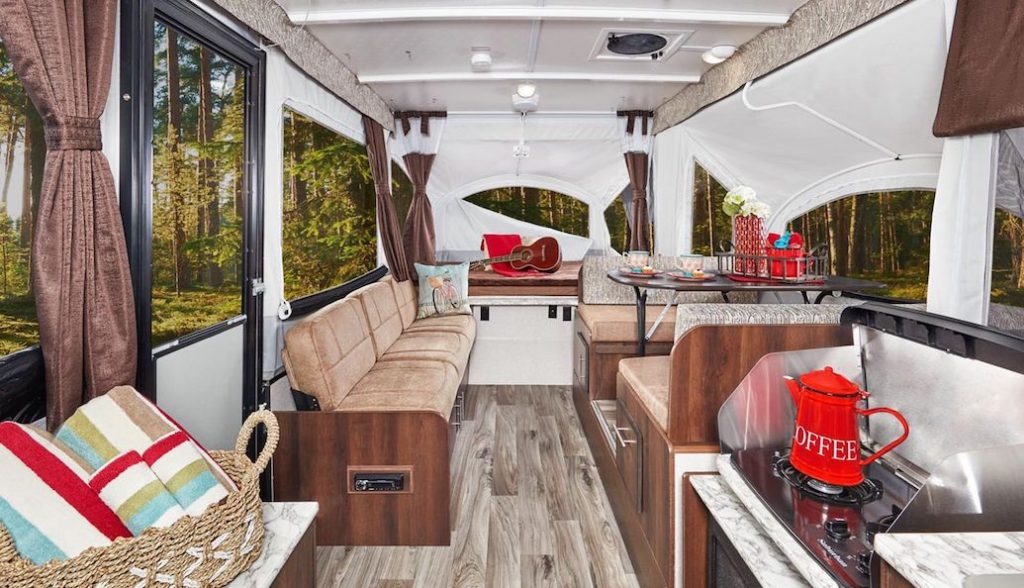 These trailers are perfect for families looking to upgrade their camping experience from the usual tent-and-sleeping-bags affair. They're also great "starter RVs" for campers who are just starting to embrace the RV life.
Pros:
Easy to maneuver
Lightweight and can be towed by most full-sized passenger vehicles
Inexpensive to buy and own
Cons:
Limited living space
Little to no storage
Not suited for extreme weather
Canvas sides susceptible to wear-and-tear
---
Phew! There's a lot on information up there, and you may feel like you're still not 100 percent sure which type of RV is right for you. And that's okay — many times you don't know if an RV is "the one" until you've taken her out on the road.
If you're thinking of buying an RV for yourself, your best bet is to explore different models at dealerships and RV shows and then rent an RV or two to test-drive the kinds you think you like.
Looking to rent an RV? You can contact the RV owner via Campanda to ask them questions about their rig. They can provide you details about their specific vehicle and help you figure out if it will fit your needs.
Feeling inspired? Click the link below to find an RV for rent in your area — whether you're looking for a tiny trailer or a luxury Class A motorhome: