By
Camille Attell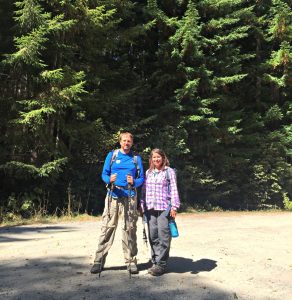 Some people like to call their RV their "home on wheels." I say that my RV is like my "backpack on wheels" because I pack light by bringing the most effective and efficient gear. I'm a fairly experienced backpacker and have traveled throughout North America, New Zealand and Europe. When I first started backpacking, I overpacked fearing that I wouldn't have something I needed. Over time, I learned that less is more and taking only what you need makes for a more enjoyable adventure. Now, I live, work and travel full time in my RV. Even though an RV is much larger than a backpack (obviously), the "less is more" principle still applies.
---
Packing Light Makes Your RV Safer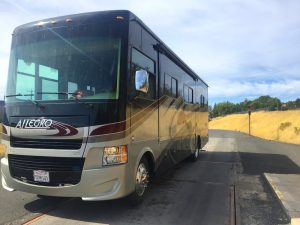 This past year, my husband and I camped with several of our RV friends who are very experienced in RV safety. They were concerned that we had yet to weigh our RV, which is important to ensure proper balance and weight distribution. We knew it was an important step, but somehow we had failed to make it a priority. They successfully put the fear in us and the first thing we did after leaving was drive straight to the closest weigh station. You can imagine our relief when we discovered that we were 1,000 pounds underweight! Part of the reason we "lucked out" is that we pack light. By not overpacking, we were a step ahead in the safety department.
---
Packing Light Lets You Focus On What's Important
Packing your RV light allows you to focus on what's important: spending quality time in nature — alone or with friends and family — and recharging from the frenetic pace of everyday life. When you pack for your RV adventure, you might start imagining all the activities you could possibly do. Before you know it, you've packed every item imaginable. We tend to romanticize all the possibilities and bring things "just in case" we decide to raft that river or conquer that peak on our mountain bikes. I've seen 40-foot RVs hauling a storage unit packed so full that even the top is covered in gear. There is nothing wrong with bringing things if you really plan to use them. But be mindful that not only do those things add weight, time and complexity to your trip, but sometimes you won't even use them. I'm a believer of packing the essentials and leaving the rest behind.
---
What To Bring
There's no "one size fits all" packing list — every RV adventure, family and situation is different. That said, here are some general guidelines and considerations to help you pack lighter for your next trip:
1. Safety and Emergency Items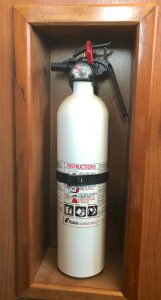 Safety items should be number one on your list. Depending on where you're headed, they could be the difference between life or death. I don't mean to sound so grim, but ensuring your family's safety is really important. Plus, knowing that you're prepared for anything will give you the peace of mind to really enjoy your trip to the fullest. Check your RV's list of safety equipment — smoke detectors, carbon monoxide detector, a fire extinguisher, etc. — to make sure everything is included. Also make sure you have things like extra water, emergency equipment like flares and any medications that you made need. Visit Escapees for some great additional resources on RV safety.
2. Food
What food you bring — and how much — will depend on your destination, trip length and storage capacity. For example, some RVs have residential-sized refrigerators, which can hold a lot of food. Others may have a smaller propane fridge or an even tinier hotel-sized fridge. Remember to bring snacks and food items for your outdoor excursions. And bring plenty of water, especially if you are traveling to dry places. Don't rely on city water or even your tank water — bring additional gallons or bottles just to be safe.
3. Clothes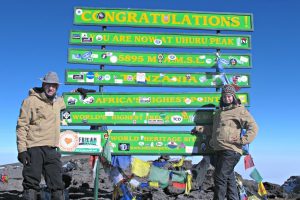 Deciding on what clothes to bring is often tricky. Even if you check the weather in advance, you never know if it might change. The best approach is to bring items that are light and can be worn in a variety of situations, like waterproof pants that you can throw over another pair or a windbreaker that can be used for both warmth and to block wind. Be sure to bring a pair of sturdy shoes and at least one pair of thick socks to keep your feet dry. A hat to block the sun is essential and, depending on the season, you might want to consider a pair of long underwear or moisture-wicking t-shirts and shorts.
4. Household Items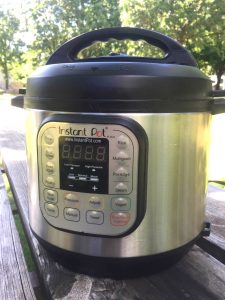 If you are renting an RV from
Campanda
, many household items may already be included (be sure to check with the owner). If you do need to bring some of your own items, remember that when it comes to kitchen items, less is definitely more. One good cutting knife, one multi-purpose pot/pan, some silverware and paper plates go a long way. You may also want to consider picking up something like the InstantPot Pressure Cooker, which is popular with the RV crowd because it's like three kitchen appliances in one. And there's one item that I could not live without — a coffee maker! We use a french press in our RV because it makes great coffee and doesn't require electricity. Nothing beats a hot cup of coffee in the morning while listening to the sounds of the forest.
5. Toys And Gadgets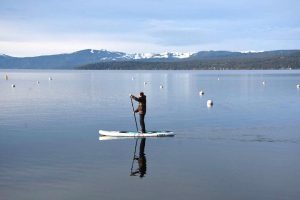 Only bring what you think you'll actually use. We have a few very lightweight "fun" items like the NIXY inflatable stand-up paddle board, which we use in oceans and lakes. Everyone loves a good toy — both kids and kids at heart — and things like paddle boards are fun and provide healthy activity. Just be sure not to overpack (or pack light items) to avoid adding unnecessary weight and clutter to your RV.
---
Things To Leave Behind
There are some things you simply don't need to bring on your RV vacation:
Heavy books.
This might seem obvious, and nowadays who doesn't use an electronic device for books? My husband Bryce, that's who! He hauled around bins of books until I finally encouraged him to purge them.
High-heeled shoes.
These can actually be dangerous and cause a twisted or broken ankle. And let's be honest — you're never going to need those stilettos on an RV trip.
Electronics and computers.
They may not work without a decent cell signal. If you do plan on bringing these items, be sure to figure out a plan for getting internet
before
setting off so you can actually use them on your trip.
Workout equipment like kettlebells.
Seriously, my friends packed these and never used them.
Friends or family members with a bad attitude.
Just kidding (sort of).
---
This article was not only about how to pack light on your RV trip, but also about how to really enjoy your RV experience. Think about it this way: part of the fun of an RV journey is getting away from it all, enjoying the outdoors and connecting with your loved ones. Don't let all the extra stuff distract you from the peace and tranquility that you're really seeking. Want more RV tips? Check out my blog More Than A Wheelin' or
Campanda Magazine
.
---
Feeling inspired? Rent the RV of your dreams on
Campanda
! (And seriously, ditch the kettlebells.)