For much of my adult life, I lived in a traditional suburban home and worked in a standard office cubicle. I drove the same route to work every day, followed the same work routines, returned home, ate dinner and settled in for some TV watching. I went to a few weekend social outings and took the occasional vacation.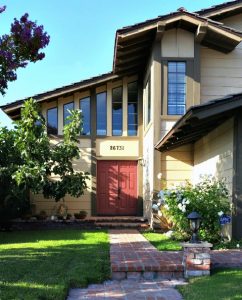 It was a pleasant life actually, and was relatively safe and secure. Were there any new life lessons? Not really. Was every day new and exciting? No. Did it need to be? Yes, ultimately it did.
After many years of "sameness" my husband and I decided to ditch the 9-to-5, the house and most of our belongings to hit the open road in an RV. You can read that full story here.
Things are quite different now. Every day is unique and often exciting (not always in a good way) and the life lessons we've learned on the road have been invaluable. Here are a few lessons we've learned from our life on the road.
---
Life Lesson 1: Go With The Flow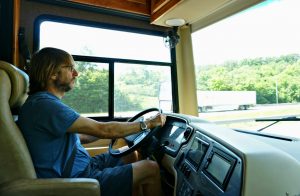 The thing about RVs is that they move. Unlike a traditional home, a house on wheels is meant to move (or at least you have the option). If you're new to RVing, the "shake, rattle and roll," might catch you off guard at first and make you a little nervous. When things move and shake, you learn to flow with them. Trust me it's just easier.
My first test drive in an RV — even as a passenger — was frightening. It was a 30-foot Class A gas coach with a large glass window and what felt like an extra wide body. I think we took up all the lanes and created a line of cars on every turn. It takes some getting used to.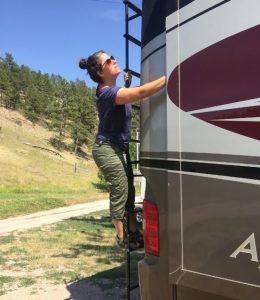 Over time, that feeling gets easier, then normal and finally really enjoyable. You learn to go with the flow, and not only in regards to driving.
Things can break (like our bedroom slide in the photo), weather can change, and plans can fly out the window. No really, one of our itineraries literally flew out the window on the Loneliest Road in America in Nevada. While these things might be inconveniences, life is much easier when you approach it as all part of the experience.
Cry. Laugh. Then Laugh some more. Embrace the challenge, because these moments provide surprising opportunities if you keep your mind open.
---
Life Lesson 2: Be Resourceful
Being resourceful is the second lesson from life on the road. It's connected to the first, in that going with the flow often creates a resourceful mindset.
The bedroom slide issue that I mentioned prevented us from accessing our clothes drawers. We had to wear the same clothes for days. Since our rig was at a dealer and we couldn't leave town, I decided to look for a job on Craigslist and lucked out with a 1-hour gig that produced a crisp $100. You can read that full story here.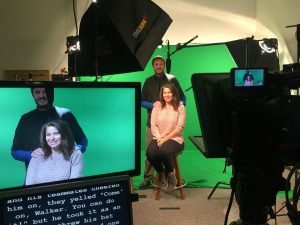 My ability to go with the flow allowed me to think of other ideas and ways to experience this journey.
Even the little things like finding inexpensive camping or grocery stores that carry your favorite foods require a bit of resourcefulness. These could either be annoyances or opportunities to develop new skills.
If you can stay open-minded, your confidence increases and your ability to deal with adversity becomes stronger. (You're totally allowed to write "stays calm in stressful situations" on your resume, by the way.)
---
Life Lesson 3: Build And Maintain Relationships
The day is finally here! You get to go on your dream RV vacation or hit the open road for an extended trip and leave it all behind. But RVing, as wonderful as it is, can impact your relationships.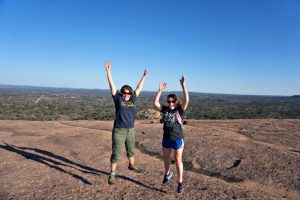 While you'll see beautiful sights and experience new places, the road can get lonely too. People sometimes talk about missing their family and friends. RVers say that finding a community on the road can be difficult when you're always moving. Even in RV parks where RVers are everywhere doesn't guarantee that relationships will be formed. For more information on how to build friendships on the road, click here.
Making friends might not be easy, but its well worth the effort. It's one of the greatest joys as an RVer.
The road can change your relationship with yourself, too. Long stretches of highway give you time to think and reflect on things. Instead of pondering the past, maybe let your mind wander to the future — or better yet, to the present.
---
Open Road, Open Mind
I bet you thought that when you set off on your RV adventure it would be a light, fun trip to the river. Maybe that's still true. But while an RV trip can be as simple as a visit to an awesome national park, it can also be as transformative as any other major life change. Be prepared for either scenario. And as long as you have an open mind on the open road, you're sure to end up with your own list of life lessons.
---
Ready for your own RV adventure but don't have a vehicle to call your own? Rent one on Campanda!
If you're not using your RV right now, it could be earning you money. Click the link below to learn more about how listing your vehicle can help offset costs — and share the RV life with fellow enthusiasts.