By
Liz Wilcox
Hot dogs, hikes and hammocks in the shade are some of my favorite things about RV camping. Cleaning, storage, and maintenance products … not so much. But those things are an essential part of staying safe and sane on an RV road trip. Here is a list of must-have products that I always keep in my rig.
---
RV Cleaning Products
1. Compact Vacuum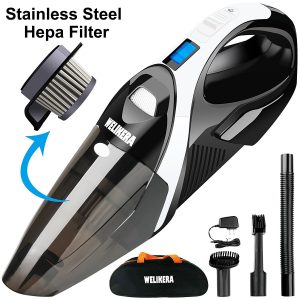 When we lived in our luxury 5th wheel, I hated having a large vacuum. There was never a "home" for it. Once we bought our smaller motorhome, I decided to trade in the traditional model for a handheld vacuum. I absolutely love it. It's lightweight, easy to clean and, best of all, easy to put away. I just set it on my shower floor and voila! It's out of sight, out of mind. When I need to charge it, I grab the charger from my hanging organizer and set it up on the bathroom counter. Again, it's not in the way at all! If you really don't want to go the handheld route, you can still get a full-size model. Just remember that you want it to be lightweight and skinny. If it is cordless, even better! This will make it easy to store and use in your RV.
---
2. Multi-Purpose Cleaner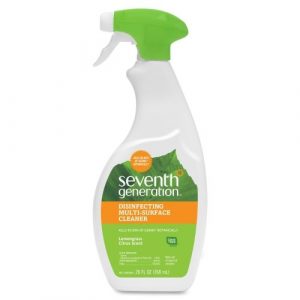 No one likes to play Tetris with cleaning supplies. That's why I recommend a multi-purpose cleaner onboard your RV. It will save you a ton of space and hassle. I make my own cleaner and keep it in a spray bottle. I put it under the kitchen sink so it's easy to grab when cleaning the high-traffic areas in my rig. It's important to remember that your RV is a small enclosed space and it can take hours for chemicals to leave the area. I found this out the hard way when I was scrubbing the outside of my toilet with regular bleach. I almost passed out before I realized I needed to go outside! Don't be like me — look for cleaning products that are light on the chemicals and heavy on natural ingredients.
---
3. Air Fresheners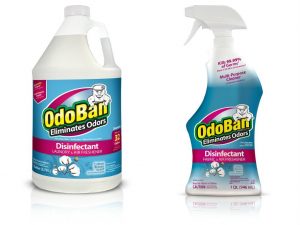 In an RV, things can get a little … stinky. Make sure to equip yourself with some type of air freshener, no matter how short your trip. Personally, I love to melt a wick-less candle throughout the day to give the camper a fresh smell as I go about my day. Whenever I finish cleaning, I spray an odor eliminator (think Febreze or OdoBan). It's a great way to keep things fresh longer. And when the weather is nice, never underestimate the power of fresh air. Open the windows and doors of your camper and let it in.
---
4. Microfiber Cloths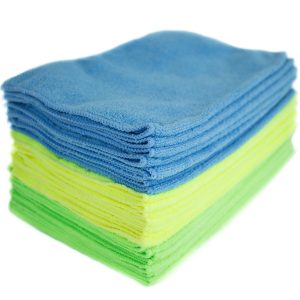 Yesterday my husband came home with a new roll of microfiber cloths. He said a friend had given them to him. I yelled out "SCORE!" Yes, I was genuinely excited about a cleaning product. Here's why: Little messes happen all the time in your camper, especially when you have a young child. Microfiber cloths are the perfect solution because they clean up spills quickly and efficiently. We keep a stack of them in the pantry where they are always easily accessible from any area of the RV. We have at least 20 in our rotation. I use them to clean up toddler messes, pet water spills and to wipe the stovetop clean. They are great because they absorb things very quickly and are usually the perfect size for small to medium messes. They're also great for scrubbing away gooey messes that somehow always happen while camping. Lastly, they hold up really well wash after wash.
---
RV Storage Products
5. Plastic Containers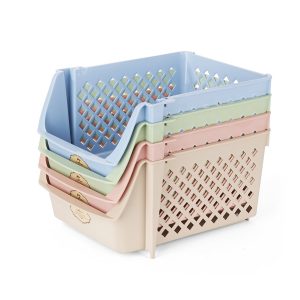 Plastic containers, large and small, are a smart way to make better use of the limited space in your RV. In our 32' ft motorhome, I use small ones for my toddler's closet and large ones in my RV shower to hold her books. My husband recently purchased a plastic container for his paperwork and has been very happy with the results. All his paperwork is now neatly organized and in one place. It's been a great tax season for us!
---
6. Hanging Organizers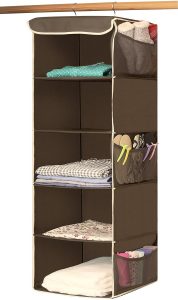 Buying one of these for our RV has been a game changer! I now have a nice and neat place to put all my towels where they don't unfolded or messy after a day or two. The hanging organizer is also great for shoes. It gets them off the floor and makes them easily accessible. Our hanging organizer is kept on a rod in our RV shower, but there are plenty of other places that it could go. We previously had it on tension rods in our bathroom and I know a few friends put them in their wardrobes to create more closet space.
---
7. Command Hooks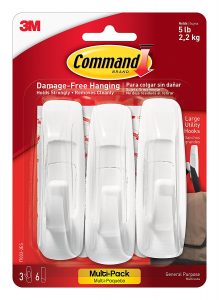 If you own an RV, you really should invest in some command hooks. They can help you with just about any storage problem in the RV. Plus, they are simple to install and easy to get rid of when the job is done. For specific ideas on how to use these little RV miracles,
check out this post on RV hacks
.
---
RV Maintenance Products
8. Levelers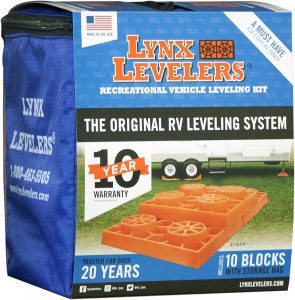 An off-kilter rig can cause more problems than you'd expect. Your refrigerator may malfunction and cause major damage, for example. Being unlevel can also cause your recreational vehicle to simply be unstable. While a little wiggling is normal in just about any RV, it can actually get bouncy if left uneven. Do yourself a favor and get some levelers. It will save your fridge and keep you from a crazy case of vertigo.
---
9. Disposable Gloves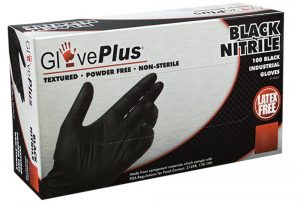 You never know when things could go horribly wrong with your RV holding tanks.
Even with proper care and maintenance
, you're going to want a nice pair of disposable gloves around. This is one "just in case" item I don't mind having around, despite the small space.
---
10. WD-40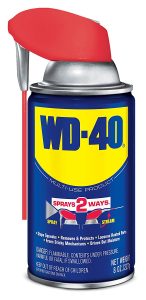 Nothing drives me crazier than squeaky cabinet doors. And the ones in my RV seem to get noisy often. I assume this is from the constant temperature changes I put my rig through. The wood swells and relaxes with each region I drive through. Keeping WD-40 on hand isn't something on most other lists as a must-have, but it should be! Unless, of course you are a madwoman who likes the sound of squeaky doors.
---
11. Sealants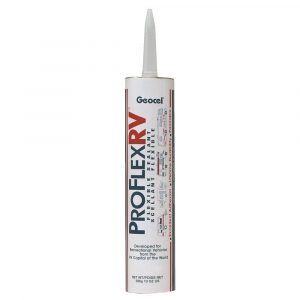 In the year and a half that we've been RVing, resealing our rig has saved us thousands of dollars. Some people use silicone. Some people use EternaBond. We used both when renovating our RV and repairing water damage. Use a sealant anywhere in your RV where you need a watertight coating, including your roof and windows. It's important to check these places a few times a year to ensure proper sealing throughout your camper. Water damage can cost a lot of time and money — at its worst, it can cost you a whole new RV. No matter what brand you use, make sure a sealant is part of your regular maintenance.
---
12. Small Toolkit
Your RV is a recreational vehicle. And vehicles need regular maintenance. Always keep tools on board to ensure that things run smoothly.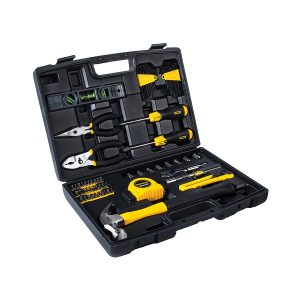 There are certain things you should do before you put your rig in drive. A checklist can help; here's a shortlist of things to check before any journey:
Brakes
Tire pressure
Lug nuts
Battery
Having a small toolkit will come in handy more often than you'd think. My husband uses his at least once a day. He loves being able to fix things himself and having the small kit on deck saves us a lot of money in maintenance costs each year.
---
So there you have it! A must-have list of cleaning, storage and maintenance products for your RV. Having these things on board will make your RV camping trip stress-free so you can focus on the important things — like roasting hot dogs, hiking, and laying in your hammock!
---
Does your RV have all these things? Don't forget to mention them when you list your RV for rent on
Campanda
!