Looking For Love In All The Right Places
By
Liz Wilcox
RVing and adventure go hand in hand. No matter age or lifestyle, people are flocking in droves to hit the open road in campervans, motorhomes and trailers. It seems they are all looking for a bit of excitement, freedom and … romance? Okay, so maybe romance is not the first thing people think of when planning the perfect road trip. And it's true that spending 24/7 with someone can put a strain on romance. But as a full-time RVer myself, I can tell you that RVing can actually make it easier to find special moments with your partner — if you know where to look. Whether you've been on a thousand road trips in your own rig, or you're renting an RV on
Campanda
, try these simple but surprisingly effective things to find a little romance on your next RV trip.
---
Romantic RV Road Trip Games For Couples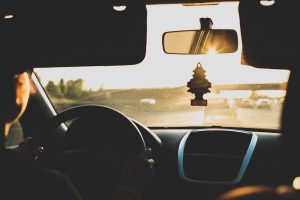 Long drives are an inescapable part of RV travel, for better and for worse. And while it is tempting to get out your phone and play games while your partner is driving, don't! You'll be missing out on ample time to bond with your partner. Take this time to learn more about your partner and have some fun. Play road trip games and answer questions about each other from pre-prepped questions or surveys. Some of these are great ways to find out deep truths about your loved one; others are just for fun:
21 Questions
One partner asks questions and the other partner answers. Having trouble coming up with questions? I like using this website when I'm stumped for inspiration. This is a great game to play while getting to know each other. It is also a classic for long-term couples wanting to dig deeper.
Storyteller
When you notice an interesting vehicle, point it out and start making up a story about its passengers. Be as detailed and silly (or outrageous) as possible. Let your partner help you with the story.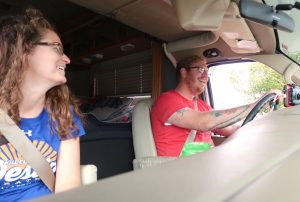 Is it an old couple in love on their way to winter in Florida? What are they carrying in their trunk? What did they leave behind?
Or is it a young family on their way to buy an RV? Will they live in it full-time or just enjoy it on the weekends? What RV will they get?
This is a really fun way to see your partner's creative side and to collaborate on something creative together.
Actors & Movies
One person starts by naming an actor (or actress). Then the other names a movie that person is in. The starter of the game retorts with a second actor in that movie. And so on. For example:
Men In Black Tommy Lee Jones The Fugitive Harrison Ford Star Wars When one person is stumped begin again with a new starter of the game.
---
Make Dinner Together Over The Campfire
There's just something about making dinner in the fresh air that brings people together. Cooking inside the RV can be stressful. The space is small and there is usually barely enough room for one chef, let alone two. Turn this time into something romantic instead.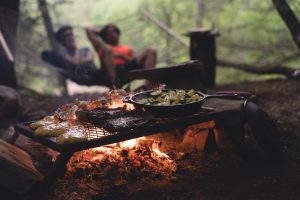 Gather all your ingredients and head out to the picnic table. Work together on building the campfire. Talk about the day slowly ending and all the great times you've had so far (and all the good times you plan to have) on this amazing RV trip. Be flirtatious and light-hearted. Laugh at the mess you're making or when the fire goes out for the third time. Remember, you're doing this to have fun and experience new things together!
---
Lay Under The Stars Together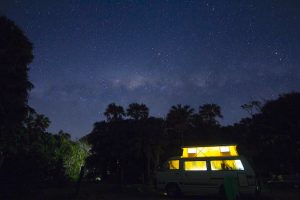 So romantic it's almost cliched, laying under the stars with your loved one is a must-do while RVing. Park your RV a bit outside the city, grab a blanket and snuggle up. Use an app like Star Chart to learn new constellations together. Or take advantage of the darkness to be vulnerable and discuss serious topics. There's nothing like a blanket of stars to help you open up, share and grow closer together.
---
Learn Each Other's Camping Style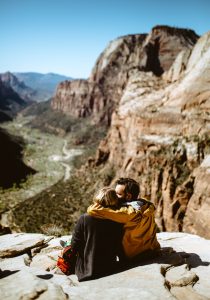 Not all campers are created equal. Some people like to live in their RVs full-time, while others prefer to be weekend warriors. There are RVers that like the luxuries of RV parks and those that stray as far off the beaten path as possible. Learning your partner's style is essential for a successful romantic getaway. If they like the finer things in life, find a park with lots of amenities. There are many resort-style campgrounds that will cater to your every need — think massages, hot tubs, restaurants and wine racks. If your partner is the more introverted type, find a secluded spot in a state park or go boondocking (camping for free on designated land). Bring supplies with you for a worry-free weekend. Cook your meals together, play cards and cuddle up with their favorite movies and music. Whatever their style, you're in for a great time if you get it right.
---
Don't have an RV of your own? Or maybe you're in the mood for something cozier?
Rent an RV on Campanda! There are tons of options, from luxurious Class A's to cozy camper vans.