By
Liz Wilcox
Rent an RV for your next family vacation. Seriously, just do it. RVing with kids is a great way for your family to tour the country without the hassle of airport lines, hotel fees and luggage fiascos. Your kids will love the feeling of driving down the road with their "house." And you'll love the chance to show your family all the amazing things this nation has to offer. In some ways, RVing with kids is like a family road trip. In other ways, it's totally different. There are advantages and disadvantages (as there are with any travel option). This article will help you reduce the chance of stressful or unexpected situations, have a great family vacation and make the most out of your
Campanda
RV rental! Here are some tips on how to make the most of your RV family vacation:
---
1. Choose the right RV park or campground.
Not all RV parks, resorts and campgrounds are created equal. And with kids in tow, it's especially important to find the right one that will accommodate your family.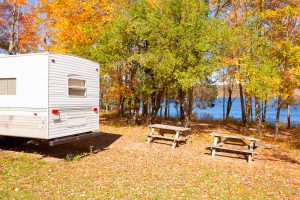 Consider your family's camping style (or what you think it might be): Do you like to go on hikes and spend a lot of time outdoors? Or would your family be more comfortable with scheduled activities or amenities? Different parks cater to different types of families. Do your research. You can use sites like Campendium, myCampsiteReviews.com or Good Sam to look up RV parks online and search through reviews. You should also call around. A campground can be a very diverse place and not all camping sites are created equal. Ask what site would be best for a family of your size. Also, be sure to find out how the kids can play safely in the area. The best spot for your family is going to give your kids room to run around and have fun. Being close to any on-site facilities and activities is always a bonus.
---
2. Map out your stops beforehand.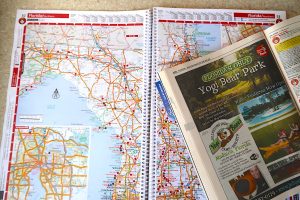 RVs are big. Even a small RV rental can feel huge in a tiny parking lot. Research easy-to-reach places to stop and eat. Truck stop gas stations are a great place to pull over and quickly whip up something for the kids to snack on. If you are looking for a place where your children can get out and play, many McDonalds' have RV parking and play areas. Call ahead to see which stops would be best for your family. Rest areas are another great place to stop for a break. Many have small walking trails or grassy areas. They are also typically equipped to accommodate any size RV. It is a good idea to plan at least one "activity stop" per day to let the kids get out and stretch their legs. This is especially true when traveling for a long period of time. The best stops to make are usually just off the highway — think scenic overlooks, roadside attractions or children's museums.
---
3. Plan for rainy days.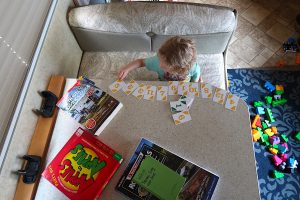 No matter how efficiently you plan your RV family adventure, you can't control the weather. But fortunately, you can plan for that, too! Bring along a variety of board games or even video games. If you're renting an RV on
Campanda
, look for an RV rental that comes with a multiplayer game console or board game collection. You'll thank yourself for this extra bit of planning on those rainy days when you are stuck inside with the kids!
---
4. Use the space you're in.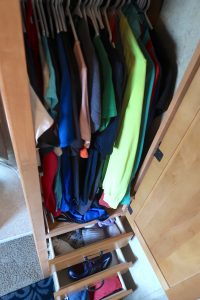 Picture this: You're getting ready for the campground pool. You have your clothes scattered all over the bed of your RV rental, trying desperately to find your husband's swim trunks. Your 4-year-old is on the brink of a meltdown over her Mickey Mouse sandals. And you just can't seem to find the sunscreen. You think to yourself: "How can I not find anything in such a small space?" Avoid this disaster. Don't just shove luggage in cabinets or on the side of the bed. You rented an RV for a week — use it! Bring hangers on your trip and hang up your clothes. Use the drawers to put away pants and shorts. Designate a cabinet to your children and put their stuff away. Then store all your luggage in an outside compartment. Many RVs will have more storage than you expect. Don't think of your RV rental as a car. Think of it as a home and use it accordingly.
---
5. Set a cleaning schedule.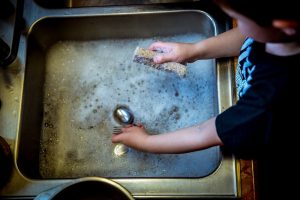 Sure, an RV is much easier and quicker to clean than a 2,000-square-foot home. But what most people don't realize is that the small space gets dirty really quickly. This means you have to clean it way more often. Do yourself a favor and set a cleaning schedule. A simple and easy-to-remember method is to just clean up after every meal. Toys, dishes, the bathroom — it all needs to be cleaned at these times. Once things are picked up and looking fresh, head outside for some campground fun.
---
6. Remember to have fun!
Just like at home, sometimes things simply don't go according to plan. You might have more rainy days than you planned for and the kids are sick of playing Monopoly. Or you forgot to stick to your cleaning schedule and now clothes are scattered around the RV like a teenager's bedroom floor.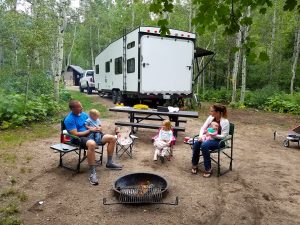 Remember, you are on a trip with your loved ones. Make the most of it by keeping things light and letting go of the need for perfection. Be flexible, adaptable and creative about how you spend your time. And let yourself stop and really appreciate how rare it is to spend so much time together as a family. After all, isn't that what family vacations are all about?
---
Don't have an RV of your own? Rent one on
Campanda
!