Have you ever wondered if you're a creative person? Or perhaps you know you could be more creative if only you had more time. I think that everyone has a talent or two, but sometimes it's hard enough to get everything done in a day, much less indulge in artistic projects.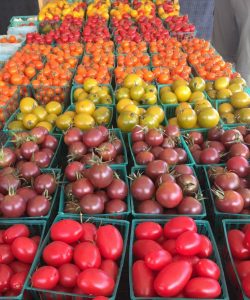 RVing can open you up to creativity in ways you'd never expect. If you're itching to get your creative juices flowing, keep reading to learn why RVing might be the perfect solution.
(You don't have to own an RV either — Campanda makes it easy to find and rent an RV in your area, so you can start flexing your creative muscles sooner!)
---
RVing Exposes You To New Things
RVing enables you to travel around and see the sights. Not only will you be exposed to new landscapes, but you'll also be exposed to new food and even cultures.
For example, in Florence, Oregon we stumbled upon a farmers market along the boardwalk. There were the most beautiful fruits and vegetables I had ever seen — so bright and vibrant — I just had to buy a giant case of Sunburst Tomatoes. I don't get to eat those very often, so it was a real treat.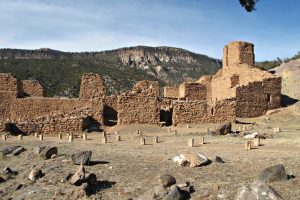 In New Mexico, we happened upon a holiday luminaria ceremony at the Jemez Pubelo and enjoyed an evening of singing and dancing in a traditional Pueblo drumming ceremony. It was a truly magical experience.
These experiences weren't only enjoyable in the moment. Exposure to anything new and different opens you to new ways of thinking. You feel inspired to step outside your comfort zone and try something that might have scared you before. That is one way to experience creativity.
---
RVing Leads To Creative Thinking And Problem Solving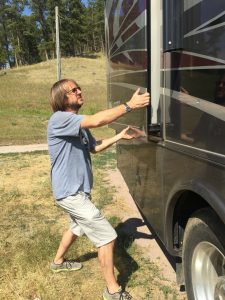 Problem solving is another way to cultivate creativity. Let's get real for a minute: RVing is amazing and rewarding and exciting — but things go wrong sometimes.
If you keep an open mind about it, you can navigate the challenges of the road and develop better problem solving skills. For example, you can read all about how we handled our bedroom slide issue in my article "Surprising Things You Learn From RVing." What started as a frustrating problem ended up leading to memorable experiences.
Another good example of the surprising ways RV challenges can lead to creativity happened when we drove our RV from Texas to Arkansas, failed to make a camping reservation and ended up at a Walmart in Hugo, Oklahoma.
Normally camping overnight at a Walmart would be fine, but earlier that week we had lost our cat Bianca and I was so sad that I just needed a respite away from the hustle and bustle. I started looking online for nearby parks or land that was either free or inexpensive.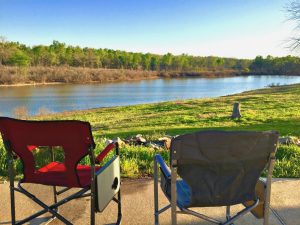 Thankfully, I found the perfect location: Hugo Lake! With the sun setting, we hurried over and found the perfect spot with a wonderful view of the lake. Once settled, I wrote about losing Bianca. While it was painful to put my feelings to paper, it was also a creative assignment that brought me some relief.
Sometimes RVing can challenge you physically and emotionally, but it's exactly these experiences that lead to creative thinking and problem solving.
---
RVing Allows You To Express Your Creativity
Getting out on the open road, being in nature and challenging yourself makes you more creative. Painting is something my husband had never done until RVing. The feature image is his acrylic painting of Moab, Utah. It's not too shabby if you ask me!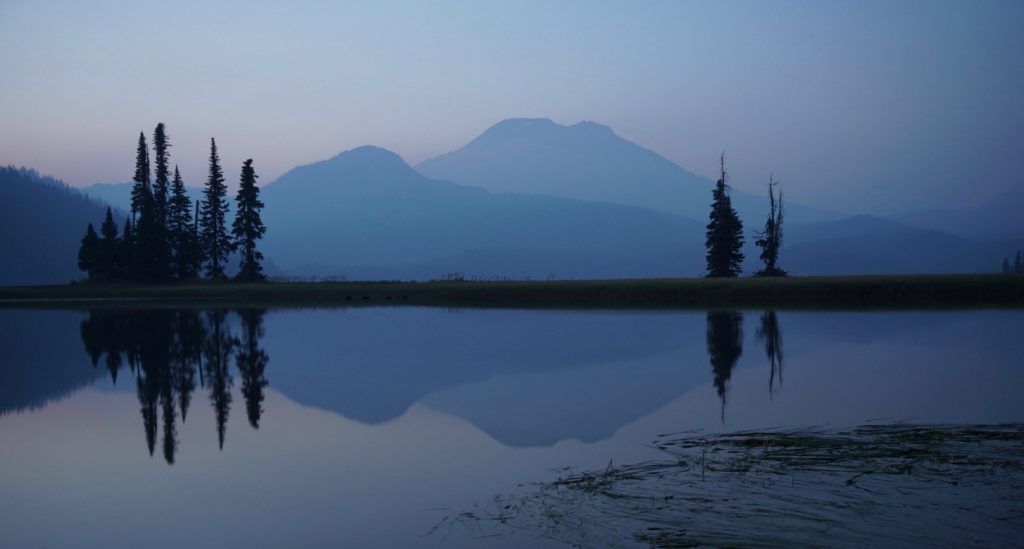 When I first started RVing, I wasn't all that great with photography. Sure, I could snap a reasonable photo, but I didn't understand my way around the manual settings. Being in nature and seeing such beautiful landscapes inspired me to learn how to take better photos. I wanted to share these scenes with family and friends, and learning how to use a camera helped me bring my journey to life for them.
This photo of Sparks Lake in Oregon was taken on the manual settings — about 20 minutes after sunset — and has not been retouched.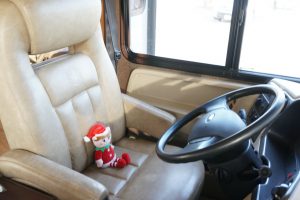 Another great creative outlet is daily journaling. Both my husband and I write almost everyday. We record things like what we did the day before or our thoughts about a place we've visited. Writing is a wonderful way to develop your creative muscle. This is an important muscle too, if you're a blogger.
Over the holidays, I had the whimsical idea to write about Garvey The RV Elf, a frustrated elf who wanted to live a more creative life. You can read about Garvey here.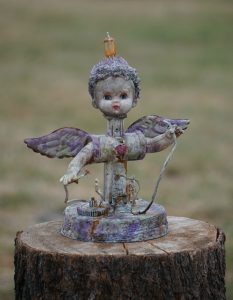 My most creative endeavor while RVing has been my found object art. I gather pieces of scrap that I find on the road, along with random parts in thrift stores, and recreate them into new forms. It's a highly creative art form because I never know what I'm going to make and I build as I go. People tell me they are delightfully strange pieces. What do you think?
I never knew how creative I was until I started RVing. Being on the road, facing new challenges and trying new hobbies has transformed me in ways that hanging out at home never could.
If you feel like you have a creative itch that you're dying to scratch, I encourage you to go RVing and explore your creative outlets.
---
Feeling inspired? Rent an RV on Campanda and get in touch with your creative side!
If your RV is sitting in your driveway, it could be earning you money (yes, really!). Click the link below to find out more about renting out your ri.