By
Liz Wilcox
Anyone who has had a full-time job knows how precious long weekends are. They offer a much-needed extra day of relaxation — or the perfect opportunity to take a mini-vacation without cutting into your annual allowance. If you have kids, long weekends offer the chance to spend extra time with your family. But when a long weekend stretches into a full-blown vacation, the pressure is on for parents to keep the children entertained. Many parents plan family getaways during school breaks. But these can often be complicated and expensive — negating much of the fun for the adults involved. That's where RVing comes in. Owning or renting an RV just makes things easier. You can go more places. You don't have expensive hotel fees. And best of all, no lost luggage! The freedom is great. But with all that freedom, how do you narrow down where to go? And how do you know your chosen destination is going to be RV-friendly? Based on personal experience and some help from fellow RV parents, I've put together a list of destinations that are perfect for RVers looking to travel during school breaks and long weekends. (And no, you don't need to have young children to enjoy these destinations. Every place on this list is also great for kid-free vacationing.) All of the following places have:
Parking/campsites in or near the destination.
Proximity to outdoor activities (hiking, national parks, etc).
Entertainment (amusement parks, festivals, cultural attractions).
---
Here are five excellent RV destinations to visit when school is out. I've broken them down by the major school breaks, but you can obviously take shorter trips over long weekends if you live nearby:
Spring Break RV Destinations
1. Florida Caverns State Park | Marianna, Florida
You probably don't need me to tell you Florida is a popular spot for spring break. Each year, millions of tourists flock to the peninsula to hang out on the beach and soak up the sun. But what if I told you Florida had more to offer Spring Breakers than bayous and beaches?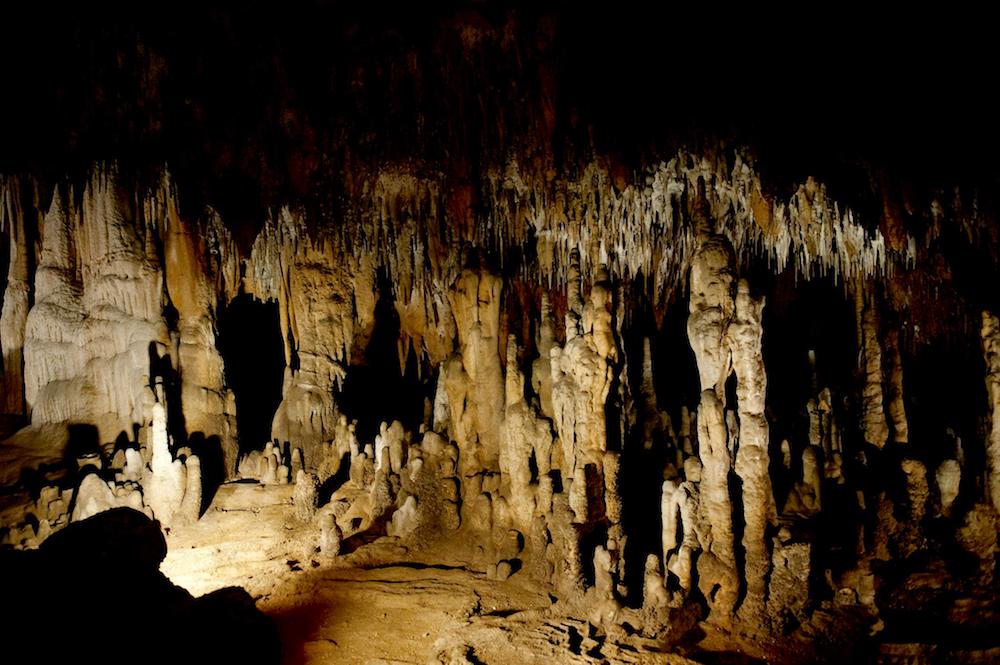 Florida Caverns State Park in Marianna is truly one-of-a-kind. The dry caves are some of the only in the state and this state park is the only place you'll be able to tour them. I'm a Florida native and I'll never forget the first time I saw the incredible formations of limestone stalactites and stalagmites. I was in awe that my home state could be so diverse. In addition to the exclusive guided cave tours, the park is also popular for camping. It offers fishing opportunities and canoe and kayak rentals. There is even an onsite restaurant and a playground for those RVing with kids. My favorite thing to do in this park is to explore the nature trails. There are beautiful rocky bluffs above the river floodplain. Pay close attention to the plants — many rare species run alongside the trail. The hikes are mildly strenuous, but most members of the family will be able to complete them.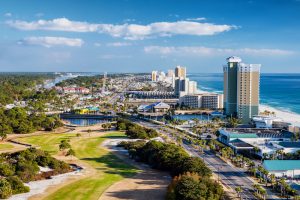 The park's RV camping accessibility makes this a great RV spring break destination. There are electric and water hookups in the park and they accommodate RVs up to 40 feet long! If you've been RVing for any amount of time, you know that most state parks have a 30-foot limit, so this is amazing! There are also campgrounds near the park if you cannot find space on-site. If you need a little more incentive, one of the most popular spring break destinations in the country — Panama City Beach — is a mere 60 miles away.
---
2. White Sands National Monument | Chihuahuan Desert, New Mexico
Maybe it's just me, but it seems like New Mexico is America's best kept secret. Before RVing, I had no clue why anyone would want to go there. It's just a hot desert, right?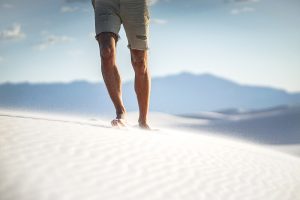 Oh, how quickly my RVing buddies let me know how wrong I was. They introduced me to all kinds of hidden gems in this great state! White Sands National Monument is a great example. I discovered this amazing desert through a newsletter from one of my favorite RV blogs, Tiny Shiny Home. This place looks like the landscape is full of snowdrifts, but it's 75 degrees outside! One of the most popular things to do at White Sands is to sled down the dunes. Sleds are even available in the gift shop. There is also a
local KOA
for lodging that has great amenities for everyone in your group.
---
Winter Break RV Destinations
3. Orlando, Florida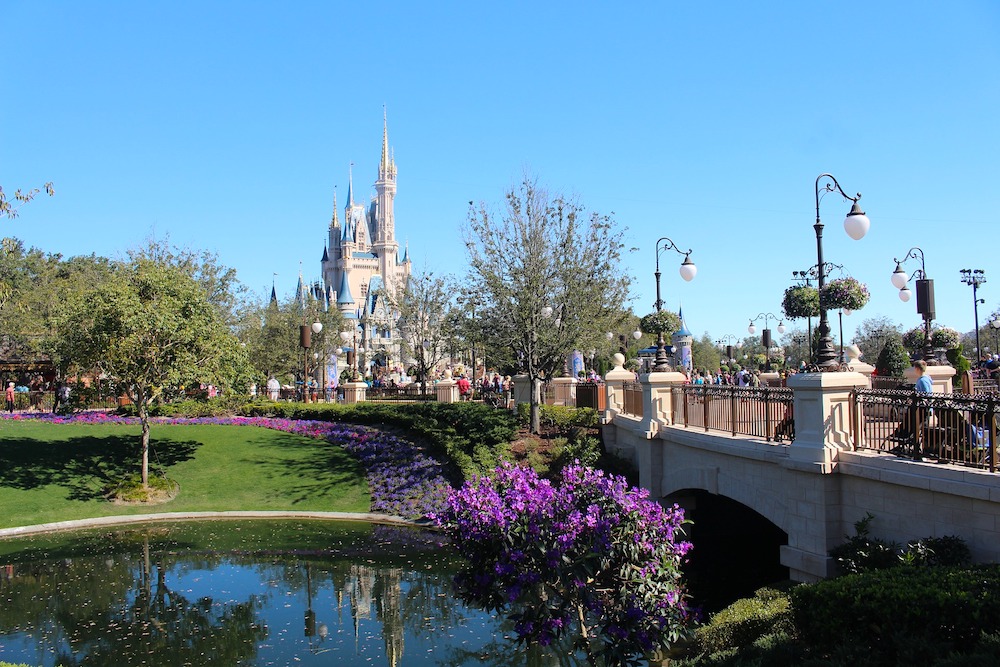 I know, I know. Everyone puts Orlando on this sort of list. But it really
is
the perfect winter break destination for any RVer. In fact, my family just spent a few weeks down there ourselves. Endless campgrounds, entertainment and sunshine — Orlando has everything you need to have a good time on your winter vacation. One of the most popular spots in the city is Walt Disney World. But you probably already knew that. What you might not know about is the incredible Fort Wilderness Resort.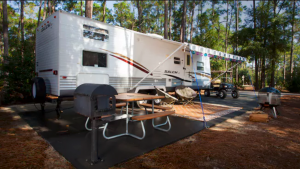 Fort Wilderness Resort is Disney's RV park and I've never met an RVer who said it was a waste of money. The park covers 750 acres and accommodates RVs and campers of any size. Amenities include a waterslide pool, canoeing and even archery and horseback riding. (Yes, all at the RV park.) My friend Julie recently wintered there and said that she especially loved the free shuttle to the amusement parks and other areas of Walt Disney World. But Mickey and the gang aren't the only things to see in Orlando! Check out
my article on RV-friendly cities
if you want to discover a different (and more frugal side) to the area.
---
4. Atlanta, Georgia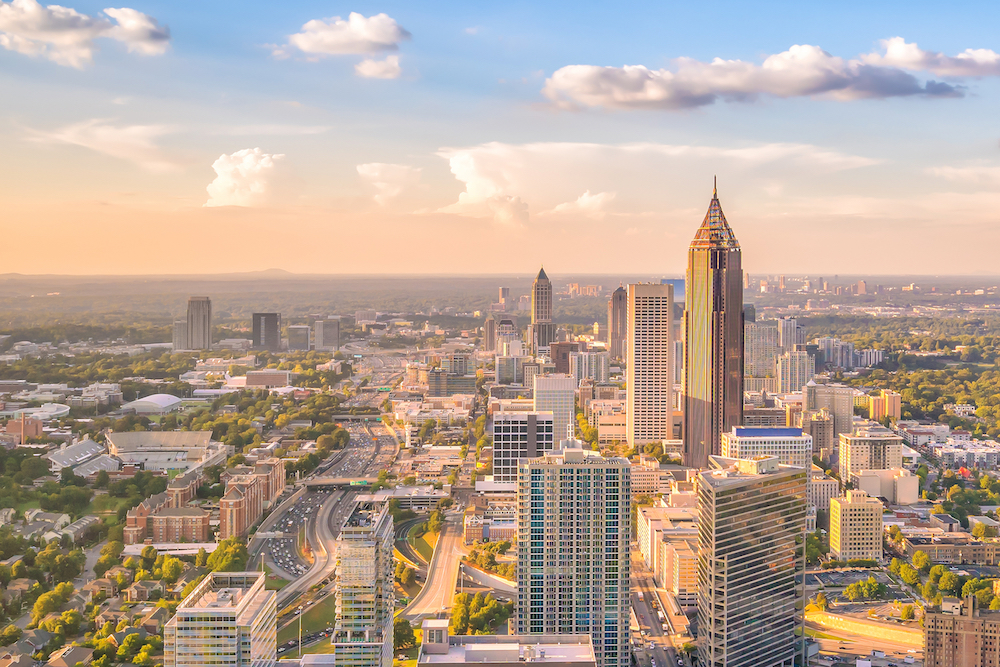 Atlanta has something for everybody.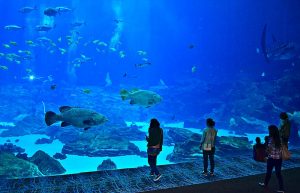 When visiting this southern city, I love to explore the downtown area. There are just so many tourist sights to see! Take the Georgia Aquarium, for instance: It's the world's largest aquarium and home to some of our planet's cutest and most unique water animals. They even have puffins! The World of Coca-Cola is a pretty cool spot as well. It's essentially an interactive soda museum and you'll get a taste of Coke's history and future all in the same place.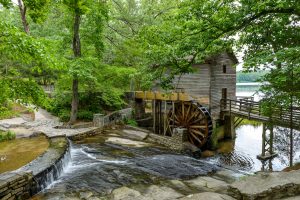 Even if you're not into the city life, Atlanta can still be a great winter break destination. In fact, one of Georgia's most-visited attractions is Stone Mountain Park and it's located less than 30 minutes from downtown Atlanta. I have fond memories here — Stone Mountain is where I had my very first RVer meetup and decided that full-timing was right for me! Stone Mountain is also the best place to park your rig. With over 3200 acres of scenery to explore, it only makes sense to use Stone Mountain's amazing campground as well. Equipped to accommodate just about any RV, you'll also find swimming pools, playgrounds and walking trails just outside your RV door! Don't forget to stretch your legs and go for a hike along the mile-long trail up Stone Mountain. This is something I haven't actually gotten to do yet, but it's on my bucket list for 2018!
---
Summer Vacation RV Destinations
5. Bar Harbor, Maine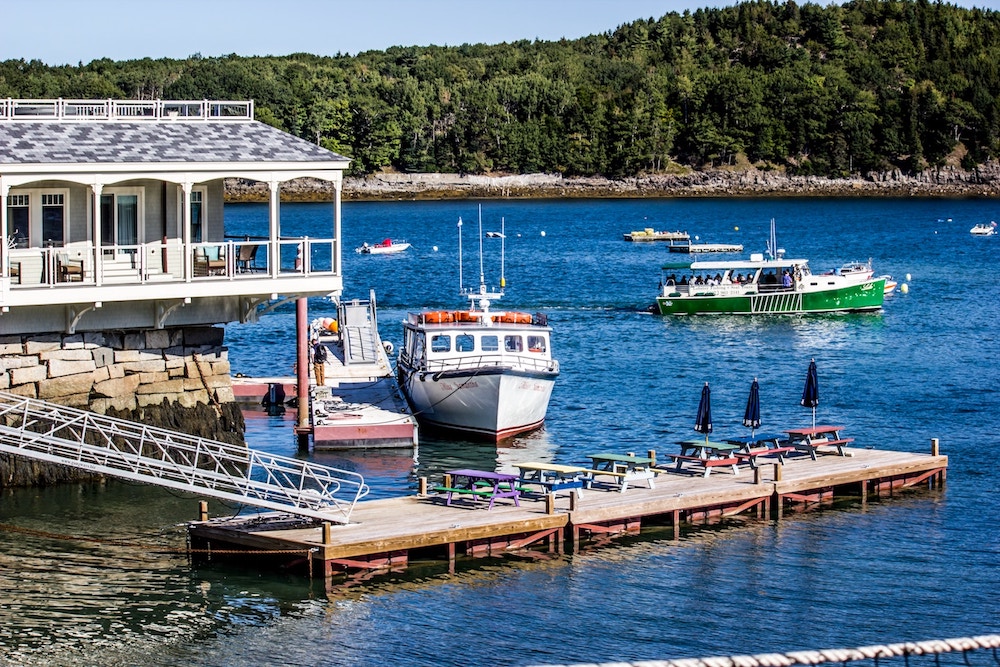 Last summer while I was living in Alabama, all my RVing friends were in Bar Harbor. At one point in August, I felt like the only person on Facebook who wasn't in Maine!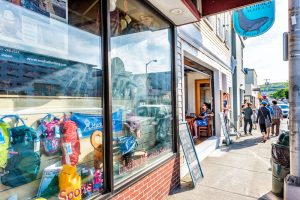 Bar Harbor is an ideal summer destination, whether you want to travel for food, entertainment or culture. This coastal town has some amazing museums and galleries. You can learn about the Gilded Age of Bar Harbor or its Native American roots, while also enjoying artistic works by historic and contemporary local artists. My friends tell me the museums are small but plentiful. It's fun to wander in and out of them and the town even offers walking tours. Look for signs around town that say "Museum in the Streets" for even more information on Bar Harbor and its rich history.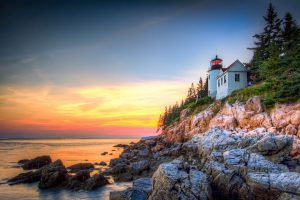 The town also hosts music festivals and there are plenty of laid-back clubs and restaurants with live music. My RVer friends said that eating fresh lobster and smelling the salt air with a bit of music in the background was one of the best experiences of their lives! And of course, I'd be remiss if I didn't mention all the outdoor activities available in the Bar Harbor area: The nearby Acadia National Park is home to beautiful hiking trails and over 45 miles of carriage trails for cyclists. It's also famous for the highest headlands of the Atlantic coastline. This makes it ideal for nature lovers of all ages.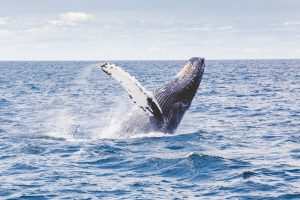 But the number one thing on my Bar Harbor to-do list is to go whale-watching. There are many boats that leave each day, making this once-in-a-lifetime experience surprisingly easy to access. I just can't wait to see those gentle giants in real life!
---
Just A Reminder: 2018/2019 School Vacations & Long Weekends
Many schools observe local state holidays as well as federal holidays. Spring and winter breaks vary from district to district, but usually occur in December, January, February and/or March. The dates for the federal holidays this year are:
January 1: New Year's Day
January 21: MLK Jr. Day
February 18: Washington's Birthday (President's Day)
May 27: Memorial Day
July 4: Independence Day
September 2: Labor Day
October 14: Columbus Day
November 11: Veterans Day
November 28: Thanksgiving
December 25: Christmas Day
---
Love the idea of taking an RV trip with your family this year? Browse
Campanda
's selection of RV rentals to find the perfect vehicle for your next vacation: